Lew's Speed Spin Series Spinning Reels - $49.99
A workhorse of a reel, the Lew's Speed Spin Series Spinning Reel delivers the no-nonsense performance you need to get the job done day-in-and-day-out. Featuring a rugged, lightweight graphite body, rotor and sidecover, as well as, rock-solid, dependable gearing, nine ball bearings furnish consistently fluid casts and retrieves.
Providing the power to wear out big fish, a fully adjustable composite drag system stays smooth throughout its range, and a ZeroReverse one-way clutch bearing ensures rock solid hooksets. Line tangles and loops can be a problem with spinning gear, but not with the Lew's Speed Spin Series Spinning Reel. It is equipped with several features, including an oversized line roller for reduced line twist and heavy duty aluminum bail wire for optimum line management. Offering performance you can count on, the affordable Lew's Speed Spin Series Spinning Reel delivers top-notch materials and construction at a great price.
Additional Features:
-Drilled, Cold-Forged and Anodized Aluminum Spool
-Machine-cut Aluminum Handle with Lew's Performance Knob
-Includes extra Braid-ready Aluminum Spool
-Backed by One-Year Limited Warranty
Offering top-notch spinning reel performance at a more affordable price, the Lew's Speed Spin Series Spinning Reels are packed with the features you need to get the job done day-in-and-day-out.
Comments: i've purchased lew's 400a spin-casting about a month ago and very nice reel,have caught crappie,large-mouth bass with this reel it is a very smooth casting reel and i'm very sadisfied with my purchase(have caught crappie with it also).have coupled with a 7' lighting stick with 12 lb trilene and also came with a spool for braided line.i will purchase one of these again.have caught over 120 crappie in the last 3 wknds with this reel it's very solid reel for the price.

From: Steve: Fort Smith, AR

Comments: I purchased this reel 2 weeks ago and I must say. I am quite suprised. I use it for finesse fishing and ive been rough on it. Its already caught between 15 and 20, 16 to 20 inch Smallmouth and a bunch of Spots and largemouth. It has handled Just Fine and The Drag is excellent. I have no Issues Casting. Just use a High quality rod and Seguar Fluoro. I use a Dixie Custom Finesse with my reel. Just Try one. I Converted to Lew's Equipment a year ago and I highly recommend their products. No Issues with Anything I ever purchased from them Baitcaster or Spinning.

From: Hagen: East, TN

Comments: Let me say this first. I know it's probably unfair to compare this reel to the Saros' which I use a lot, but I have been unhappy with this reel. Line twist has made this reel almost unfishable to the point of frustration. I've easily cut off 40 yards of line after 3 trips, and this is really my only issue with the reel. It feels good, and seems to be solidly built for the price, but line tangles like no other spinning reel I have.
I regularly use 4 Shimano Saros, and 2 old Mitchells, and none of these cause me as much aggravation. Maybe it would work better with braid.

From: Al: East TX

Comments: Good little reel isn't quite as smooth as I expected, but caught a 6 lb bass on it using 6 lb test line so it isn't all that bad.

From: Jake: Greer, SC

Comments: this is a great reel, it has a very smooth drag, cast great and for 50 bucks, you can't beat it. if you are reading this review and are thinking about buying a more expensive reel, DONT!!! this reel outpreforms reels that cost triple the price of this.

From: Chandler, TX

Comments: I have had limited experience with spinning reels and never used light tackle. I tried some friends high dollar spinning reels like the stradic and revo spinning reels. I have to tell you this reel is awesome and for 50 bucks you cannot go wrong. I landed a 5lb LM and the reel was flawless.

From: Roger: Helena, AL

Comments: So after a bad first impression (and review), I've changed my mind about this reel. This reel rocks. I fished it hard for a week and had no problems whatsoever with it. It handles fish well, the drag works great, and it is perfectly matched with a 7' Fenwick Eagle GT. And I say this not even being a fan of spincast reels. I had a blast fishing with it that I had a difficult time putting it down and picking up my Lew's Speed Spool baitcaster (which I also highly recommend). It worried me at first, being heavy and seemingly easy to scuff and really having to pry to get to the inner assembly, but this reel came through the true test of fishing with flying colors.

From: Eric: MI

Comments: Picked up an SS200 and my initial impressions are good! It feels solid and well made and is smooth as silk. Like I do with every new reel I buy, I disassembled it and removed all of the factory lubrication. I purged the bearings in 'goof off' and re-lubed everything with Quantum Hot Sauce (grease on gears and bushings, oil on bearings). The internal components look well made and durable, however the bearings are exposed and not sealed. Time will tell if they need to be oiled frequently (which I do on my baitcasters anyway). I spooled mine with 8lb P-line Floroclear. I will be taking it out to a tournament this weekend and using it to throw wacky rigged senkos and shakey heads.

From: Bill: Flatwoods, KY

Comments: I bought this with high expectations after purchasing the Lew's speed spool and being blown away by its quality. This reel, while still seemingly solid, disappoints. The first thing i noticed about it, it's heavy. Surprisingly heavy. And the comfort grip that the reel is sealed with is very prone to scuffs. The access to the inside gearing, while the manual says it's simple to get into - is a puzzle that I haven't managed to figure out just yet. The screws come out, the cover slides up, and then it gets jammed and the only way to remove it successfully is to pry it off- potentially breaking it. The second spool for braided line is a great added bonus. I haven't taken it out fishing yet, but with an upcoming fishing trip, I'll be sure to give it a true fishing review.

From: Eric: MI

***Note: If you have questions about this product or need assistance with an order please email your questions to info@tacklewarehouse.com
View Large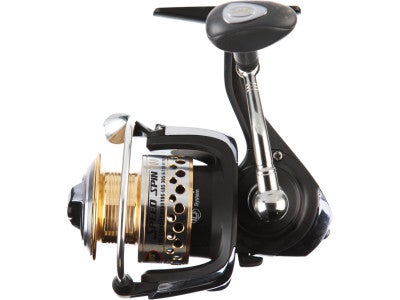 Place Your Order
More Lew's Spinning Reels