Lew's Speed Spool Casting Reel - $99.99
Dating back to 1949, Lew's has been one of the original innovators in fishing tackle, and one of the first to start the low profile baitcaster craze in the 1970's. After nearly fading away, Lew's is back with a renewed vision of the performance and value that made them one of the premier American tackle companies.
The Lew's Speed Spool Casting Reel is the introductory level reel in the SpeedSpool lineup. A good looking, smooth functioning workhorse, it's available for an affordable price. Featuring a sturdy one-piece, die-cast aluminum frame, it's also packed with 10 (9+1) double-shielded premium stainless steel bearings. High strength, solid brass gearing also ensures excellent winding power, and a Rugged Rulon Star Drag System delivers up to 10-lbs of max drag. Casting control is also a breeze thanks to the convenient externally adjustable magnetic brake system. It just takes one cast to make a lasting impression - the Lew's Speed Spool Casting Reel.
Additional Features:
*Drilled, Machine-Forged, Anodized Aluminum Spool
*ZeroReverse One-Way Clutch Bearing
*Easily Removable Palm-Side Plate
*Titanium-Coated Zirconium Line Guide
*Anodized Aluminum Handle with Lew's Custom Paddle Knobs
*Longer 95MM Handle on Deep-Spool SS1S Cranking Model
*Backed by Lew's One-Year Limited Warranty
The introductory-level reel from Lew's Fishing Tackle - one of the originators of the low-profile baitcast reel - the Lew's Speed Spool Casting Reel is packed with performance at a great price.
Comments: Best advice.... Get rid of all your curados and revos and pick up a couple lews reels. PERIOD

From: Brandon: CA

Comments: Got this about a two months ago after reading all the great reviews, I was able to handle a 15 lbs chum salmon, had a lot of fight in it also, it casts smooth and far, very lightweight and compact for comfort, running a 20lb suffix braided line, haven't birds nested and i agree best bang for your buck. Love the matte black finish, and easy access for cleaning spool and lubing gears. I would recommend it for any anglers looking for a starter casting reel. Great job Lew's!

From: Mdub: Canada

Comments: at first I was like 'naw'. But then I got one for a great deal, and put this little turkey through some hell. It's held up great, but it's only 2 months old so time will tell. Honestly, I out casts all my other reels, and yeah, even the crappy Smokes I own. It's light and small. I can see myself buying more, for sure.

From: Meatwad: casting and blasting

Comments: This is the first baitcaster I own. I was looking for a reel to cast small to medium baits (.2 to .5 oz) and all the salesmen and 'experts' told me i would have to spend 500$ at least to get a baitcaster that casts this light baits. Then I found the reviews of the speedspool here an tacklewarehouse and thought I'll give it a try. I WAS NOT DISAPOINTED! I can throw 5gr cranks with this reel without any effort or problems! Great great reel!

From: Michael: Zurich, Switzerland

Comments: Best reel you can buy for under 100 hands down. Just buy it you won't regret it. This reel is honestly better than a lot of 200 dollar plus reels.

Comments: ORDERED 6 OF THESE AT ONE TIME...HAD TO SEND TWO OF THEM BACK BECAUSE OF A SQUEELING NOISE WHEN CASTING. LEWS REPAIRED/REPLACED THE 2 REELS AND SENT THEM BACK VERY QUICK BUT AFTER FISHING WITH THE REPAIRED REELS, ONE OF THEM IS STILL SQUEELING. WHATS THE ODDS OF THAT? ALL THE OTHER REELS DO CAST WELL AND ARE VERY SMOOTH. I JUST FEEL LIKE $100 SHOULD BUY A QUALITY REEL WITHOUT ANY TROUBLE. ITS A SHAME REELS IN GENERAL HAVE GOTTEN SO COSTLY. I DONT CARE TO PAY FOR QUALITY BUT WHAT DOES $100 BUY THESE DAYS? NO FAULT OF TACKLE WAREHOUSE

From: Rem: TN

Comments: I got one and cranked it about 3 times and thought its just as good as my tournament mg... Cranked it one more time and the gear stripped but just like every reel you get a bad one every once in a while

From: Zack
Comments: This reel is money. hands down the best reel you can buy I have the ss1s version that holds 150yds of 12. I have it paired with a Abu veritas heavy and use it for swimbaits and jigs. this is amazing cant say enough good stuff about it

From: Sam: MO

Comments: This is one of the finest baitcasting reels that we have ever owned and we have been bass fishing for 50 years. We recently sold all of our $300-$400 reels and purchased these exclusively in the 5.4, 6.4 and 7.1 gear ratios. The SS1 Reels light, extremely smooth and cast further than any other baitcaster we have used. AND they are an incredible value at an MSRP of $99.99. If you will try one of these reels I believe you'll want to own one....or more.

Comments: I love this reel I am amazed at the quality had mine for three month now and will be getting more good job Lews on a great reel

From: Jacob: WI

Comments: We have owned $200+ Garcia Reels, $300 KVD Reels etc and sold them all to buy 6 of these reels. They are the smoothest, most problem free reels we have ever used. They cast extremely well, handle large bass well and are almost backlash free when set properly. These are GREAT REELS and the absolute Best Value on the Market.

From: Blake: Dallas, TX

Comments: This is by far the best reel you could buy for $100. Honestly I don't even see any reason to ever spend more money on a different reel because this one is all you need.

From: Harry: Virginville,PA

Comments: Absolute rocket! i have 40 pound braid on it for topwater frogs and i can cast it a mile!

From: Parker: Vandalia Missouri

Comments: this reel is amazing this was my third baitcast i have curado and a revo s and its as good or better. I paired it up with a 6'6" st croix mojo bass and i went camping for two weeks at laurel lake and i layed into three 3 pounders and a 4 and i handled them very easily.

From: Mason

Comments: This is just an amazing reel. Honestly... It is probably the best bang for your buck. All the brake adjustments are external which is a HUGE plus. This thing casts SO smooth, and has amazing distance. Dial this baby and it will do anything/everything you need from a reel.

From: Mike: Rochester, MN

Comments: As my first casting reel, I have no real input other than how this one feels. It casts smooth, good drag, and works well. I have 12 mono on, 7ft MH and use it in salt and fresh water. Proper care and she runs smooth

From: Babajoon: CA

Comments: Best reel I've ever thrown!Lot better than Abu ProMax2,unbelievably better than Bass Pro Tournament Special! As you can see I don't buy high dollar, but for my fishing I don't see how it could get much better!

From: James: Morton,Tx

Comments: I LOVE THIS REEL! It was my first baitcaster and i got it last year for my birthday paired up with a powell diesel 7ft rod and 12lb floro they are a great combo. This was the perfect starter reel for me it was smooth and easy to use. I got the left handed 6:4.1 and its perfect for all around use. This is by far the best reel on the market for its insanely low price!

From: Matt: USA

Comments: love the all the lews reels I'm 13 and fish tournaments I have 3 of these reels they are awesome my dad has the first ones ever made In like 1984 and we love the new and the old ones definitely the best priced reels on the market and quality wise to!! Definetly recommend it!

From: Jake: Santee, CA

Comments: Got to take my new Speed Spool out yesterday and it performs phenomenally.. I can throw my red eye shads and swim jigs farther with this reel and 15lb flouro than any other reel I've ever touched.. Smooth as can be and fishes solidly. I'd highly recommend.

From: Morgon: Buffalo, NY

Comments: This is my new go to reel with each new rod I purchase. Does everything you could ask for- handles well, great braking system, cast a long ways and great durability. I'm slowly replacing all my BPS pro qualifiers with these Speed Spools.

From: Adam: Bowling Green, KY

Comments: Love the performance of this reel.. Really good for the price.. only thing is first Bass I caught on the reel the aluminum handle bent. I straitened the handle and on the second fish the same thing.. I think all the lews reels should come with a titanium or carbon handle.. very disappointed.

From: Scott: Alpine, CA, USA

Comments: For 100 Bucks, you cannot beat this reel. I find it virtually impossible to backlash on this reel. Smooth, casts far, and has the ability to land the big ones! Go ahead don't buy one, just means more for me :)
Comments: Warning to all Lew's fans. I recently discovered that one of the small screws on the handle sideplate was missing. I further inspected my two other Lew's reels and discovered that several screws were loose. I haven't had any other screws come loose or fall out on my other reels. I love all of the Lew's reels and believe that they are some of the best reels on the market. I just hope the screw issue won't be an on-going problem. make sure you check your reels. Locating a replacement screw has been very difficult.

From: Tom: North Charleston, SC

Comments: This reel will out throw every Revo I own!!!

From: Michael: Waverly, TN

Comments: I LOVE THIS REEL.Very smooth and excellent for the money.It is incredibly smooth and casts further than my other baitcaster. Buy this reel trust me you wont regret it.

From: Evan: FL

Comments: This reel changed me from a die hard Shimano fan, to selling all my Shimano reels. Good smooth reel for the starter baitcaster.

From: Mike: NormanPark, GA

Comments: Best reel on the market for 100 bucks. If your looking for a cheaper baitcaster. Don't do it. You can't get a better reel in the 50-150 dollar price range. I've tried or still own several different brands in this price range. Save your time and money. Get the Lew's speed spool baitcaster. I paired it with the micro guide Lew's rod. I will purchase the other gear ratios and rods for different techniques and sell my other rigs. When buy and test this reel. Get you some reel butter and oil the gears after several casts. Then your good to go.

From: Nathan: Berea, KY

Comments: Bought this reel as a training tool to pop my baitcast cherry. It's a good starter reel for anyone who wants to get into baitcasting. It screams QUALITY when you first pick it up. Super smooth and quiet. Didn't want to go cheap and end up with a product that'll make me hate baitcasting. Didn't want to spend too much in case I didn't like it. But guess what...I love it! Now, the cons: No audible clicker on the spool tension. No centrifugal brakes. The surprising features that you do get from a reel that only costs a Benjamin are Magnetic brakes and 10 bearings. I am very please with my purchase. Would I buy this reel again? Nope! I'm going with the Lew's Tournament Pro Speed Spool for 2013!

From: Thor, MN

Comments: This reel is a boss compared to most other reels in its price range. Simple, smooth and cast pretty well. It's like a quantum smoke that's slightly heavier, but palms better and cost roughly 50 bucks less. My bro got me hooked Lew's gear.

From: Mitch: Brooklyn Park, MN

Comments: Review:I did a full review in 7/11 on my blog and have since updated it 2/13. It can be found here: http://best5zach.blogspot.com/2011/07/review-for-lews-speed-spool-541-reels.html At the time, these reels were $85 dollars. I have always thrown Shimano, but Shimano didn't offer a 5:1 reel for cranking, which made this a no-brainer. 1.5 years later, the price has gone up, citica now has a cranking reel, but this reel has stood the test of time.

From: Zach: Huntsville, AL

Comments: I am interested in picking a few of these up especially with all of the excellent reviews this reel has received. My only question/concern I hope someone can help me with is... With 10lbs of drag do you think there will be any drag slippage while pitching and flipping with the drag tightened all the way down?

From: Brett: South Louisiana

Comments: ust pick up this reel and it is the best reel i have thrown! super smooth and casts a mile! will be getting one in 7:1 for flipping! Great product Lew's!!!

From: Brok MN

Comments: I have one of these reels paired with an okuma evx rod and man does this combo work good or what! best reel on the market in my opinion.

From: Kyle: Leesburg, FL

Comments: Best Reel in the world for $99.99. I have 6 of them now and I cant wait to get number 7. I have all 3 gear ratios and they are great

From: Adam: Central FL

Comments: ahh...my lil black beauty,i prolly have close to $5-8k worth of gear n tackle in my house and this is one of my top 5 fav. Reels of all time.i love everything about it,the feel,looks,action..price doesnt matter to me weathet this reel is $100 or $400 id still come back and buy this reel all day long.it looks dead sexy on any rod with that mean flat black look.lews is taking the reel market by the ballz and puttn most others to shame.id sell all my shimanos n daiwas for a lews any day.glad they decided to make a come back.and look forward to a long fishing relationship with them and cant wait to see what they offer us in the future,cause at the rate they r going i am sure they r going to be making/puttn out some seriously amazing quality gear....thanks lews,lews for life now!!!

From: Steveo

Comments: I own 3 lewd reels. The 99.99$ reels and they are my favorite out of all my reels I have. It is smoot dependable, and lastley a fabulous reel. I won't buy a different reel ever again. Lews all the way.

From: Anthony: Seminole, FL

Comments: There's just nothing negative to say about this reel. It meets my every need. Caught my biggest bass on this reel, 10 lbs. Strongly recommended!

From: Alden: CT

Comments: I have owned this reel for a year now. I am really pleased with it. No problems thus far. Dont think it can be beat for the price.

From: Brad: Floyds Knobs, IN

Comments: I have now bought 4 of these reels they are the smoothest I have had and I have several shimono core reel upwards of $400.00 and this little $99 reel are just as good. go this route I have caught many big fish with them and have not encountered any problems.

From: Trey: Dublin, VA

Comments: I bought this reel about 2 years ago. I have got to say, this real is the best on the market. I have used many high-end reels and this one right here is the smoothest. I have had not one problem or concern. This thing always gets the Job Done! Pair this with a Shimano Clarus and you will never miss a fish! We have a reveiw of this reel on youtube if you need further informaation. Our name is midwesternanglers. Good luck fishing!

From: Dan: IL

Comments: I've had this reel for about a year now and it's great. It has quite a bit of plastic but doesn't seem to be a problem great reel for the price!

From: FL
Comments: bought this reel about two months ago and i am impressed and thats not easy to do. this reel is insanely smooth. i can cast 3/32 jigs across the local spillway with 10 lb test. i am glad because i abhor spinning gear. i have it on a fenwick 7 ft hmx light action and this rig casts light lures with ACCURACY. i am not sure about longenvity, there is alot of plastic inside but well worth 99 bucks!

From: Rick: Mansfield, OH

Comments: Let me tell you, lews has the best service in the industry. After loving my first one so much, I bought another speed spool. Figuring out something was wrong, I called lews, and the guy told me something was wrong with the spool in the reel. lews told me they would send me a new spool and ordered they ordered it before I got off the phone. Just another plus to awesome reel.

From: Corey: PA

Comments: Check out this YouTube channel "bassallyear" that kid owns this reel and just like everybody else said it's freakin sick I have 3 of them and will be buying more

From: bassmasterpat: USA

Comments: I am very impressed with SS1S! Purchased this reel and the Powell Diesel Crankbait Rod. this combo made easy work fishing DT 16s, 3 and 4 Xds. Casts a mile. Fished only once so can't comment on durability but for a budget crankbait reel (purchased with Labor day 15% discount) this reel is fantastic. BTW- weighed on my home USPS digital scale and weighed in at 7.8 oz. Only minor backlash because first time fishing new rig.

From: Mike: Loudoun County, VA

Comments: Update on these reels. I own two of these reels now and I'm amazed that this reel is considered an Introductory reel. This reel is awesome, so I can't imagine how the higher priced reels that Lew's now offer perform. I use one for worming and one for throwing spinnerbaits/swimbaits. Once you fine tune this reel, it performs flawlessly! If anyone is thinking about buying this or any Lew's reel, don't hesitate. I have other reels, such as Curado, smoke, BPS pro-qualifier, etc and Lew's is better than all of them. Very smooth, throws far, few backlashes, and so far, very reliable. Only complaint, and it's a small one, is that the Lew's logo is cheap and just glued on, and will eventually peel off. Keep it up Lew's!!

From: Tom: N. Charleston, SC

Comments: Bought this reel back in March, been using it all season. If you've never used, but want to get into baitcasters the Lew's reels might be your best bet. These things are very forgiving. I would definitely buy another. Buttery smooth.

From: Deke: Ontario, Canada

Comments: i bought one of these guys back in may along with a powell disel 7'2 for t-rigs and loved it so much i just ordered another as we speak for spinner baits you cannot beat this combo and if you do for a good price email me i dare you!

From: Shawn: Canada

Comments: 99$???? Are you kidding me!? This thing is a STEAL. It is insanely smooth, casts a MILE, very very cool looking jet black, and has the perfect hand feel. Very comfortable. I prefer it over my Curado 300e after just one usage, catching a nice rockfish and surf purch in the Monterey Bay. Main usage will be fresh water though, IT CAN HANDLE ANYTHING. dont have it? BUY IT.

From: LL: CA

Comments: One great reel for the price .Only thing wrong with mine is its noisy when reeling in . must be the magnets chattering . cast like a dream .

From: Kevin: Eastern, KY

Comments: I love this reel. It has no flaws. It is comfortable to fish with, casts a mile, never backlashes,( If set properly) and has a great handle on it. You cannot go wrong with this badboy! Owe it to yourself and buy a Lews!

Comments: This is an awesome reel. I have tried many different reels from the more popular manufacturers and this is the simplest to set up. So far right out of the box not one backlash. I am definitely purchasing more of these and replacing all my reels.

From: Kevin: CT

Comments: Awesome reel,I love mine. I love the way it fits my hand. Nice breaking system and ultra smooth casting. I will hopefully get more soon. You will get your moneys worth.

From: bdavis: Garner, NC

Comments: Lew's is awesome. I got one of these this past offseason and now have four of these, one tourney pro, and a couple of the cheaper lasers. All perform great. Best value I've found in reels. Yeah it's new, but Lew's is an oldshcool American company, and they look like they'll hold up. Give one of these a try you won't regret it.

From: Pete: VA

Comments: nothing new, bit pricey, but overall OK, a bit on the heavy side...its funny that the parts are identical to Abu Garcia Revo reels, PFlueger, Johnny Morris reels...probably comes from same Factory. OEM cookie cut reels.

From: Gus: Mobile, AL

Comments: Got this for my birthday and it's super smooths and extremely easy to use, used it all day the first day I got it and had no backlash

From: Tallahassee, FL

Comments: Bought 2 of the Speed Spool reels after an Ardent Edge Pro failed me. The Speed Spool is AWESOME!!! The Ardent drove me nuts. Easy to palm, smooth casting. Excellent backlash prevention. Set the spool tension like you normally would on any reel, crank the magnetic brakes into the middle, then tweak it to your preference, and the magic begins there! Soon, you'll be saying the same thing the other reviewers are saying. And there's a lot of reviewers. They can't all be wrong! The only thing to pick at on this reel is the spool tension knob doesn't click. That's it?! Awesome reel for under $100.

From: Thor: MN

Comments: Just got mine in and love it. Its just as smooth if not smoother than my curado and definately better than my citica G. For 99$ you can't go wrong as long as they hold up

From: Greg: Southern Illinois

Comments: Awesome reel!! it cast so smooth. i have it paired with my 7ft veritas and the combination is so light!!! it may actually be my favorite reel now, its probably smooth than my Pro Qualifier.price isnt to bad either. Great Job Lews!!!

From: Cody: Lake Norman, NC

Comments: jordan they do make a spinning reel

From: Clay: Marion, IA

Comments: This reel is amazing!!! now just if they mad a spinning reel it would be all I Bought.

From: Jordan: Lakeland, FL

Comments: Got this reel a couple of weeks ago and i love it, its awesome, there are plenty of reels that are better out on the market. but for 100 dollars it doesn't get much better than this reel i love it! and i looks awesome. Good Job Lews!!

From: Jimmie

Comments: Got 2 lews reels and in the process of ordering more! Best reels i have ever had the pleasure to use hands down. Cast great, silent retrieve and casting. Amazing how smooth that they crank in even with Deep diving crankbaits.

From: Jeffray: Westport, TN

Comments: Fantastic reel every lews i own or have tried has preformed fantastically they are easy to use with minimal backlash. If you haven't tried one you do not know what you are missing best baitcaster I have ever used.

From: John: NC

Comments: Slick, Black, Ligth, Idea for $100 bones. Great in Fresh or Salt Water. Will buy More!!!

From: TJ: CA Delta

Comments: took this reel out fishing for the first time tonight and all i can say is this reel does not live up to any of the hype in the feedbacks i have read on here the magnetic braking i dont believe even worked on the reel...the drag tensioner felt cheap and difficult to tune overall not impressed with this reel wish i could return it and get another citica

From: Mark: Yuba City, CA

Comments: Had this reel for about a year, perform great. I got it when the price was 79.99, so it was a bargain. Was fishing one day and then the sideplate just fell off into the water, and now it's gone. Bummer. But all in all a good reel.

From: FireTiger: California Delta

Comments: Just bought this reel and took it out on the water cranking today, all i have to say is wow! litteraly it took me three casts to get it dialed in and then i coulndt get a back lash i have so other reel and i get back lshes quit a bit but with this thing its insane upgrading all my reels to lews oh a btw caught 50 fish deep crankin today and also held up great and is super light LEWS FOR LIFE

From: Jacob: Monona, WI

Comments: I'm an idiot and sick. It's all true. With a boat full of 150-200 dollar reels and one core...hope wife doesn't find out...this was all I ever needed for $100. Wow!!

Comments: Had mine for about a year now. Dropped it in water, fully submerged, TWICE. Cleaned it up, and as good as new. Can't be beat for the price.

From: WI
Comments: Just got this real, appears to be built like a $200 real for half the price. Taking it to Ky Lake in 2 weeks, out on the ledges will be the proving grounds for me. I am sure I wont be disappointed. Glad to see Lews back in the game.

From: Jeff: Lagrange, KY

Comments: After Shimano dissapointing me with there new curados, I was going to buy a few of these reels to try out and if I liked them replace all my shimanos with them.......Then I discovered they dont build them in LH???? just a heads up most of th new generation of anglers all use LH reels so you guys need to start building these.

From: Jeremy

Comments: I got this reel on the recommendation from my friend who is a angler for the Toyota weekend series. I was going to get a Abu Garcia Revo SX, but he told me to check out the Lew's Speel Spool. He told me to get the $99 one, and that's all I would really need. He has 7 of them. This is my first baitcasting reel, and I couldn't be more happy! I do however wish that they made different ratios for the left hand model. Oh well. It's solid, lightweight, and is small too...Last weekend, I casted all day in the wind, with the wind, and with different type baits, and I honestly didn't have one single backlash. Get this reel, you'll be glad you did.

From: Jeff: Waterville, ME

Comments: This reel is awesome for the money. It is one of the smoothest reels ive owned. Casts are long and has been working great

From: Justin: Meridian, MS

Comments: I have used many different baitcasters but this is by far the best for the money. In three weeks I have caught five fish over five pounds and you man handle them with it. Strongly recommended.

From: Austin: Jackson, GA

Comments: its almost too smooth..... very nice looking reel cast like a dream cast my little 1/4 ounce and 5/16ths great...handles big bass great drag is great

Comments: best reel for money i have ever owned. I have recommended this reel to everyone i fish with. awesome casting and solid hook sets. Brought in fish over 7 pounds with ease. very easy setup even for beginners.

From: Austin: Tifton, GA

Comments: One of the best casting reels ever. no backlashes. with the smoothest retrieve. drag handles peacock well. would recommend to anybody, real well worth the 150, Ive bought other reels in this price range and this is the best one.

From: Andrew: Miami, FL

Comments: absolutely love them bought last spring went got another before summer was over..spent all winter selling my other reels...now lews are all thats on my deck. had a few small problems getting them dialed in but after that all is good.i use from dragging carolina rigs to deep diving crankbaits. to shaky heads. with braid.flourocarbon and mono. no issues. as long as the quality and price stays as it is im a customer for life.

From: Alan: Gallant, AL

Comments: AWESOME REELS! Lews please make a 7.1:1 in left handed...

From: Chris: Cali

Comments: Super smooth, A bit of a step-up from the Bass Pro Qualifier I have. Great castability

From: Evin: Newnan, GA

Comments: wow... super smooth. better than my shimano curado 200e. I have caught steelhead, bass over 7lbs, and catfish on this reel and it still runs great. AMAZING castability and smoothness WOW!

Comments: I own 2 of these reels a 5.4:1 and 7.1:1. i have had the 5.4:1 for a year now and it has been amazing over the weekend i noticed a little whine when casting and retrieving a crankbait. When i got home i opened the lube port and greased the drive gears and the pinion gear and it has no noise. i have owned other reals that have done the same thing but have had to take apart the whole reel and clean everything to get them smooth again. the ease of maintenance is all the proof i need as well as the whole year of fishing with no problems. Have recommended to a lot of people best reel i have ever used

From: Joe: KY

Comments: What a great reel hard to get me away from shimano but I love the reel it's bulletproof

From: Brian: Slidell, LA

Comments: i drop ALOT of my money on tackle gear.i love all the lews baitcasters,all dream reels and absolutly took the tackle industry by storm and shook the hell outta the competition,these reels are far better than any of my shimanos and daiwas for the money hands down,and by all the other glowing reviews many will agree.but this reel here imo is my favorite and the best looking reel that lews put out,i love the black on black stealth look,this reel might have a $100 sticker but if it was handed to you youd think you where holding a $250-$300 reel,lews deff came back swinging and strong,they are doing a great job making sure we (the anglers) dont forget this either and to stamp LEWS in our brain for future reference in tackle.i know its worked for me and i will be coming back to lews for my reels from now on.they are the old school king of the baitcaster,and for the money you get way more then you should,its like walking in with the cash for a volkswagon and walking out with a bmw. you wont be sorry!!!!thank you lews and thank you TW.cant wait to see whats next from lews.

From: Steveo: USA

Comments: I've have used this reel for a few months and for some reason I'm having a difficult time getting it dialed in. I am experiencing mini-backlashes on my casts much too often. It may be that I am so accustomed to using Curado E series and Citica E series that anything else gives me problems. This reel is well built, compact, feels great in the hand and looks great. However, it is a little noisy on the casts. I'm not going to give up on this reel because I think there's a good possibility the real problem is me not getting it tuned in correctly.

From: Rod: Chillicothe, MO

Comments: I have had this thing for about 6 months and I still love it. It's just a little heavy but it's not overwhelmingly heavy. It's very durable. I have horsed Bass out of cover and even landed 12 lbs Cat's with ease. This thing is very smooth. I recommend it to anyone.

From: Matt: San Diego, CA

Comments: Just got this reel, amazing!!!!! Selling my others and getting these from now on. Great price too! Try it out!!

From: Sam: Greensboro, NC

Comments: paired with a lews speed stick- best spinnerbait/jig setup there is. smoothe, easy to cast, powerful, durable. dont waste $150+ on a foreign reel, when you can have a reel that is better quality for less dollhairs

From: Scott: Woolwich, NE

Comments: Ive got a whole wall filled with reels and by far its the best reel I own. Ive paid 300 plus for reels but no more. The reel casts a country mile and is as smooth as any $300 reel I have. To top it off its less then $100.

From: Scott: Lebanon, MO

Comments: Awesome reel! so smooth. love it.Get one or youll be sorry.

From: Giuliano, CA

Comments: This is the one of the best reels for 100 bucks.I use for everthing(jigs,cranks,spinnerbaits)it casts smooth,u need one in your arsenal.

From: Noah: IA

Comments: I have 3 of these now and like stated before to me they throw just as good as my Curados. These are sweet reels get one you wont be disappointed.

From: Lance: Livingston, TX

Comments: Great reel! Casts just as good if not better than my Curado 200E7. Spooled it with 10lb mono and can throw the lighter lures very well.

From: Taylor: LaGrange, GA

Comments: My favorite reel. the 5:4:1 has great power and causes me to low down. super light. cant be more pleased. will be buying more of these

From: Jon: Germantown, TN

Comments: great reel for the price. will throw a bait further than any of my other reels (currado, bps reels, revos) especially pleased with its ability to throw light baits. only set backs are the drag, you almost have to have it at full power to have good resistance. and im not a big fan of the paddle style handles but that has nothing to do with the reel's quality. awesome for the price.

From: Chip: Siler City, SC

Comments: Absolutely love this reel..have it on a 7'6 MH Veritas very lightweight and handles everything I throw....definately wil be buying a few more of these.

From: Mark: Nashville, TN

Comments: I love this reel! SUPER SMOOTH. just as good as my Curado 200e7. It cast like a dream an is sooo cheap! I used my friends new shimano caenan today good reel but this reel is so much better Buy it you wont regret it!

From: Jack
Comments: The Lew's Speed Spool is an amazing reel. I was given one as a college graduation gift back mid-2011. I now own 4 of these reels (3 of the 6.4:1 and 1 of the 5.4:1) paired on two Veritas, one Kistler Argon, and one Shimano Crucial. These reels handle everything from Spinnerbaits to A-Rigs with no problem. They are the best reels going for the price and quality. Not to mention the top of the line service by Do Outdoors. Wish I had known about these reels while in College.

From: Brandon: WV

Comments: The absolute best reel ever made!!!!! I have it paired with a Duckett Micro Magic 7'3 medium heavy it is very light with that rod use it for pitchen speed worms, pit bosses, and craw fattys on flurocarbon. This ree is great for soft plastics. Defiantly buying more Lew's.

From: Austin: FL

Comments: I got this reel from TW a while back. It is the best reel I have ever bought. Thanks Lews for making a great reel at a good price. Thanks TW for being so nice and helpful.

From: Danny: Sparta, TN

Comments: this reel is excellent, i ordered it from i fall of 2011 and it handles all sizes of fish. it has a bit of heft, but that only makes it feel tougher, its also really compact. i have mine paired with a 6'6" medium carrot stick and throw just about anything i like with it, especially small jigs in the 1/8-1/4 range

From: Justin: Washington D.C.

Comments: So here's Lews problem. Why in the world would I go buy the top of the line Lews Reel when I can Buy their reel that is less than 100 bucks and its better than any other reel I own? I own Revo's, Curado's and Daiwa advantages and this reel is twice as smooth and half the price. It cast a mile and the drag doesn't chatter at all... It's just as smooth as butter on ice. I hope they don't start making them inferior so we pony up and buy the expensive models. I'm a Lews customer for life.

From: Ray: CA

Comments: ed on a 7 ft. med hvy abu garcia veritas rod. I love it and it is the best reel that i have ever owned.. I wouldnt recommend nothing but the lews speed spool. And the price, it is the best. Outstanding product.

From: Andrew: Greenfield, WI

Comments: This reel is really nice hot looking reels. It feel awesome and smoother than Revo, Quantum, and other reels. Nothing compare to this reel. Will buy more to replace my other two Revo PREMIER....AND PATRIARCHY....

From: Prachua: Minneapolis, MN

Comments: This casting reel is nice and VERY smooth than any other reels out there. It even look nicer than Revo, Quantum, and other reels. I have two Premier, one sx,and one pratriarch but nothing compare to this one LEWS TEAM SPEED SPOOL CASTING REEL FOR LIFE..

From: Prachua: Minneapolis, MN

Comments: This reel is the absolute best reel you can buy for the $100 price range. Love it

From: Kyle: TX

Comments: Go with these new generation Lews reels with confidence! They will not dissapoint you. Had a question about the reel and called them and despite what some reviewers posted, spoke with a very courteous staff and service team. Thanks to Lynn Reeves and staff. My new TS1H is right at home with my 10 BB1N's that wont die! Its a LEWS thing. If you dont understand I probably cant explain it.

From: Joe: Winder, GA

Comments: Best Reel Ever. I Have owned alot of other reels and this one is by far the best one yet

From: Brandon: Hollidaysburg, PA

Comments: awsome reel super smooth

From: Tim: Stuyvesant, NY

Comments: My new favorite reel, have other brand more expensive reels but this one is by far the smoothest casting and cranking reel i have ever owned...WILL be replacing all my other reels with Lew's from now on. Was thinking of moving up the the next level Lew's but how can it be any better? Thanks Lews !

From: Jeff: Westport, TN

Comments: just bought this reel i own just about every reel you can tink of diawa bsp jm revo shima curado and caen abu 5000 pro qaulifier this reel is the reel thing great reel better than all these put together.i promise you you will love this reel

From: Tommy
Comments: I first got acquainted with Lew's baitcast reels back in the '80s when a preacher fishin' buddy let me try out the one he had bought. That experience stayed in my head over the years, but I never bought one of my own until recently. And I'm here to tell you that this $89.99 reel stands shoulder-to-shoulder with all the $199.99 Revo STXs I own, without taking a back seat to any of them. It casts as far and, in some cases, farther than some of my Revos and gives me nothing but unwaveringly smooth service. For the price, I personally don't think you can go wrong by buying one of these new Lew's.

From: Ken: Testoroff: Virginia Beach, VA

Comments: I just got this Lew's reel yesterday and wanted to try it out before a storm hit. I only got about 10 casts in, but this reel is superb in every aspect to any other 'under 100 dollar' reel I own or have tried. It casts so smoothly, I felt as though nothing happened when I cast - the splash of the lure in the distance is the only sound this reel generates. It's just an amazing reel and extremely durable. It doesn't get any better than this reel.

From: Eric: MI

Comments: look no futher u found ur favorite reel

From: Brad
Comments: already have a shimano caenan and thought I'd try out a lews reel at the same pricepoint. Lews feels like it's built better and a bit more refined. May be just due to the extra half ounce but it feels more solid. Caenan is a decent reel don't get me wrong. I am all shimano for spinning reels and have 4 stradic ci4 and a saros. All great quality. But for baitcasters Im stickin with lews. Next on my list is the tournament pro. This is the best under a hundred dollars. Getcha one and ule be glad u listened to me.

From: Dale: USA

Comments: I purchased this reel about 2 months ago. It is the smoothest reel I have ever fished. I have fished Lews reels all my life and this is another awesome reel from Lews!

From: Randal: Bristol, FL

Comments: very smooth long casting quiet reel. i prefer them over my curados. paddle handle is very comfortable. i will probably buy several more and sell my shimanos. they hit a home run with these reels

From: jmbass: Roanoke, VA

Comments: I love this reel it is the best one I have ever used and I have used many expensive reels and this is by far the best, very smooth casting and retrieve light weight, will be using these from now on hands down, I have it paird with a varitas best combination, all rods and reels will be varitas and lews.

From: Jarrett: Killeen, TX

Comments: Just picked this jewel up from you guys. What a great reel, smooth, solid and casts a mile. A little finicky getting the reel set up but within a few casts it's rolling. Paired it with a 6 1/2 ft. Mojo . Great combo. PS Thanks for the incredible service!

From: Tom: Billings, Montana

Comments: I just got this reel in the mail and had to try it out its absolutely the best reel i've ever bought! I never had a reel that could cast out so far and very very smooth. I used to buy from bass pro shops all the time but now i hate that place when it comes to reels. get the speed spool now its the best reel ever!

From: Jordan: Meridian, MS

Comments: outstanding reel, I have it paired with an abu garcia veritas 7'mh and the combo is great. Very satisfied, will definitely purchase more of these.

From: Jerris: NC

Comments: Second casting reel I ever bought and what a surprise. It makes even a crappy caster look like a pro!

From: Richie: Slidell, LA

Comments: This reel is amazing!!!!! I have mine paired up on a G Loomis GLX spinnerbait rod and its a match made in Heaven. I plan on replacing all my Quantums with Lew's. Cast like a dream and the custom paddles are great. Don't be afraid to go with the originators of the low profile baitcasters. TEAM LEW'S!!!!!!

From: Adam: Cyclone, WV

Comments: This reel is by far the best reel I have ever bought for under $100. This reel is as smooth as some of the reels I paid $150. When you hold this reel for the first time you can feel the quality. It is a solid reel. It has great casting distance. The drag and brakes work very well. I plan replacing all of my low end reels with these.

From: Ben: Three Rivers, MI

Comments: Awesome reel at a great price! this is my first reel from Lew's and I must admit, I'm impressed. This reel is extremely smooth and casts far. Once i fine tuned it, I was happy about it's performance. It's a lot more compact than I thought it would be and it's very comfortable. This reel is well worth the money. I was throwing a swimbait recently and wow, it was casting a mile with no backlashes! In my opinion, it's the bast 90.00 reel out there!

From: Tom: North Charleston, SC

Comments: The 7.1.1 did the job on Guntersville with swimbaits last week. 5 days of chuck'n and windin with the speed spool with no problems. Its a great reel.

From: Jon: Coatesville, PA

Comments: I think I'm in love!

From: Kyle: Omaha, NE

Comments: i never sibmit reviews but have to on this reel. for 90 bucks best reel ever. smooth cast a mile. if you need a crankin reel try this one you want be sorry.

From: Mark: Georgia, USA
Comments: my father just bought one..he loves it..good price for a good reel

From: Big John: Stafford, VA
Comments: Knowing that Lew's was one of the first in the low profile baitcaster industry, I decided to try this reel out. I have reels I've pai 200 bucks for, and this thing out casts them, is smoother and I like the size of the reel. Put it on a falcon micro guide rod and couldn't be happier.

From: Larry: Lubbock, TX
***Note: If you have questions about this product or need assistance with an order please email your questions to info@tacklewarehouse.com
View Large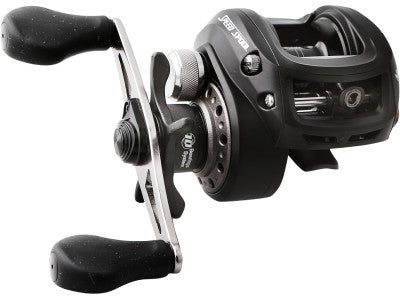 Place Your Order