Lew's Speed Spool LFS Series Casting Reels - $99.99
Lighter, Faster, Stronger - the new Lew's Speed Spool LFS Series Casting Reels feature new tooling and materials that takes Lew's legendary Speed Spool performance up a notch. The one-piece die-cast aluminum frame is incredibly rigid to keep all parts in perfect alignment, while also remaining incredibly lightweight. Available in 5.6:1, 6.8:1, and 7.5:1 gear ratios, high strength solid brass gearing dishes out serious power and optimal speeds for a wide range of applications.
Delivering complete, easy-to-use cast control as well, the externally-adjustable Magnetic Control System (MCS) allows you to make quick adjustments on the fly for changing weather conditions and different lures. Loaded with the features and performance that are quickly making Lew's reels a favorite again, the Lew's Speed Spool LFS Series Casting Reels come in at just below $100 to top it off.
-One-piece die-cast aluminum frame
-Sturdy graphite sideplates
-Easily removable palming graphite sideplate
-Drilled, machine forged and anodized aluminum U spool
-High-strength solid brass gearing
-Premium 10 double shielded stainless steel bearing system
-Zero-reverse one-way stainless steel clutch bearing
-Externally adjustable Magnetic Control System (MCS)
-Anodized aluminum spool tension adjust
-Durable Rulon drag system - 10lb max drag
-Anodized bowed aluminum reel handle with Lew's cusom SoftTouch paddle handle knobs
-Audible click, bowed, graphite smooth star drag brake system
-Zirconia line guide
-External lube port
-SSG1S features high capacity spool and longer 95MM power crank handle
Delivering legendary Lew's performance at a reasonable price, the new Lew's Speed Spool LFS Series Casting Reels are now Lighter, Faster & Stronger.
Comments: Just got this reel in the 7:5:1 gear ratio, first day taking it out I caught a 3.5 and a 4 pounder. Couldn't ask for a better reel for the price point. Plus it looks sexy on my duckett rods
From: Jacob: KY 10/20/14

Comments: Got one of these in the 6.8:1 for spinnerbaits, buzz baits, chatter baits etc and WOW. For only $100 this is an amazingly smooth, quiet and casts a mile even into 30 mph winds! Definitely getting another!
From: Landon: Denton, TX 10/13/14

Comments: I bought one of these in the 7:5:1 gear ratio about a month ago. I have using several other major manufacters reels that are 3 times the price. No more...This is my first Lews. Won't be my last. Smooth, quiet, great reel all together. The fall small mouth bite has put this reel to the test and it has handled it well. And for a price you can't beat!
From: Mike: Marinette, WI 10/13/14

Comments: This reel is UNBELIEVABLE!! Don't spend the extra money on other reels.Just get these and save a bunch of money and be happy.Just used mine for the first time today and could not believe how well it worked.Started with a buzzbait throwing it a mile and then could cast a 1/8 oz hair jig easily.Landed 6 of 8 and it was smooth as silk.And the 7.5:1 is a plus.
From: Larry: Milan, TN 10/12/14

Comments: I recently purchased one of the lews lfs speed spool. It is AMAZING! I hsve an Abu Garcia Rvo s, and my lews out preforms it by a lot. I recommend this reel for any angler thats looking for quality for a cheap price.
From: Chris: Winchester, TN 9/29/14

Comments: Just when you think Lews cannot improve a $99 reel like the first generation Speed Spool, here comes the all new LFS Speed Spool for the same price point. This reel is insane for a $99 casting. The LFS series is lighter than the previous and balances well on just about any quality rod. This second generation Speed Spool also comes standard with a swept handle which is a nice addition over the first generation. They've also changed up the gear ratios and now offer a 7:5:1 that is a huge bonus at a reel at this price point. However Lews does it, they do it right. Customer service with them is outstanding as well. I challenge you to find a reel at this price that can perform the way the new Lews LFS Speed Spool does. Dont hesitate to buy them. Tight lines!!!
From: Jake: LA 8/27/14

Comments: I just ordered me 2 of the new Lew's reels. You don't have to spend 3 or 4 hundred dollars to get a fantastic reel. I have owned Shimano's all of my fishing life. I fished with a friend of mine and he had a Lew's reel. He let me use it that day and he used my Curado. At the end of the day I tried to sway my curado for the Lew's. I now own 4 of the Lew's speed spool reels and just put in another order for 2 of the new LFS reels. For 99 dollars you cannot get a better reel if it cost you 400 dollars. A Lew's reel with cast as good or better than any reel that I have ever owned, and I have never had a bit of trouble with any of my reels. I will always be a Lew's owner and look forward to adding more to my arsenal so that when I pick up a reel I know what to look forward to. Excellence in quality and performance. Thanks Lew's and Tackle warehouse for the great products and service.
From: William: Hohenwald, TN 8/9/14

***Note: If you have questions about this product or need assistance with an order please email your questions to info@tacklewarehouse.com
View Large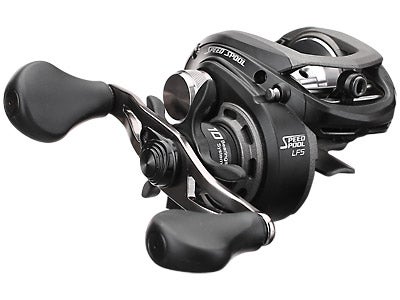 Place Your Order