Lew's Team Gold Speed Spool Casting Reel - $239.99
Quickly becoming the gold standard for baitcasting reels - again. Lew's resurrection continues with the Team Lew's Gold Speed Spool Casting Reel. Many anglers still remember when Lew's came out with first-of-their-kind reel technologies that have now been adopted by every reel manufacturer. Now better than ever thanks to use of advanced materials and technologies, the Team Lew's Gold Speed Spool Casting Reel offers extreme durability and sleek, new look.
Features:
-One-piece diecast aluminum frame and side plates
-Titanium deposition finish on sideplates for ultimate durability
-Double anodized gold detail finishing
-Aircraft-grade Duraluminum 12-hole drilled U-Style spool, drive gear, crank shaft, and worm shaft
-Premium double sheilded, stainless steel, 11-bearing system with Zero Reverse
-Frictionless titanium-coated zirconia line guide
-Multi-Setting Brake (MSB) utilizing both an external click dial to adjust the Magnetic Brake System, and an internal 4-pin positive on/off Centrifugal Brake System
-Anodized aluminum spool tension adjustment with audible click
-Rugged carbon composite drag system, provides up to 14lbs or drag power, audible click metal star drag
-Premium bowed lightweight 85mm carbon handle with Lew's custom Soft Touch contoured paddles.
Offering rugged, durability along with refined performance and styling, the Lew's Team Gold Speed Spool Casting Reel offers top-tier performance from Lew's.
Comments: I'm a lefty and I purchased the 7.1:1 and use it for flippin. It's great because I have more control flippin with my left hand and I can operate the thumbar and handle with my right. I dont see what the big deal is. When you use a spinning reel you usually reel with the oposite hand than you use with a baitcaster. So bottom line is quit crying all you leftys

From: Todd: Indianapolis, IN

Comments: What ever happened to the review section actually being used for reviews on the product and not for people to complain about no lefties or to ask questions about the product? I don't understand why people are treating this as it is a forum. Go directly to Lew's to find all of your answers and to give them your complaints. Let this actually be what it is intended to be used for, to review the product.

Comments: My favorite reel. It puts all of my high end Shimanos to shame. It feels like you're reeling in butter it is so smooth and it casts a country mile. It's hard for me to say this because I have been a die-hard Shimano fan for a while but Lew's is the top of the line now. Great quality and great customer service. Will be interesting to see how this reel holds up over the years.. I hope it will last me forever!!

From: Katelyn: AL

Comments: these guys must think Tackle warehouse owns lews by all the crying about lefties,,, take those comments to LEWS web site and it mite not waste every ones time here by you doing that .Great reals as always with lews.

From: Kevin: KY

Comments: if you dont like right handed reels dont talk bad about Lew's. they make a great professional reel, if its the much of a pain to you just get a darn abu garcia.

From: kendog: Northern Wisconsin

Comments: Can i hear about the quality of the reel instead of the fact that they don't offer a left handed retrieve?

From: John: AR

Comments: are the gears brass or aluminum?

From: Station2

Comments: Hey David this is not the place to tell lefties not to whine about left handed reels, people want to know about the quality of the reel! This is not the place for youre whining. This is a great reel, very smooth, light and built well, but why not double youre sales and make them in left hand retrieve lews, get with the program

From: Matt: St. George

Comments: you guys need to quit whining about left hand reels. People want to know the quality of the reel. This is not the place for your whining.

From: David: TX

Comments: I don't get it do lews really lose that much money if they make a top of the line in a lefty. I guess ill have to use my 200 dollar on shimano or abu garcia which offer a lefty for there higher end and top of the line reel

From: Sue: Fresno, CA

Comments: If they had leftys, My Son would probably purchase 4 or five I own 6 Lew's.... easy for me because I prefer right handed reels.

From: Frank: Canada

Comments: love the lews but gotta have a lefty

Comments: I agree with Matt. I'm right handed so I cast and control the rod and reel with my right hand and crank with my left. I would never consider a right hand cranking reel no matter how good it is.

From: Larry
Comments: no lefty, no business

From: Matt: St George

***Note: If you have questions about this product or need assistance with an order please email your questions to info@tacklewarehouse.com
View Large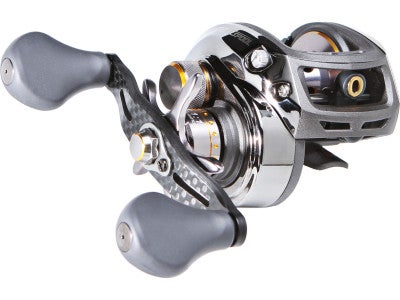 Place Your Order