Lew's Tournament MB Speed Spool Casting Reel - $139.99
Continuing Lew's legacy of quality and reliability, the Lew's Tournament MB Speed Spool Casting Reel features new tooling and Lew's LFS (Lighter, Faster, Stronger) technology. Weighing in at only 6.7oz and packed with ten double shielded stainless steel bearings plus a zero-reverse one-way clutch bearing, the Tournament MB Speed Spool delivers consistently smooth functioning and rock solid hook sets.
It also comes loaded with a rugged, carbon composite drag system that stays smooth and cool throughout its range, while dishing out a hefty max drag of 14lbs. Offering complete cast control, the externally-adjustable Multi-Setting Brake (MSB) dual cast control system also utilizes both an external click-dial for setting the magnetic brake, plus 4 individually disengaging, disk-mounted internal brake shoes that operate on centrifugal force. Packed with the latest technology and features, the Lew's Tournament MB Speed Spool Casting Reel delivers the smooth, powerful reliability that anglers have come to appreciate from Lew's.
-One-piece die-cast aluminum frame
-Drilled and forged, double anodized aluminum U style spool
-Easily removable palming graphite sideplate
-High-strength solid brass gearing
-Premium 10 double shielded stainless steel bearing system
-Zero-reverse one-way stainless steel clutch bearing
-Externally-adjustable Multi-Setting Brake (MSB) dual cast control system
-Double anodized aluminum tension adjustment with audible click
-Rugged carbon composite drag system - 14lb max drag
-Audible click, bowed, anodized aluminum star drag
-Bowed, lightweight, aluminum reel handle with Lew's custom paddle handle knobs
-Zirconia line guide
-External lube port
-TS1SMB features high capacity spool and longer 95MM power crank handle
Delivering tournament caliber performance and Lew's legendary reliability, the Lew's Tournament MB Speed Spool Casting Reel features new tooling and Lew's LFS technology.
Comments: I've always wanted to try Lew's reels so I bought a 5 speed, 6 speed and 7 speed Tournament MB to replace 3 of my PQ's. Now I know why Lew's users are fanatical. These reels are buttery smooth and packed with features. The dual braking system took a little trial and error but when you get the feel for using it WOW-its awesome and easy. I'll be replacing 3 more PQ's REAL soon-sorry BP. I'm Lew's for life!
From: Don: USA 10/29/14

Comments: This is my third Lew's reel, and what can I say but that I'm very impressed. These new Lew's reels are packed full of features, technology and are even better than some of last years more expensive models. I don't think there is a better reel on the market that can give you all of these features for only $140.
From: Ryan: TX 10/25/14

Comments: Packed with features - best reel on the market for $140 or less. First impression - it has a cheap look and feel to it. But hey, it was only $140. After getting it out on the water, you come to appreciate the value of the reel. Quick release sideplate. Clicking tension knob. The features all come in handy. Dual cast control - you don't know the benefits of dual cast control until you have mastered it. I've seen people tune it the wrong way and complain about it. Experiment if you're a novice. It's light, I can fish all day on it. I was disappointed that I had to add bearing oil, but whatever.
From: Thor: MN 10/18/14

Comments: just bought the 8:3:1 and want to say it's the best reel I've ever owned. I use it for pitching and it allows me to easily get into a dock post or brush pile, work the spot, and get the bait in quick for another pitch. It's smooth and efficient as are all Lews and couldn't ask for a better reel.
From: Wisconsin Angling Outdoors: 10/14/14

Comments: TS1H has been golden for me I have the 6.4 ratio and it has performed flawlessly. Couldn't be happier with this reel. Lew's thanks so much for making a product that works well.
From: Jordan: USA 9/6/14

***Note: If you have questions about this product or need assistance with an order please email your questions to info@tacklewarehouse.com
View Large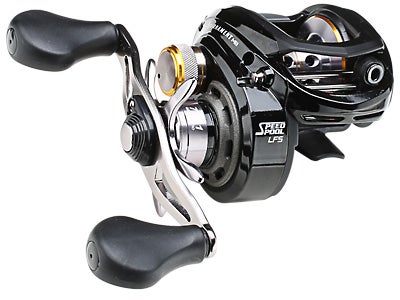 Place Your Order