Lew's Tournament MG Speed Spool Casting Reel - $129.95
Offering a deep, large capacity spool and a longer "power crank" handle, the Lew's Tournament MG Casting Reel is packed with features, and available in a full range of gear ratios. Whether you are casting to deep, suspended fish or throwing to the rocks at the jetty, the Tournament MG Series has a reel for you. It's also the little things in addition to the major features that set Lew's reels apart, like audible click adjustment on the tension knob and drag system, so you can make precise settings, as well as an external lube port for easy access. Living proof that Lew's is listening to anglers needs.
Delivering sturdy functioning you can count on, the Tournament MG's one-piece die-cast Aluminum Frame houses ten premium double shielded stainless steel bearings (9+1) for consistently smooth casts and retrieves, and its rugged Rulon Drag System offers absolute lock down power. Lew's made its name by producing quality products designed to meet the needs of anglers - and the tradition continues with the Lew's Tournament MG Casting Reel.
Additional Features:
-Lew's Custom Paddle Handle Knobs
-High-strength Solid Brass Gearing
-Externally Adjustable Magnetic Brake System (MBS)
-Zirconia Line Guide
Living proof that Lew's is listening to anglers needs, the Lew's Tournament MG Casting Reel is packed with features, including audible click drag, tension, and cast control, as well as, a deeper spool and longer "power crank" handle.
Comments: I now have 24 reels that I own. I own every brand known to man. This the first Lew's reel that I have bought. I can't believe that I have waited this long to buy one. This reel casts further than any reel that I own. The main thing to me is how comfortable the reel feels in your hand. To me no matter how much a reel costs if it is not comfortable and fun to use it is worthless. Lew's reels will cast a mile and perform as well or better than any other reel on the market. I love it and I will get me some more.
From: William: Hohenwald, TN 4/18/14
Comments: I've had several different reels from Abu Garcia and Shimano and this one blows them out of the water. You can feel how solid the build is and there's no play at all in the important bits. Casting is very easy and serious backlashes are few and far between and guaranteed to be user error. The drag is buttery smooth as well. One note on the ergonomics: The frame is REALLY small, it's barely more than a cover for the spool. I have big hands and it took a little bit to get used to it. Also, the crank is much longer than other reels. It's not a bad thing but it does feel different from other reels.
From: James: CO 4/9/14
Comments: I bought this reel after having two store brand reels that I paid $100 for. This reel blew me away it casts so smooth and easy and has earned another lews customer for life as long as they continue to produce quality products like this. In fact I bought 3 speed spools from TW that i should receive in the next few days!!
From: John: USA 3/21/14
Comments: Every once in a while when I cast theres a weird clicking in my rell but other than that this reel is amazing. Cant beat it for the price.
From: Brandon: Oviedo, FL 3/17/14
Comments: I have 3 of the tournament Mg's, 2 tournament pros, and 1 BB1. Lews outperforms ALL of my revos and quantum's hands down. It's not even close! When Abu Garcia released the revo and shimonoseki released the chyron arc, they took the fishing world by storms. Now, all reel manufactures can bow to Lews!
From: Stone: Charlotte, NC
Comments: I have had this reel 7 months and have caught a tone of fish with it. I recently caught a 10.5 using this reel as well. All I have to say is WOW. Not only does this reel cast far it has power to match. I own several revo sx and curados as well. This reel matches up to both. I would even say its better than the curado as far as the casting goes.Great reel for the money for any angler level.
From: Ray: Converse, TX
Comments: I have 3 of these reels (2 in the 7.1 and one in the 6.4) and they work flawlessly. Best reels I've ever used and they are completely worth $130. Lew's for life!
From: Adam: Hartselle, AL
Comments: I have 2 of them and they get the job done better then my smoke and my revo SX. Great price and long casts and have a great feel in your hand. I'm a Lew's customer for life.
From: Jared: Tipp City, USA
Comments: This reel is very impressive to say the least, ive caught some big river smallies on this baby and those fish fight HARD. I have the $80 model also and use it for flippin and piching and I caught a 45 pound snapping turtle with it. performed flawlessly. Getchya one. youll be glad you did!
From: Adam: WI
Comments: Bought this reel seven months ago. WOW! Best reel I have ever used, especially for the money. Have used Abu Garcia and Diawa. Both are good, but this is MUCH better. Will be buying another one as I need one with a lower retrieve ratio. I hauled in a 9.8 pound Lunker on Lake Fork this past fall with this bad boy. Drag was perfect, and I needed it. I like the dual drag settings. Once you have it set you don't have to touch it again. Casts smooth and you can chunk it a mile. Like any new reel, you need to work with it a bit to get used to it. Had a couple backlash until I had it set right. Never happened again. What can I say...Buy one!

From: Mike: Keller, TX

Comments: Awesome Reel...great drag, very smooth, doesnt backlash

From: Roger: SC

Comments: Best reel for price and forget the price one my favorite lews reels casts so far, so smooth, and does well with light lures. Great reel get youvwont reget it!!

From: Cody: Binghamton, NY

Comments: ok, this reel is the absolute best! It even outperforms my $200+ reels... strong, smooth as silk, out casts the others, line capacity, and has all the attributes you could want or need in a reel... but at only $129! love this reel!!!

From: Greg: Butler, PA

Comments: I have 6 Lews reels and This is the best bang for the buck .Don't get me wrong I like them all they are flawless But this one is a step above with the duel cast adjustment . It is so smooth and cast like a champ every throw no mater what bait you change to , I never have to re-adjust for different baits. The BB1 is not even as good as this one to me . I will be getting 6 more of these later for the 2014 tournaments.

From: Kevin: KY

Comments: I got this reel for Christmas last year and at first I was very impressed with the performance. After a month or so of use the bearings started to go out and some other problems showed up in the reel. After I replaced the bearings with boca bearings and did some internal fixing, this reel is as good as new and I'm overall still happy woth lews reel.

From: Morgan: plano, tx

Comments: I purchase my reel here and after several usage, I'm def in LOVE with this reel. SO SMOOTH, and it's one of the best cast reel that I've ever purchase. It's really worth the money, small in size and perfect when dragging in that freshwater species. I would def purchase another one soon. Recommended this reel to anyone.

From: Washington: Temecula, CA

Comments: I purchased the tournament MG about 3 months ago. I used to have a Diawa Megaforce 100THS. It worked great for a few months than the level wind retrieve started skipping and not be smooth. After some research, and wanting a reel with an aluminum body, I decided to go with the Lew's Tournament MG for $130. I have no regrets and plan to purchase more Lew's reels in the future. My son has 2 ABU Garcia reels, and says that he is thinking about going with Lew's also. I am not saying anything bad at all about Diawa or ABU Garcia, as they both have great products. In my opinion, for the money they are worth it 100%

From: Gerald: Milwaukee, WI USA

Comments: This reel is AWESOME! Casts twice as far and is twice as smooth as my revo s. Also very good looking reel. Definitely will be buying a few more!

From: Hunter: Nevada, MO

Comments: I have fished a Quantum Accurist for 3 years now and they were my go to value priced baitcast reel. They discontinued accurist, so I decided to try this reel on a recommendation from a guy who professionally cleans fishing reels. I gotta say this baitcaster is a serious gamechanger. As I replace my 4 baitcasting reels that fish with...they are all going to be replaced with this reel. The reel is such a great value because you cant buy many, if any baitcast reels with 10 ball bearrings at this price point; not to mention that it has alot of upscale features! Its a well thought out baitcaster. It performs flawlessly. Its a workhorse that can handle whatever punishment you can dish out. You can bomb lures a long way; every cast is super smooth. When you get a back lash(which is very uncommon if you set the reel correctly) the line does not get tangled into a huge birdnest it just over runs the spool; this makes it very easy to get back to fishing fast instead of picking a backlash out on the water. This really impressed me alot. I paired the 7.1:1 left handed Lews reel with a 7' heavy action rod. It is now my favorite combo I own.

From: Brian: Lake carroll , IL

Comments: This is my favorite casting reel I own. Shimano used to be my go-to company, but after spending $200 and being vlet in the shimano chronarch, I gave Lews a try. I have owned other Quantum reels in the past as well, but this reel is by far the best. I own the left handed 5:4:1 and have it spooled up on 14 pound floro for cranking, and it still performs just as well as the first day. Have used it this whole fishing season, and it has been through abuse, and only two cleanings, not very thorough cleanings either, just some WD:40 in the bearings and cleaned out some gunk and it works great! The price point can't be beat for a reel this great as well. For spinning reels I go pflueger, and I have now found my new baitcasting company. Some people say they backlash easier on this, but I have not had that problem. A helpful tip I even do once in a while is put electrical tape on my line after spooling about 3/4 of my line on their and it becomes virtually impossible to backlash. If you need a cranking reel this is it for the price. Buying another now for my deep cranking and jerkbait setup. Good job lews!

Comments: AWESOME REEL!!! I purchased this reel a few weeks ago in the 5.4:1and I couldn't be happier. I am fairly new to baitcasters and would backlash every 10 casts or so. I have back lashed twice since owning this reel. And I have even fishe a local tournament where I threw small square bill crank baits on a windy day. I paired it with a Daiwa Ballistic Cranking rod. The drag and brake setting are super user friendly, as they both have audible clicks. It casts pretty far. My buddy would out cast my by 20-30 ft easy with the same set-up and even with his Abu Orra s. that is probably because he is way better than me. He is a DIE HARD Abu fan and went out and bought the same rod and reel for cranking. Can't say enough good things about it. Buying one in each of the gear ratios. I threw a 250$ Quantum reel that felt nowhere near as good as this. GO. BUY. THIS. REEL.

From: Shane: Ft. Benning, GA
Comments: I have only had this reel for a few days and I rarely submit reviews for anything but I feel the folks from Lews deserve it on this reel. I'm a die hard shimano guy and often praise the Chronarch as the best for the money. I bought the tournament mg with the low gear ratio for a new cranking setup and let me tell you it gives my $200 Shimano a run for its money. I can't speak to the longevity but the out of the box features and ease of use coupled with the excellent casting distance at $110. this is an amazing deal and I would highly recommend. Plan on buying a few more...Unlike similar priced reels this reel feels powerful and solid. Great job Lew's. You have one yourself a new fan.

From: Jeremiah: Bristol, TN

Comments: Follow up to last years review: This $130 reel is still going strong, out of the 10 plus rod-reels that our on my boat, this reel is my go to over all of them. I love the over sized swept handle, it never backlashes, in my opinion it is the best buy out there. I actually own the $200 tournament pro, and I prefer this reel over it!

From: Mike: Middletown, DE USA

Comments: just one thing to say! if you dont like this reel get youre butt off the water since you dont know how to work a bait cast!! i have it in all 3 gear ratios and i love it!!!

From: Alex: MI

Comments: This reel sucks!! Drag system doesn't even work after a week that i had it and it won't even cast smooth or far. NOT WORTH THE MONEY!!!

From: P: Fresno, Ca

Comments: this reel is great. It fishes really smooth and hardly ever backlashes. If it does it is my fault. I recommend this reel to everyone that loves bass fishing.

From: Cal: VA

Comments: Love this real! Lews really needs to make a real with a flipping switch

From: Zack: Rainsville,AL

Comments: Love this reel!! Hardly ever backlashes, and when it does (due to my error)it never creates a birdsnest. Easy to cast, nice feel in my hand, excellent design. Had it for about a month now and have caught 1-5 lb bass as well as a 15 lb snakehead - handled them all with ease. Graet, great reel!

From: Dave: Baltimore, MD USA

Comments: this reel is amazing it honestly is better then my brothers mgx(and i have fished both)the mg is half the rice and just as smooth and feels more durable in the hand. so what the mgx is 5.9 onces the lew's is made out of aluminum you know its going to last. i have 17 pound vicous flouro on it and it casts so good i use it alot, its a go to set up id rather get 2 or 3 of these fr the price of 1 mgx, i dont hate abu i think they are reeally good but if yo want better value look at this lew's i will be buying plenty more! buy this reel yu will not regret this

Comments: I have yet to make this work. You cant see through dark colors and for the ones you can see through, the product wont even go through the hole of the hook. its a waste of money. concept was great thats why I bought them but i have yet to get this to work.

From: J Rock: jax, fla

Comments: I just got this reel for my birthday and i have to say that it is awesome. I use it with my St. Croix premier 6'6" rod. I have always used spinning reels, but this is the first baitcasting reel I have bought and really used. The first day i took her out i caught 12 bass, and really had no birds nest the whole day. I love this reel and I recommend it to anybody who is new to baitcasters.

From: Tony: South Jersey

Comments: this reel is ok, but my revo s is much better. It casts a thousand times better, and it has a much smoother retrieve. The gears in it are not brass either; they are aluminum, which ,Ames it much more durable. It also weighs much less. And in ten years the lews gears will be gone when the revo s gears won't even have signs of ware and tear.

From: Tyler: Holden, la

Comments: All I can say is wow man!!! I love this reel alot, it is very easy to use and it can cast cranks a mile. I can believe its only $130.00, but I have to add oil and lube when I them. I bought of them in 6:4:1 and they are paired with Gloomis GLX 843 crankbait rods!!! I plan to buy eight more of them, thanks Lews for making a quality cast reel that everyone can enjoy at a reasonable price!!!!! As long as you keep it on 4 or 5 u should almost never have a backlash!!!

From: Brian: Akron,OH

Comments: I found this reel @ my local Marvins for $109. They also had the new Revo-S for $119. I like Abu but w/ the MG I got 3 more bearing and a handle that this made for guys w/ big hands! This is my first 9+1 bearing reel. Oh boy can I tell the diff.! I now plan to sell the two BP-Extremes and save for 2 more MGs.

From: Jay: Meridian,ms

Comments: Lew's reels are by far the best reels you can buy on the market. They are so smooth and cast so far that I was blown away, even from the first time I held it. You can bomb a crankbait a mile. It preforms literally just like a $200 reel for only $129.95!!!!! I you are looking for a nice affordable reel check out Lew's. You will not be disappointed.

From: Brandon: MN

Comments: recommended by a friend. I've fished lots of reels and this one is so much better, its amazing, so smooth and casts great, haven't thrown anything really light on it yet as I bought it for a swimbait rod, I would recommend it, one cast and reel an you will understand

From: Kevin: CA

Comments: I just bought two of these to add to my tackle and I was blown out of the water at how well they worked for me. I have one for a worm and jig rod and one for my cranking rod and out of the package this is the only reel I have owned that didn't birdnest even the least little bit. Lew's is the new go to reel for me and I plan on replacing all my other reels with this exact reel. I do have the LEW"S tournament pro on one of my worm rods and i actually like these reels better than the tourney pro. Smoothest, and best reel for your money in any category if you ask me. Thanks again Lew's.

From: Cody: Monroe, LA

Comments: Lew's reel are the best on the market, case closed!!! I've fished my whole life and have all kinds of baitcast reels - abu garcia, shimano, diawa, you name it - but Lew's reels are in a class by themselves. The size, performance, durability, appearance, everything on Lew's is superior. I've got a Lew's Tournament Pro and a Tournament MG and both are best reels I've ever used. In fact, the Tournament MG is one of Lew's lower end reels, but in my opinion its as good as any baitcaster on the market at any price.:

From: Todd: TN

Comments: I was floored when I 1st took this reel for a spin. Read all the reviews before purchase, and it's a dandy for sure. Built like a Shimano, casts and retieves like a Daiwa. I won't go replacing all my Daiwa reels anytime soon, but now I'm curious about the more expensive reels. I had the mag dial set to 2, 30 pound braid, 7'0 glass rod, and I could cast a 3/4 ounce crank into the abyss. After a few casts I didn't even bother looking at the spool. Gained my confidence quickly!

From: Mark
Comments: Smmooooooooottthhh!!! Cast a crank a mile, cast a weightless fluke a 'country' mile... Ultra-lightweight setup on a Falcon Cara T7 or Kistler KLX.

From: NS, MN

Comments: Very good reel in this price range. Have the 5:4:1 on a 7'3" MH moderate action Vendetta rod. Good little set up for tossing crankbaits. Have made bomb casts into 20mph winds with this reel with no over-runs. Reel is smooth, palms comfortably, dials in easily and holds plenty of line. Hook sets have been rock solid so far after tons of fish. The drag on this reel is above the industry standard and is smooth. This reel is a good buy. The only thing that I would personally prefer on this reel is an aluminium side plate on the crankside. Still a must have reel.

From: Johnny: TX

Comments: I have this reel in the 5:4:1 RH model, great reel for the money smooth casting and extremely light, feels great in my hand paired with my KVD Cranking Rod. Just had to add a little oil to the reel out of the box,it was a little noise first time out after the oil treatment smooth like butter. Looking at purchasing the BB1.

From: Derek: Jamestown, NC

Comments: I got this reel for my bday and its amazing. reels incredible, and casts insanely well. put 30 lb braid line on this and you will not have a single problem. i personally paired it with a 7' abu garcia veratas and its a deadly combo, i promise you won't miss a fish.

From: Justin: MN

Comments: does anyone know if these are good reels to throw c-rigs up to 3 oz. with?

From: Zack: AR

Comments: WOW! Got this reel for Christmas and finally got a chance to get on the water and try it. It really does cast a country mile. I brought my E series Curado for comparison and this thing blows it OUT OF THE WATER! It is so smooth. I am so happy with the reel. And for the price it is insane. Best reel I've ever fished. Hands down. Lew's is all I'm going to buy now.

From: Steve: Sylmar, CA

Comments: Best reels I have fished with. Revo SX doesn't even compare to this! My third one will be purchased soon. I have fished with a friend's Daiwa Zillion and I feel that the Lew's was put together better. feels great, reels and casts smooth. I am now a diehard Lews fan.

From: Neng: Green Bay, WI

Comments: im very impressed with this reel and i dont think you can do better for the price.i bought it for light jerkbaits so i paired it with a 6'6 medium rod,12 lb flouro,lucky craft pointer 78's,this combo will cast a mile

From: Dan: TN

Comments: This reel outperform my more expensive Abu Garcia Revo sx. Super easy to use. I've accidently cast my lure out into a tree and did not get a single backlash on this reel at all and the brakes was set at halfway.

From: Tim: NC

Comments: i can cast a 1/4oz swim jig a mile with this thing!! no exagerration, almost twice as long as my curado 200e7. isnt the lightest reel but its buttery smooth, has nice cranking power, strong smooth drag and i been fishing it in saltwater also. for lightweight rigs, its better than the curado

From: Mike: San Diego

Comments: absolute pearl! Literally performs like a 200 dollar reel. Solid frame. Extremely smooth. Narrow deep spool for better casting. SPEED SPOOL... No, I do not work for lew's. They are simply that good.

From: Jason: San Diego

Comments: I was wondering if this reel is good with 65lb braid?

From: Bolo: Sac, CA

Comments: Oh yea! Perfect for beginners who are afraid of backlashes. Had to set the magnetic dial at 3 before the line started bunching up. Super long cast and smoothness.

From: Johnny: Strathmore, CA

Comments: I just purchased this reel and it shocked me enough to write a review. I own numerous bait casters, but I am certainly not an expert, however when compared to the other reels, which most are in the same price price range and one that is considerably more expensive, this reel is by far the smoothest winding and the longest casting of all of them. No grinding of gears, very quiet and smooth. I had read very good reviews about the Lew's Tournament reels and thought I would try this one based on it's price point. I was skeptical about the reviews, but the first time I cast it and reeled it back in I knew they were legit! This reel performs like a reel in a much higher price point. I was only able to fish with it for an hour or so, I will submit an updated review after more time on the water, but first impression is extremely promising.

From: Mike: Middletown, DE

Comments: I now own 3 of these, one in each gear ratio. For the money they simply cannot be beat. I have the low G/R for my cranking needs, the 6.4:1 paired with 17lb fluro for traps, squarebills and spinnerbaits. 7:1 I have 12lb mono for topwaters, jerkbaits,small flukes etc. When you compare this to something in it's price range like citica g you are getting a clicking metal star drag (as opposed to plastic), clicking spool tension, long crank handle for better torque and a large, deep spool. The only advantage the citica may have is in braking system. Heck, even the Curado G takes a back seat to this reel IMO. Buy it and you will not be disappointed. I have 4 tourney Pro's as well but i use those for techniques which may require a bit more drag but even that is debatable since Marty Stone uses this reel for flipping and pitching anyways. Do yourself a favor and buy some.

From: Grant: Wappingers Falls, NY

Comments: I bought the 6:4:1 gear ratio and it cast a country mile! Glad i bought this over the Curado G but i put cheap lube in the lube port and now the gears sound like they are grinding but i also fish EVERYDAY so im going to give the reel a rest then see how it preforms but it is also amazingly smooth and stops fish in there tracks with the 14 lbs drag.

From: Brandon: North Port, FL

Comments: Do not buy one of these reels...buy two. Handles casting and fighting fish like a champ.

From: Matt: Austin, TX

Comments: one of the best low buget crank bait reel ever smooth,great casting distance,and holds great amount of lines been using mine on FW striper and still works like new and looks =)

From: Sue: Fresno, CA

Comments: Bought this reel for my son...but I love it. Took it out on the lake when he wasn't able to go just to "check it out". I have an Abu Garcia Silver Max, and upgraded to the Revo STX. The more you spend the smoother it gets is what I learned from that upgrade. That said, and realizing this is Lew's "entry level" reel. WOW!! I had to remind myself to fish my STX...I could have fished the Lew's all day! Caught some small bass with it. Handled them no problem. Casts very far..no backlash issues whatsoever, and it was a windy day. I adjusted the mag brake in the middle on 5 and never moved it. Much less backlash issues than my Abu's. (notably different) I will definitely be buying more..probably up the product line (for the smoothness factor). But for the money, this reel is a no brainer. BUY IT!! You won't be disappointed!

From: Dave: Mendon, VT

Comments: got the left hand 5.4:1. So smooth and cast far. Matches perfectly with the powell diesel glass rods for only 70.00. first fish was 4.4 lbs and handled exceedingly well. wish they had more left hands available bc i would re outfit all my setups with lew's

From: Eliot: Manhattan

Comments: Excellent reel for the price, deep spool, good drag, and butter smooth casting. Bought one and then I decided to replace to buy two more.

From: Salty C Dawg: Redding, CA

Comments: Love the one I got in 5:4:1 ratio with a left hand crank. Long casting for dredging the deep stuff great power and a wonderful feel in the hand. Only regret they dont offer the other gear ratios in left hand crank.

From: Bill: WI

Comments: This reel feels very nice! it cast smooth reels smooth and everything. i fished it for like 20 minutes and noticed that my drag was loose but my drag was as tight as it could go. It has maybe 2 pounds of drag pressure. i hear nothing but good things about this reel so i guess that i just got a bad one. But i recomend this reel.

From: Chase: Spring, TX

Comments: An absolute bargain at this price point I own four of these. By far the best reels I've ever used pairs well with Boyd duckett rods.

From: John: Columbia, TN

Comments: Got the 7.0:1 in Left hand, not listed yet. Reel is smooth and casts well. Not the lightest but balances well on my carbonlite. It also feels good on falcon bucoo rods.

From: Trey: Jupiter, FL

Comments: These reels are awesome I have 4 now and these will be my reel from now on I have always used Curados but since they changed to the G series I changed to these and glad I did these things cast way better and farther than my Curados. Get you one you will love it.

From: Lance: Livingston, TX

Comments: Big J speaks, and you must listen. I like Lew's tournament mg reel and I cannot lie, other reels must be denied. This thing is smooth and casts a mile, significantly further than my several revo stx. I love the power handle and the paddle knobs. Did I mention the deep spool capacity? Or that its $70 less than the STX? How about that it handled a 20lb yellow cat and 11 lb largemouth no problem? Buy it, love it.

From: Big J: Houston, TX

Comments: Great reel...... Picked it up from our local sporting goods store i was not sure weather to buy this or Abu Garcia Revo....went with this in 5.4to 1 and have not regreted it one bit. Great reel for the money. Have it paired with my new Skeet Reese S-Glass Ckanking rod (love it too).

From: Evan: Evansville, IN

Comments: Absolutely awesome reels I picked one up last night and I will be trading all of my quantum reels for these they are so smooth and easy.

From: John: Columbia, TN

Comments: I picked up the MG in the 5.4 to 1. I was a bit apprehensive at first because it is not a dual cast contol like the T and T Pro which I also own. It took 6 casts to dial it in. The smoothness in the cast and retrieve is very compareable to the T Pro. I am impressed. The small profile, large spool capacity is so nice. I could wing a Bandit 100 father than any Revo I own including the Premier. For those who wanted Abu to make an SX in 5.4 to 1, look no further. The MG is your reel and forty bucks less than the Revo.

From: Doug: WA

Comments: So much value in such a small package. Feels great in hand, very well built and smooth. I stress the small size because it took me by surprise, smaller then a 200 size curado for reference. The deep spool really goes a long way with the 15# flouro line im using to throw small swimbaits. Great reel for a great price.

From: Michael: Vista, CA

***Note: If you have questions about this product or need assistance with an order please email your questions to info@tacklewarehouse.com
View Large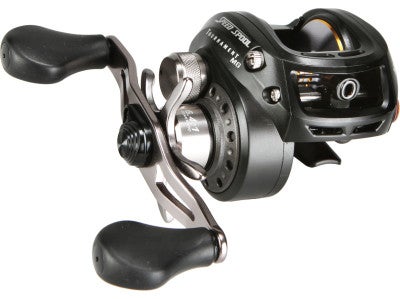 Place Your Order