Little Creeper All American Sunfish 2pk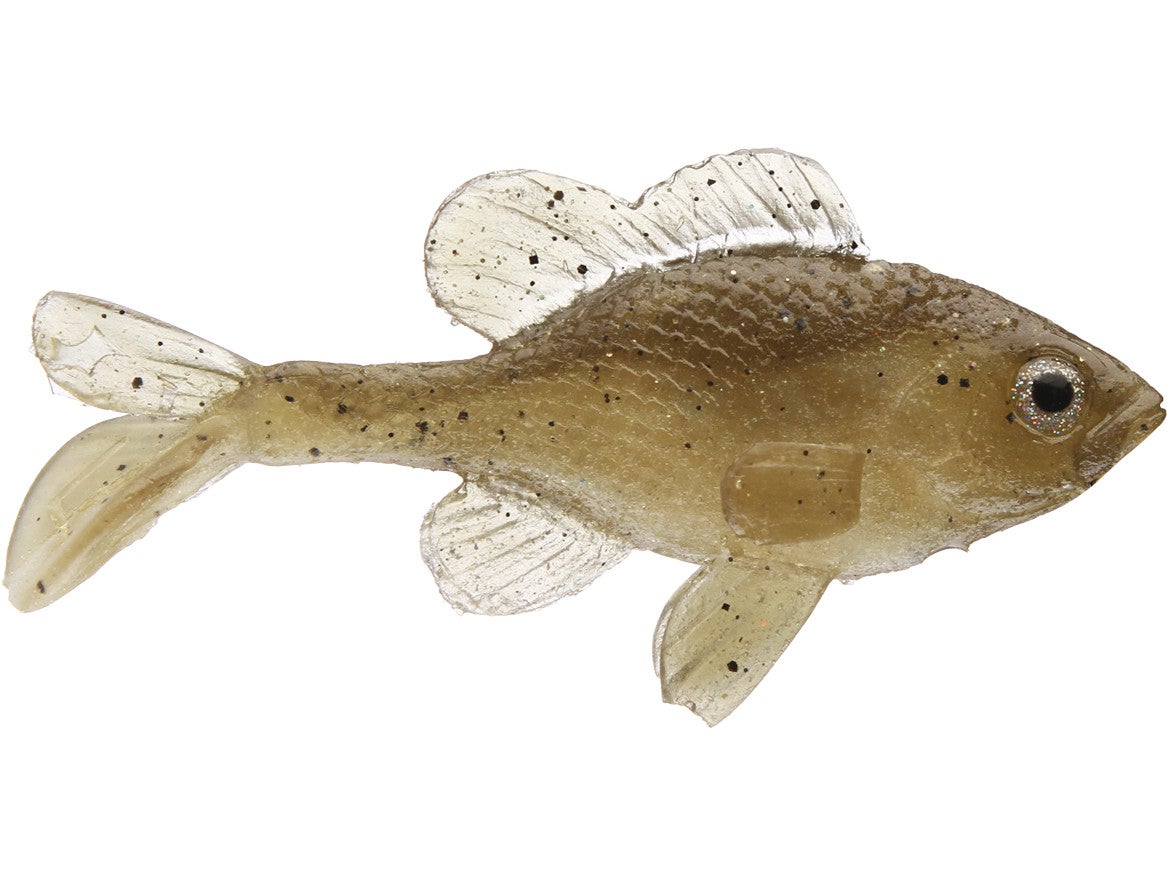 The Little Creeper All American Sunfish delivers a dead-on baby sunfish action with a solid, flickering tail motion on the retrieve and the fall. The perfect sunfish size as well - measuring in at 4-1/2-inches - it stands up on its chest at rest, and its long thin side, and bottom fins breathe back and forth when the bait is retrieved and then stopped. While an amazing bait for bed fishing, it is at its best when used in place of a spinnerbait or crankbait. Also an excellent choice for fishing under and around docks or overhanging trees, it is easy to skip and will actually slide for quite a distance on it's side with a little practice. Also amazingly durable (Mend-it will help boost durability), Little Creeper Baits recommends rigging the All American Sunfish with a 5/0 Trokar weighted swimbait hook or a 4/0 Owner Beast Hook. Its deep, off-set, top, hook-pocket allows for completely weedless rigging with an excellent hook up ratio. During testing and prototyping, the Little Creeper All American Sunfish caught tons of fish - even into the winter. Tie one on - and see for yourself.
6 Colors
More From Little Creeper Swimbaits
Customer Reviews
Comments: when I first got this bait I didn't have to much faith in in it. then I took it for a day on lake Skinner. by far my new favorite swimbait. almost every other cast, fish after fish after fish. I even caught fish of beds with this using it as a jig this spring.
From: Bob: USA 4/4/15

Comments: IMO the best LC bait. Possibly the best BG bait. When rigging take the time to test em to ensure they're swimming strait cuz you want the hook hidden in the pocket. Then you can also pin the hook to dart to either side. Try drop shotting them and you'll never DS small again. Mend it, Hudd glue and they last. Squirt some Pro Cure in the pocket for slippery hook sets. Big bass crush them! I'm surprised all the companies haven't copied this style yet. Ben nailed it!
From: Outcast: San Jose, CA 5/22/14

Comments: Unbelievable swimbait fish. the action on the tail is incredible. bass just absolutely hammer them. big con is they tear after 3 or 4 fish. solution is to buy several packs, when they start to tear, use mend it to glue em back then start with another bag and repeat. i use owner springlock weighted hooks and hook under the nose.
From: Steve: Fremont, CA
Comments: I love these things..... If I could I would buy them all so I could have them all to my self . I've been fishing them in about 10 ft of water around summertime sunfish. The results are amazing!!!! In three weeks we have caught 3 fish over 9 lb.... We're fishing them on 3/8 and 1/4 oz twist tight heads. What's so amazing is the way the hook pocket is designed. It is perfect for a 5/0 hook. It's almost perfectly weedless with no extra work... I'm so amazed at how perfect they are!!!! Try em you won't be disappointed !!!!
Awesome baits!!!!

From: John: Hustonville ky USA