Little Creeper Baby Trash Fish 2pk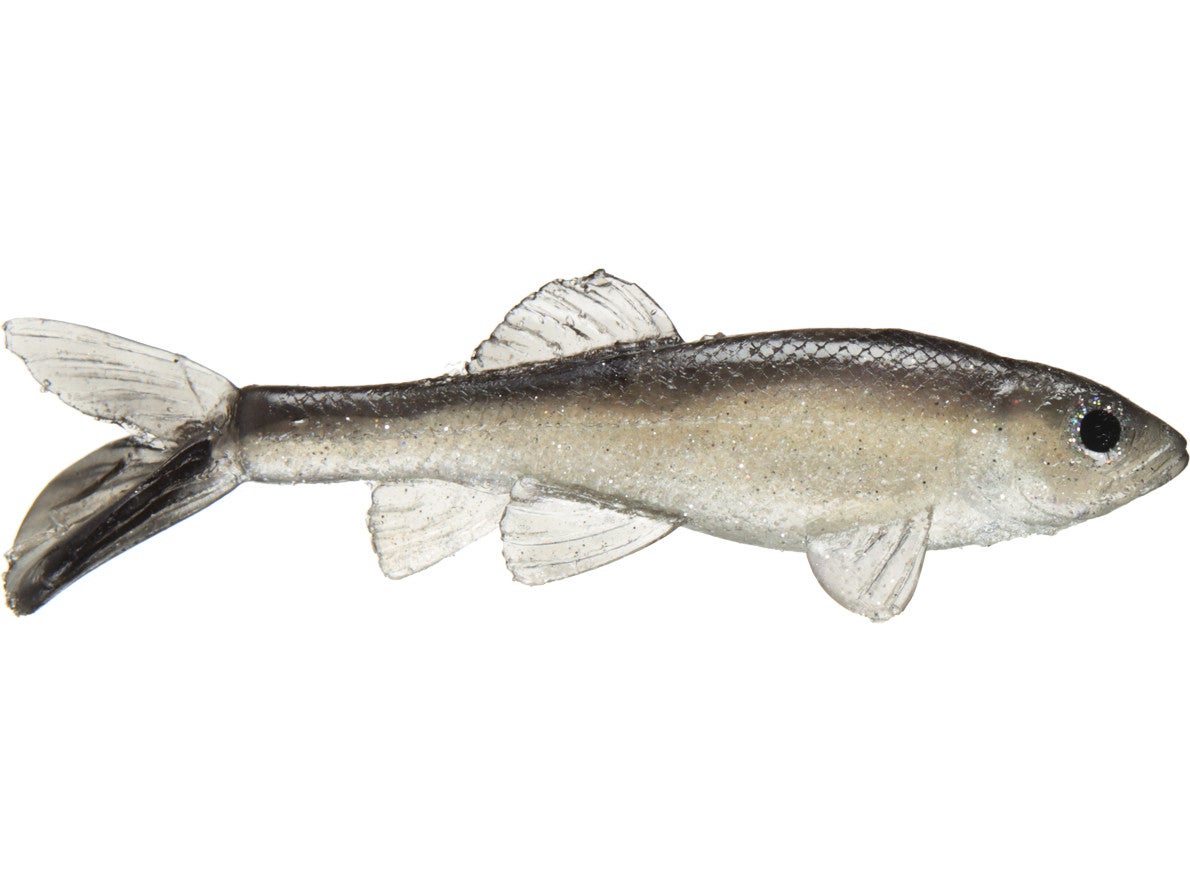 Measuring in at 4-inches, the Little Creeper Baby Trash Fish is a smaller, bite-size version of the original All-American Trash Fish. Featuring the same body design, which was hand-sculpted using the body style of a an actual Hitch as the model, it is still virtually identical to almost every trash fish in North America, including juvenile Shiners, Suckers, squawfish, Alewives, Perch, Carp, Smelt, etc.
The Baby Trash Fish is also constructed with two different densities of plastic, which helps produce its unique swimming motion, and makes it tougher and more durable than most soft swimbaits. Extremely versatile, it can be fished super slow on the bottom or waked across the surface, and it can even be flipped into heavy cover like a jig. Available in a variety of realistic color combinations, the Little Creeper Baby Trash Fish now offers added versatility to help you better match the hatch, and generate additional bites on those tough days.
Little Creeper recommends rigging the Baby Trash Fish with a 3/0 or 4/0 Gamakatsu Weighted Monster EWG Hook or a Davis Baits X Swim Weighted Swimbait Hook.
18 Colors
More From Little Creeper Swimbaits
Customer Reviews
Comments: You can say what you want about Berkley and Little Creeper and price differences, but there's no question about one thing - COLORS. Little Creeper has Berkley beat hands-down on color selection.

Comments: what helps out is cheaper lures when plastic is like less then 6 dollars to make and they sell this for 12 dollars. Thats whats helps. old fisherman aren't tricked so easy. God bless

From: Alex
Comments: What "helps" fishermen out a lot is innovation. When big bait companies rip off smaller, innovative companies fishermen lose out. Yes these are a bit expensive for what they are, but so is that $4 coffee everyone drinks today.

Comments: If strike king ones are more durable and more sizes i'm choosing strike king over this. A lot more fisherman can afford strike king version in this bad economy. They help fisherman out alot.

From: Alex
Comments: waiting for strike king version in more sizes and a lot cheaper for all fisherman. This is good lure but if some else sells them cheaper. I'm game, too much for 2 little plastics. I spend a lot on plastics but for only 2 seems too much.

From: Alex
Comments: These work great in clear water lakes. smallies and largies alike love them.. I have had several smallmouth bite the tails off of them which is an issue when your talking $6.50 for a lure that can possibly be ruined on your first cast. Great lure if your not worried about cost. Now that theres a strike king knockoff i'll be using the Strike King version for fun fishing and the LC for tournament time only.

From: Rob: Miffco, PA

Comments: These baits can catch fish but they tear apart very quickly. by the end of the day I had more mend-it than the regular plastic on the bait. If pike are in the area DO NOT THROW THIS BAIT!!!!

Comments: These are nicely designed and seem to swim well but as small and soft as they are, I think they should be packaged with more than 2 in the pack. They are very soft and I dont see them lasting beyond a couple fish... maybe a few fish at the most.

From: Jared: SC