Lobina Rico Suave - $21.99

The Rico Suave is a handcrafted topwater lure with the amazing foil finish of Lobina Lures. The Rico Suave dances and darts with the slightest rod movement. When the waters call for quiet, natural movements, answer with the smooth moves of the Rico Suave.
| | | | | |
| --- | --- | --- | --- | --- |
| Lobina Lures | Length | Weight | Class | Hooks |
| Rico Suave | 4-1/2" | 1/2oz | Topwater | #2 & #4 Owner |
View Large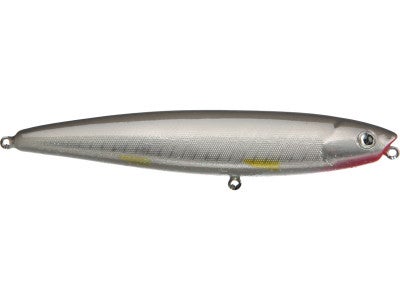 More Lobina Topwater Baits
Comments: jade knows what's up! Think of the suave (swah-vayyy) as a finesse spook. It is nothing like a Gunfish. Silly reviewers like the first dude crack me up. If you have clear water...get one. If not, stick with spooks and whatnot.

From: Meatwad: gettin old and tired of my reviews not getting posted

Comments: Well, then, all the Lobina Lures were designed and sold by a Japanese lure company called TIFA back in mid 80s. Google "TIFA splashpencil RJ" - you see the original. If you wanna talk about who copies who, then, you should know the history of bass fishing better, haha. Still, I am glad Lobina still sells Rico and Suave because TIFA Japan doesn't sell these anymore (i think they are out of business) - plus, their quality is still as good as the original. I guess LC is the one who copies!

From: Jade: SoCal

Comments: Can't say I've fished these baits, but I can tell you that the're not new; and were out well before the LC Gunfish. I remember seeing them advertised in older Bass West mags. They may even have went out of production for a while. All I know is that when I saw them on TW, my first thought was; "Haven't seen them in a while".

From: AC: CA

Comments: these are a near copy of lucky craft's gunfish. if they perform like the gunfish, they are winner's. i have not fished them yet, but plan to do so.

From: Wes: Salinas, CA

***Note: If you have questions about this product or need assistance with an order please email your questions to info@tacklewarehouse.com