Lowrance HDS Gen2 Touch - $1499.99 to $3399.99
Unlock the power of HDS with fewer button presses. Featuring the first touchscreen display created with anglers in mind, the Lowrance HDS Gen2 Touch Fishfinder/Chartplotters deliver the same award-winning benefits of the standard HDS Gen2 Series - now with easier-to-use, wide Touchscreens in 7-, 9-, and 12-inch sizes. The HDS-12 Gen2 Touch is also the largest HDS display Lowrance has ever created.
The fastest HDS units ever! The new Lowrance Gen2 HDS Touch Series Sonar/Chartplotters features a 2x faster microprocessor and double the memory of the HDS Gen1 models. Also outfitted with new cosmetics and Lowrance's revolutionary StructureMap capabilities (optional), the Lowrance HDS Gen2 unit still delivers the great high-definition Broadband Sonar and state-of-the-art charting technology that anglers love.
The newest Lowrance HDS Gen2 innovation - Lowrance StructureMap - overlays real-time StructureScan images onto charting displays, resulting in a unique underwater viewing perspective that helps you more quickly pinpoint the location of structure and fish. With HDS Gen2 models networked to the optional StructureScan sonar imaging module, StructureMap allows you to easily overlay StructureScan images on top of traditional charts to provide a real-time view into underwater structure and its precise location on the map. It also allows you to create maps for review on or off the water. Compatible with Lowrance Enhanced Basemap, pre-loaded Insight cartography and Insight HD, plus Navionics and other third-party mapping options. (All Gen2 units are StructureMap capable, but require purchase of StructureScan bundle or separate StructureScan module).
Lowrance StructureScan provides you with the ability to see three different views of the same underwater object - left, right (SideScan), and DownScan imaging for the highest level of viewing detail ever achieved. Submerged timber looks exactly like timber, and stumps, shipwrecks or whatever else is below the surface appears in unprecedented clarity and detail. (All units are SturctureScan capable, and select units include StructureScan bundle).
Featuring an exclusive, high-resolution 6.4"/16.3cm 16-bit color SolarMAX PLUS TFT Display for exceptional viewing capabilities, the display is also high-bright and sunlight viewable with LED backlighting with split screen and three-window presentation capabilities.
The internal, high-sensitivity GPS+WAAS Antenna delivers ultra-fast time-to-signal lock, and features built-in Lowrance Insight USA. Insight USA combines inland and coastal coverage areas of Lake Insight and Nautic Insight. This includes US inland mapping of nearly 5,000 freshwater lake maps (including the Great Lakes) with life-like perspective of bottom structure and topography, as well as, superior life-like view of coastal bottom structure with detailed coastal and offshore depth contours, plus navigation aids for the entire US coastline. Also compatible with optional Lowrance Lake Insight HD, Lake Insight PRO, Nautic Insight HD, Nautic Insight PRO, Navionics Platinum, Navionics HotMaps Platinum, Fishing Hot Spots PRO and legacy LakeMaster Promaps. The GPS/Navigation unit also allows you to store up to 5,000 waypoints, 200 routes and up to 10 trails with 12,000 points/trails.
The revolutionary, built-in Broadband Sounder is capable of seeing fish in, around and even through structures, at great depths and at high speeds. Serving as the vital link between the transducer and your HDS display, the Broadband Sounder uses a highly-sensitive digital filtering process, capturing targets that are often missed by less powerful sounders as sharp, crisp images.
The 83/200 kHz dual-frequency Skimmer transducer sends out a maximum of 250-watts Peak to Peak (32W RMS; 30,000W Peak to Peak analog equivalent) sonar power, down to a maximum depth of 5,000 ft.
The entire Lowrance Gen2 HDS Touch Series Units are also sealed and waterproofed with built-in Backup Memory capabilities for exceptional durability. Each Lowrance Gen2 HDS Touch Fishfinder/GPS Chartplotter also includes additional features and available upgrades.
Share sonar, StructureScan, 3G and 4G radar with high speed ethernet. Optional Fuel and engine management, faster-update external GPS antenna, livewell temperature monitoring and more with Lowrance NMEA 2000 connectivity.
Two-Year Limited Warranty
Parts included:
-HDS Unit Head
-Skimmer Transducer
-HDS Bezel & Card Door
-Dust Cover
-Gimbal Bracket
-Cut-out Template/Flush Mount Kit
-Bracket Knobs
-Power/Data Cable
-Connector Caps
Unit
Model #
Display
StructureScan Transducer
Included
HDS-7 Gen2 Touch
000-10765-001
7"
No
HDS-7 Gen2 Touch SS
000-10778-001
7"
Yes
HDS-9 Gen2 Touch
000-10771-001
9"
No
HDS-9 Gen2 Touch SS
000-11280-001
9"
Yes
HDS-12 Gen2 Touch
000-10776-001
12"
No
HDS-12 Gen2 Touch SS
000-11281-001
12"
Yes
Please Note: This item is not available for order outside of the United States.
Comments: Got my new unit up and running, night and day better than my old birds. The down and side imaging is way better than my humminbird units every had. They make gloves that work with touch screens so no need to worry about freezing those pixies when its cold.

From: David: Raymore, MO

Comments: My friend has one of these and i have the humminbird 998sci and i feel having a touch screen is not better in any way, rather worse... still a good fishfinder and recomend it to any1 that likes cleaning.

From: Dave: South Africa

Comments: What about us in Canada fishing in the fall for big smallmouth on Lake Erie or fishing in general in the fall/winter... you need skin to touch the screen, and most people wear gloves.

From: Canada

Comments: Most fishermen clean the hands in the water after handling a fish, so it is not really a problem. Have the Simrad series myself and it works flawlessly and touching the screen is not a problem. Sure it gets a little dirtier, but the pros by far outweighs the cons in this particular case. I would not want anything but a touchscreen! :)

From: Stephen: Denmark

Comments: I have a feeling that these touch screens will get very dirty through a day of fishing. Even the traditional non-touch units get very dirty without touching the screen. I dont have one, but these are just my pre-thoughts.

From: Alec: MA

***Note: If you have questions about this product or need assistance with an order please email your questions to info@tacklewarehouse.com
View Large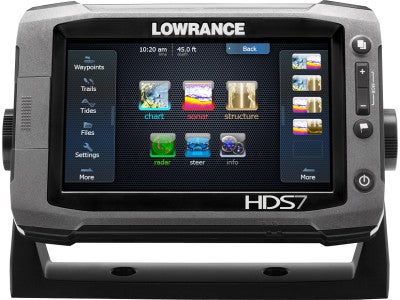 6 Available Colors
More Lowrance Electronics