Luck-E-Strike Rick Clunn RC STX Jerkbait - $7.49 to $7.99
Luck E Strike teamed up with legendary angler, Rick Clunn, to create another lure destined to be a classic - the Luck E Strike RC STX Jerkbait. Designed to be the perfect suspending jerkbait, its hydrodynamic design and advanced rolling weight transfer system, provide it with its deadly, erratic, darting action, as well as, its amazing ability to suspend perfectly on the pause. Incredibly detailed as well with its etched scale and gill patterns, 3D eyes, and Clunn's handpicked colors, the Luck E Strike RC STX Jerkbait delivers proven performance tested by the zen master, himself, Rick Clunn - and they're available at a price that won't hurt your wallet.
| | | | | |
| --- | --- | --- | --- | --- |
| Luck E Strike | Length | Weight | Depth | Class |
| RC STX Jerkbait | 4.5" | 1/2oz | 4-6ft | Suspending |
| RC STX Jerkbait | 3.75" | 1/4oz | 2-4ft | Suspending |
Comments: I have a ton of these. They have great action and work well. The hooks are not great but no biggie. One issue I've had with 4 of them is the center split ring anchor in the bait can wiggle loose and it will take on water. It's no Megabass but it works ok for the money.
From: Jason: USA 3/1/15

Comments: I have the smaller version & it doesn't suspend. These appear to be hit and miss. Changing hooks & rings may help but I'd rather not have to tinker with a lower end jerkbait. If you want to try out a rebadged megabass with megabass colors (ala suzuki vehicles) pick one up & it may work for ya.
From: Montanaro: Touchdown City, WV 2/22/15

Comments: Recently bought 2 different colors of the 3.75, and they came with different size split rings. Not impressed. Sticking with KVD's.
From: Kevin: Morgan City, LA 1/13/15

Comments: I'll jump on the bandwagon. These baits light up the wiper and walleye bite in late spring. Damn if jerkbait fishing is hard work but these caught fish after working the area over with crankbaits and spinnerbaits. 6 lb. wiper destroyed the hooks and I have to change them out, but othewise a great bait.
From: Bill: CO 12/19/14

Comments: A very similar bait to the 110, made in the USA, and under $10? sign me up! Other than changing the hooks and split rings (which I do with most baits anyways, Megabass hooks included), they're an awesome bait. French Pearl is a killer on smallies around here. The smaller version is hard to cast on a baitcaster but it can be done. No more bills breaking/falling off or tails cracking. Only problem is the fish won't leave them along and have almost worn the paint off a few of them, not a bad problem to have though. The bill on my last Megabass (a 110 magnum) mysteriously fell off fishing it in 20' of water at Table Rock in April. So now I just need Lucky Strike to hurry up and start making a bigger version of the STX!
From: Clayton: Gardner, KS 6/25/14

Comments: This is a good bait. But do upgrade the hooks and split rings. Casts a country mile, suspends good , and yes it catches. And really who cares if it's a megabass knockoff.
From: Paul: Malta, NY 6/6/14

Comments: this bait is killer. I cant keep the largemouth off this thing. this is one of my go to baits.holds up well but be careful with the bill. had best luck with pearl and orange belly.
From: Dakota: MO 5/21/14

Comments: Bought these a while back at gander mtn and they are pretty good on smallmouth just the right amount of action and durable too for the money cant go wrong.
From: Gino: NJ 3/11/14
Comments: Great bait for the money but not durable at all. The last two that I have bought both have cracked and broke. But the bass eat it..
From: Tim: NC
Comments: This jerkbait is amazing. I caught a ton of fish on it all year, mostly during the summer when I fished it really erratically. The bass just crushed it. I had all my success with the secret night color. However my one big complaint is the hooks are AWFUL!! Had to change them out with some others... they are junk... I lost several fish before noticing they were bent. But besides the hooks this is a fantastic jerkbait! A must buy for sure.

From: Tom: Ham Lake, MN

Comments: great action. awesome color schemes and pretty solid hooks. Caught a lot of big fish on this but recently broke the lip off of a 3.75 my first time using it.

From: Patrick: WI

Comments: This bait is the same as a megabass just different hooks. Great erratic action and suspends perfectly. Couldn't ask for a better product!

From: Austin: Saginaw,TX

Comments: Was given this lure and finally got around to fishing it today. It casts well but it did not suspend. It floated to the surface in the 67 degree water I was throwing it in. Hardware should be replaced but at this price point I would not expect any different.

From: Dean: 1000 Islands

Comments: Spot killers. I snap it back through shallow water real fast and they just crush it. I've found that they either float or sink really slow, and because of this I only use them for power fishing. I would recommend replacing the hooks, as they are fairly weak: a 2 1/2 pound spot was able to bend 'em and I lost a 4 pound largemouth due to the hook straightening out. Paint job is decent, but tends to get chewed off if they keep attacking the head.Overall a great bait, but you really need to trick it out with better quality hardware.

From: East Bay, California
Comments: Upgrade the split rings and hooks and the lure is set to go.

From: Bay Aream, Ca
Comments: Great lure. Good imitation of the Megabass Vision 110. Great action and paint durability. Well worth the money.

From: David: Maryland, USA

Comments: This is a very good Jerkbait!! The colors are simply amazing. The action of the lure and it's suspending properties are just as advertised. So far I like the Emerald Shiner color the best. Just do yourself a favor and change the hooks!! The stock hooks will break and straighten out even on small fish. Other than that its a great bait at a great price and it really catches fish.

From: Mark: Northern NJ USA

Comments: This is my #1 jerkbait. At 7.99 each, I'm not afraid to throw them close to cover....which is where you need to be. Out of the box, they do rise slowly, and float a little nose up. Upsize the front o-ring and front hook, and you have the perfect jerkbait. I have caught more fish on the Rick Clunn jerkbaits then any other jerkbait in my box. Still not convinced? Fine, don't buy one. You'll change your mind after the weigh in ;)

From: Kendall: Dallas, GA, USA

Comments: I am definitely a fan of these jerkbaits. Great action, awesome casting, and suspend great. But everyone is right, the components are junk. I live in the heart of pike country, and I can't tell you how many times I've had these baits get wrecked by them, smashing the split rings and straightening out the hooks. I'm not saying these jerkbaits are not worth it because they definitely are, just make sure you change the rings and hooks and you're good to go.

From: Jay: Elkhart, IN

Comments: The 4.5 is great. Great action and everyone I have owned suspends perfectly. Make sure you replace the hooks and you're good to go. However, if you are considering trying the 3.75 don't waste your money. It doesn't suspend, floats head up, and the action is nothing like the 4.5.

From: Fishin Junkie: IN

Comments: I purchased 2 of the 3.75 and neither one suspend like it says. I throw them on 10lbs florocarbon. It floats up almost as fast as a Rapala. I don't know if they are deffects. I will say the paint is holding up real good and they still catch fish. Over all I would give them a 6.5 score. Just sucked they didn't suspend.

From: Mike: NormanPark Georgia

Comments: I caught a 5lb bass within my first hour of fishing, in a pond that I had never fished before. In an afternoon of fishing it produced several nice bass. In all fairness my buddy was fishing a 1/2 oz lipless crankbait, and was pretty much at 1:1 with me. This lure has good action, and is worth the $8.

From: Chad: Central IN

Comments: After my Ito bill broke I finished the week fishing with the RC STX. I changed the split rings and hooks out after first day (no lost fish, but could tell the rings were not going to cut it). My tournament partner fished his Ito and I fish the RC STX. Same amount of fish caught, though I caught several fish over 4 pounds and his biggest was 3.25. Not saying the RC STX catches bigger fish, but side by side they produced similar results. To be fair every fish hit on a long pause, so who knows if the action of the bait called them to it.

From: Matt: BA, OK

Comments: It's an okay lure. Like everyone else problem, the hook just bends easy. Caught a 1 pound bass and my hook was no good. Upgrade before throwing this lure.

From: Sai: Fresno, CA

Comments: Very good jerkbait. It has an identical swimming action as the megabass and suspends the same. There is no need to pay 25$ for a megabass unless you want a their deeper dive version. Hopefully luck e strike will make deeper diver version.

From: Tim: NC

Comments: I know this bait catches fish as good as Megabass. To catch fish, it doesn't matter if these are knockoff or not - fish are not that smart, yo know. However, I can afford MegaBass that is more beautiful than these. To me it is more fun to fish with beautiful lures than knockoffs.

From: Jade: SoCal

Comments: I was going to order a couple more in Plum Green Apple, but they are out of stock for now. 2 weeks ago I caught a 7.25 LM, and a 6.25 LM on the PGA color. These things catch fish.

From: Quillack: NW Arkansas
Comments: I have fished these for a few months now and so have several other friends. I haven't changes a hook or a split ring and have had know problems. The only thing I have noticed is that some do suspend and dive a bit deeper than others, but had a 20-25 fish day today with multiple species. These baits work

From: Bill: Southern, NJ, USA

Comments: The only bad thing on this bait is the weak hooks that bends but who uses stock hooks anyway? I have actually caught more on these baits than my Megabass 110 baits in many tournaments all across the country. I compete in the Tour and the Everstart's and it consistently catches them everywhere. These flat out gets the job done

From: Randall

Comments: I bought three of these baits Purple Green Apple, Pro Blue and Herring Bone Chart. I replaced all the hooks with #6 Gamakatsu EWG these hooks are heavy enough to give it a very slow horizontal sink. The water clarity on the lake where I have been fishing is stained (2-3 feet visibility) so the only one I have tried is the purple green apple. I have had good success with this bait. I caught over 25 bass in one day on this bait.

From: Don: NC, USA

Comments: Seems to be inconsistant quality on these baits. some say they suspend great. others say they float like bobbers. I have the same inconsistancies w. the 110's as well. Last Dec. 3 days before x-mas I was out for some cold water fishing. First choice was the 110. I couldn't get 2 different baits to suspend/slow float. came up quickly to the surface. Put on the RC bait and it almost suspended perfectly. floated slowly like the 110's supposed to. caught 2 quality bass and a beautiful 20in brown trout. I just think that there is inconsistantcies, but no matter the price I think you'll find that w/ many baits.

From: Jeff: North NJ

Comments: Yes its 1/3 the price of the 110's but its not even worth the 8 dollars i paid for it, its suspending (or lack there of) is dirt. Floating dirt. Will start buying x raps or anything else that actually supends for fish in cold water

From: Nick: Fort Wayne, IN

Comments: decided to try a jerkbait on a post frontal day on the local lake when the jig and deep crank stopped producing,fished on a slack line this bait does work! outfished a smaller kvd jerkbait and a smithwick rattling rogue. hardware is cheap but you should be fishing with a fairly loosened drag and you should all upgrade your hooks on every bait anyways. i just bent mine back with pliers after the peacock bass had their way with it

From: Matt: South Florida

Comments: The RC STX flat out catches fish !! All I do change the hooks to gamakatsu #6 short shank ewg hooks with owner hyper wire split rings.

From: John: St. Cloud, FL

Comments: Its a decent bait overall but, the hooks bend out extremely easy so you must change them out.

From: Dave: NC

Comments: You get what you pay for. One of mine the rear ball sticks and I cant fix; I can bang it out but it just sticks again, so its going in the garbage. Out of the other three others, two suspend properly with the nose down, the third seems to suspend more level than nose down.. Not particularly sure why, however the two colors that gave me problems had sort of a see through color. Now does that matter, I have no idea just telling you what I experienced.

From: Brett: NY

Comments: Great lure! First time with this on the water i caught a fat 6 pounder, previously i had been in a fishing slump for months! Very impressed!

From: Jake: Cocoa, FL

Comments: Good jerkbait for a good price. I have several megabass and STX. I use the megabass in tournaments and the STX for fun or pre-fishing. The two things I notice about the STX is the hardware is more fragile and the finish is not as durable.

From: James: NC

Comments: I bought the 4.5 in secret night to fish bass at a local pond. I was pleasantly surprised at its effectiveness(being more of a soft bait guy. I usually don't fare as well with hard baits) Last cast I hooked a 15 pound catfish on it. The back was a bit scratched up and the middle hook was almost ripped out, but it's salvageable. I might have to buy some more of them!

From: Nicholas: CA

Comments: Great for a knockoff. Hooks and rings should be changed as others have mentioned. Got a couple in the other day and took them out today. Great action, caught two solid fish, but after the second fish I had a stick bait not a jerk bait. Bill snapped clean off :X. Hope the others I ordered don't do the same.

From: San Diego

Comments: 4.5 is good for the price. I was excited about the 3.75 version when I say it on TW but it is questionable. Looks exactly like its big brother but when I was trying to tune it to suspend or atleast sink slowly nose down I found it is very buoyant and floats nose up. The weight system is not heavy enough to transfer to the nose. Bait still might be good for a fast, erratic retrieve but I know I wont tie it on in cold water when I need it to suspend and tempt fish.

From: Tyson: Omaha, NE

Comments: If you think you're getting a Vision 110 at a bargain, you're not. This bait isn't nearly as good as a 110. The body shape is nearly identical, but the likeness ends there. It doesn't have the action and isn't near the quality of a megabass. For a great jerkbait in the $8 price range try the xcalibur jerk shad...better action, better hardware, better everything.

From: Greg: NJ

Comments: caught some nice fish this yr. on the stx. seemed to produce just as well as the 110 and sometimes better. may just have to buy 3 more of these rather than 1 MB

From: John: Ti, NY

Comments: this lure catchs fish easy as that. but def change out the rings and hooks. i caught a 6 pounder with it and 2 hooks broke and 2 split rings broke.

From: AK: NJ

Comments: very impressed for the money. I just changed to size 5 Owner hooks and they work great. One thing I did notice, of all the ones I bought (multiple of different colors), only one color had bad split rings, the other colors had upgraded split rings and all had the same style hooks so guess it depends on which split rings theys used at the time on whether you need to change out. As for copying the Megabass, well thats business especially when you look at quanity vs quality (my bet would be they all get made/painted in same plant and the hardware gets assembled else where)

From: Steve: Oregon

Comments: I dont know about anyone else, but i had a big problem with these floating extremely fast on me. tried 3 different stx's and all of them did the same thing. almost like a crankbait floating to the top.

From: Nick: KY

Comments: Great bait but I will use the real deal when it is tournment time. Also, I am pissed with luck e strike copying other companies and Rick Clunn putting his name on it, GET YOUR OWN IDEAS! Also Aaron 110's are not meant to suspend they slow float.

From: Ryan: Peoria, IL

Comments: I have never used a 110 before but as far as fishing catching ability these STX Jerkbaist work beyond my expectation. The split ring in the mouth area will need to be replace with a better one but the hooks and split rings at other location is serviceable for a while. I've caught quite a few bass and strippers (a couple 8-10lbs) on these lures and so far the stock split rings and hooks are holding up okay but will need to be replace. One con about these lure is the paint job durability. I'm not sure how tough the original is but these do get chip after catching numerous fish.

From: John: CA, USA

Comments: Great lure.. you need to replace the hooks and split rings before you even use it.,,, but that being said its still a great lure for much cheaper than japans version of the same thing

From: Rob: Central, PA

Comments: Oh man am I shameful for posting a review for this knockoff (you know what this knocks-off of!!) But the price is so tempting, as well as most of the colors. I agree with most of the reviewers, you have to change out the split rings and the hooks, they are Cheappppp. The swimming and spastic action are there, like the original, as well as suspending quality. I know I know, I am a cheap jerk for using the Luck e strike jerkbait, I can't help it *hangs head in shame*

From: David: Murrieta, CA

Comments: Just got back from a week fishing in northern MN. This bait was killer on both smallies and largemouth! Even outfished my 110s at a fraction of the cost. Only downside - the hooks and split rings. They need to be switched out and hopefully LES will hear all the complaints and do something about them.

From: Colt: Belleville, IL

Comments: Striper killer!! Cast it in and hold on!

From: Tank: Fresno

Comments: Great bait but hooks aren't the best, start to bend after a couple fish. Other than that it seems to work really well.

From: Jake: Greer, SC

Comments: I purchased this bait in ghost blue before a tournament and the first fish of the day was a 3 lber. Ive used this bait a few times and it has been a good producer. I have two of them and havent had any problems. Great baits at a great price

From: Mike: GA

Comments: I have read the numerous threads. Quite honestly I can't expound on the hooks and split rings. But I do know I was at the Lake of the Ozark 4/18-22. I caught bass, crappie, and stripers on this bait. The bass hit this bait like a mule kicking the barn doors off it's hinges! Great bait but I will take the advice to change out the hooks and the split rings.

From: Brandon: Lutcher, LA

Comments: Can't add much that hasn't already been said. Bait IMO is solid. Casts nice, good action; gets the bites. Solid bait for the money. The split rings are the worst I've ever seen. If you read these reviews, buy the bait, and STILL fish it with the stock split rings; you need major help. I can't begin to say how horrible they really are. I had a 1 1/2 pounder rip a treble off the bait; that should give you an idea. But the bait itself is good. Owner #2 Hyperwire rings, Gamakatsu #6 Round Bends; good to go. I have a number of Megabas Itos as well. Awesome baits and worth the money. So are these.

From: AC: CA

Comments: Works great for aggressive fish. What was astonishing was how my brother caught a trophy size trout with the purple golden shiner.

From: David: Sacramento, CA

Comments: no the hooks are not great and the rings totally stink but if u swap em out and mess with hook sizes you can make it damn close to what they are tryin to immitate and you wont have meltdown like you do when u lose a megabass. for the money i am impressed

From: fishinjunkie: USA

Comments: Casts, jerks, and looks just like the Vision 110's. Anyone who would rather pay 25 dollars for a jerkbait is crazy now that these are around. Fished it side by side with a Vision 110 and they honestly performed equally well. Only real difference to me is the hooks and split rings. Two thumbs up.

From: Andrew: Midwest

Comments: WOW. i guess not a lot of people like this bait. if u dont want it anymore email me and ill buy it. I GOT TO SAY THIS BAIT IS AWSOM. Frist i threw my LC pointer and had no hits. i tied on this bait and never took it off. bass were hitting this like crazy. and no there were no damage to my bill and any paint chip. this bait is a steal at 7.99. im going to pick up all the colors and some more of my favorite color. Or u can email me and ill buy the one u dont want.

From: Fresno

Comments: Good bait, long casting, suspends for about 3 secdonds before starting to slowly rise. first time used cought 2 bass in 10 casts. nothing to brag about.

From: Mike: Atlanta, GA

Comments: I am a real jerkbait snob. Its one of my favorite techniques, and one of my confidence baits. I was expecting to be disappointed. I thought this was going to be a cheap ito knock-off. I was wrong!! Casts a mile, suspends perfect. I like to use braid to fluorocarbon leader and a stiff rod to throw jerkbaits....This one has lots of action with a very light twitch, unlike the pointer 128, or spro mcstick that you have to give a good rip. Very impressed! Got the cosmic, and pearl. I will be buying more! BTW, looks better in person than in these pics!

From: Mike: Huntington Beach, CA

Comments: haven't caught a fish yet, but good action, exact replica of the 110's, however, i purchased a few. one sinks, one has a crack that has been clear coated over. this one i never used, and one, the weights get stuck in the back. the rest,i havent had a chance to use yet. I hope they don't sink lol. so far, they're not cracked. only one was. its a hit or miss!...for 7$. TW is taking care of the faulty ones for me. excellent service! A+

From: Kats: CA

Comments: I can't believe some of the negative comments I've been reading about these jerkbaits. I bought one and have only thrown it one outing. But it cast like a bullet, looked great in the water, and the terminal components held up to several three pound fish. Great jerkbait for the money.

From: AJ: South East MO

Comments: these baits are killer for perch and halibut in the so cal surf

From: Owen: LA, CA

Comments: Love the colors and action, however the weights get stuck easily and it sometimes rolls backward on the tail. Still a solid bait

From: Destin: PA

Comments: This bait points down and has great action. It moves very good in water. The colors are nice design. Try one and see for your local body of water. It has great dart action. Find your best baits. Good fishing

From: Alex: Kansas

Comments: I'm with LTD,have 12,110's and 4 of them have sticking balls which leaves lures butt down in water,not for sure if its a tempature thing or because of the tiny bb's that are mixed in with them!!as far as being the same as a 110 it would be the sound difference for sure(but that isnt a big deal in clear water) and the hardware quality but to suspend them right that needs to be changed all the time do to temp of water changing.you can use an UGLY STIK and still catch LMB.( I'm not knocking that rod it just an example)It's a great cat stick!! BUY WHAT YOU LIKE AND CAN AFFORD ITS ALL ABOUT THE CHANCE TO ENJOY THE OUTDOORS ANYWAY!!! I will be trying the RC's soon.......:]

From: Kenny: Phoenix, AZ

Comments: Just discovered this 110 knockoff. I think the color choices are poor, but I'm so frustrated with Megabass that I'm willing to try. My $25 110's all have quality problems. Mostly the lips fall/break off too easily. Also, paint chips off and the weight transfer system stinks. The tungsten ball gets stuck in the middle of the bait. Junk. I plan on ordering the Rick Clunn model and when the ice melts, I'll report back. At least at 1/3 the price I'll be 1/3 as disapointed if they suck...

From: LTD: Boston, MA

Comments: Great bait!!! Went out to deep points today and caught 15 lb bag in 49 degree water. They were hitting that pro blue really good today. Good bait for price definitely worth 8 bucks!

From: Philip:Birmingham, AL

Comments: Replace Split rings as soon as you open the package. Otherwise the bait is Awesome anyone that says they won't catch fish like a Megabass don't know how to fish a stickbait, or they have more money than brains.

From: Jr.: Schell City, MO

Comments: Agree on all points. It catches fish, especially in cold water, but you ABSOLUTELY have to REPLACE both the split rings and the hooks! They are GARBAGE! The Pro Blue color works best for me, and the bass hit this thing with authority.

From: Alan: Adairsville, GA

Comments: Great bait. Just started throwing it recently with success. It runs and suspends perfectly. It has an awesome darting action and the stock hooks are very sharp. A steal for $8.

From: Captain: Florida, USA

Comments: These are great baits and they catch fish. As another feedbacker mentioned, REPLACE THE SPLIT RINGS. Mine opened up and lost the lure while ripping it in (and not even on a fish) and now I'm out $8. Good bait, HORRIBLE split ring. I didnt even cast the bait 30 times before the split ring opened up. Hope Luck E Strike reads these as i'm sure most folks will experience this...

From: Erwin: Austin, TX

Comments: This bait is awesome. I have been sticking some good smallies on lakes here in Middle TN as well as some largies too. The fish will flat smack it too. I have been using Secret Night and Cosmic Shad.

From: Chris: Nashville, TN

Comments: seems that companies like luckystrike are just counterfitters of other successful bait companies. are we really that sad that we cant design a lure as good as the imports? its always been my rule that cheap baits are for prefishing but come tourny day throw the real deal.

From: Scott: Pittsburgh, PA

Comments: Seems almost identical to Megabass. A little thinner profile, a slightly smaller lip are all I can see. Casts far, and swims about the same. Just got one small bass on it dead sticking it, but these aren't really a hot bait here in the south (for me anyway). Still for the price, got three, instead of one..

From: Craig: Sunrise, FL

***Note: If you have questions about this product or need assistance with an order please email your questions to info@tacklewarehouse.com
View Large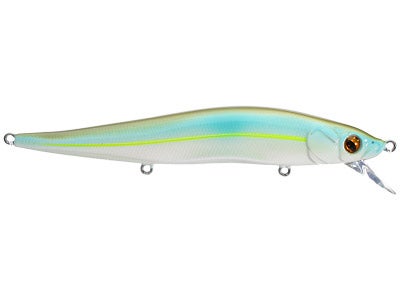 More Luck E Strike Hardbaits