Luck-E-Strike Scrounger Jig - $3.49
Easy to fish and practically snag free - the Luck E Strike Scrounger Jig can be fished as a casting or a swimming jig - and it still generates the ultimate action of the original Scrounger. Its painted head and matching skirt provide added realism and bulk, while its specially designed bill pushes water and creates its deadly rocking, vibrating action. Extremely versatile and available in a variety of colors, the Luck E Strike Scrounger Jig also features a new and improved wire bait keeper to keep your soft plastics more firmly in place. The Luck E Strike Scrounger Jigs feature a 4/0 hook.
Comments:
From:
Comments: THIS IS WITHOUT QUESTION A GREAT BASS CATCHING MAGNET FOR BOTH SMALLMOUTH AND LARGEMOUTH THE BILL IS MADE FROM FLOURCARBON SAME MATERIAL AS OUR FISHING LINE.I STIFFEN UP THE BILLS WITH A COAT OF CLEAR COAT NAIL POLISH WORKS GREAT I USE LONG BILLS ONLY.I FISH THE SKIRTED ONE PICTURED THE HAIR DRESSED ONE AND THE PAINTED HEAD AND THE UNPAINTED HEAD ALL PRODUCE FISH.I LIKE THE BERKLEY HOLLOW BELLY BAIT IN BLUE GILL OR FIRE TIGER 4 INCH ALONG WITH STRIKE KINGS SHADOLIOUS HOLLOW BELLY ANY TRAILER THAT WE USE ON A CHATTERBAIT WILL ALSO WORK HERE.THIS BAIT HAS SAVED ME NUMERIOUS AMOUNT OF TIMES WHEN ALL I HAD WAS ZERO OR SOME SMALL FISH IN ONE OF THE PLACES I FISH IS NO BOATS ALLOWED. I HAVE CAUGHT A NUMEROUS AMOUNT OF QUALITY FISH USALLY 10 FEET FROM SHORE I ALWAYS REEL THEN KILL THE BAIT CAUGHT ALOT OF FISH ON THE DROP OR WHEN I JUST STARTED REELING.I FISH IT MAINLY ONE HOUR BEFORE DARK HAD GREAT SUCESS AND I HAVE CONFIDENCE IN THIS BAIT TRY SOME.TACKELWAREHOUSE HAS THE BEST SELECTION OF ANYBODY. TACKLEWAREHOUSE IS RESPONSIBLE FOR 90% OF ALL THE BASS I CATCH SIMPLY THE BEST. GOOD FISHING GUY THANKS
From: Richard: Mountainside, NJ 2/25/14
Comments: Was very impressed with this jig,but I did notice that you need to get the long bill models. The long bill provides a constant vibration that really works!I use a Rage trailer for even more action,now hold on!

From: Bryan: Newport News,Va.

Comments: FIRST and ONLY fish I ever caught on this was a 5lb.rascal striper, and I am a tournament bass fisherman....lure works great prob. the best NEW concept in years...agree??? note: they probably already do, but they need one with a treble trailer or main hook, but keep rest lure exact same...super fluke slowroll=$$$$

From: Skin: Hesston, PA.

Comments: these jigs have some crazy wobble action to them,a go to jig for me. i like them in mouse and green pump.

From: Sam: Chicago

***Note: If you have questions about this product or need assistance with an order please email your questions to info@tacklewarehouse.com
View Large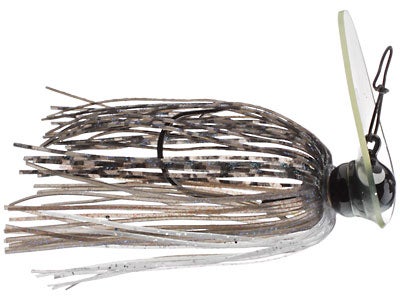 7 Available Colors
More Luck E Strike Scrounger Heads