Lucky Craft Blade Cross Bait - $15.99 to $17.99
Taking the underspin concept to the next level, the Lucky Craft Blade Cross delivers the flash and vibration of a spinnerbait to lure bass in, along with the profile and sight appeal of a rip bait to get them to commit. An excellent search bait, it also excels when burned over grass or slow-rolled around structure. Like all Lucky Craft lures, it features premium components, including super sharp treble hooks, and it also has the added benefit of Lucky Craft's lifelike and realistic hardbait colors and detailing. Another innovative, high quality lure from Lucky Craft, the Lucky Craft Blade Cross is available in a range of proven color combinations.
| | | | |
| --- | --- | --- | --- |
| Lucky Craft | Length | Weight | Class |
| Blade Cross 90 | 3-3/5" | 3/8oz | Slow Sinking |
| Blade Cross 110 | 4-1/2" | 1/2oz | Slow Sinking |
Comments: First evening went out for 1/2 hour caught a fall fish. The next day went out for a couple hours caught a Walleye, 2.5lb Large Mouth and a Small mouth Bass. Next day went out for an hour and caught 5 15" bass. First time using any kind of hard bait.
From: Ron: Milford, PA

Comments: Body action is non-existent, the blade spins well though. I bought the chrome version and did get a 50"+ musky to my boat with it (bent hooks and all) but didn't have a net large enough to seal the deal. The wire and body stood up well to the teeth with no noticeable damage.
From: John: Ontario, Canada 4/15/14
Comments: This is a revolution wrapped up in one lure. Everything that this swims in front of what to destroy it. This is magic and everything I put this in front of smashed it smallies,largemouth,walleye,musky,northerns and even whitefish to my surprise. I love this thing to death! Slow roll it burn it everything works and my clients love it to thanks again Lucky Craft for another gem!
From: Unknown: USA 4/1/14
Comments: October 13 2013 lake Charleston Canada myself and 3 friends were fishing a weedline they were catching largemouth I was picking smallmouth here and there with a jackall wacky rigged worm They started catching perch I put on the blade cross in perch color 5 cast 5 smallies cast out two jerks downward one or two cranks fish on. the teeth marks on the head and two inches down a grat lure caugt a total of 20 fish using the blade cross on and off for three days.In 2012 field and stream voted this lure number one with 17 bass caught on it during their one day test with their pro fisherman google it.this bait is tremendous for going over weeds.the water this year in that lake was gin clear so I went down to 8 pound flouro with 70 t0 80 foot cast now I am today one day later buying more colors you want some viscious strikes by this lure you be happy you did.tackelwarehouse is responsible for 90 percent of all my bass. good fishing guys.

From: Rchard: MOUNTAINSIDE NEW JERAEY

Comments: Has a great paint job, hooks, and blade but the action is not good. I tried twitching it and it just spins around and the blade goes crazy. MIGHT just MIGHT be ok for cold deep water but not for where I am fishing and $17 is crazy.

Comments: caught two smallmouth on a 84 degree day; cloudy; that weighed over three pounds apiece. Was impressed with this bait to say the least. Will be buying another, as I lost it on he next outing because I didn't check my knot when I tied it on.

From: Chuck: Clintondale ,NY,USA

Comments: I found lure to have excellent action once I learned to fish it properly,I caught several nice bass unfortunely while trying to make a low cast under a dock I let the lure hit my trolling motor.the trolling motor won,I'm now ordering more of these lures in different colors.
I think this is going to be a excellent go to bait.

From: Jerry: Gallatin,Tn.U.SA.

Comments: I personally have fished this, it's not that great. Give people a break, might save you $17 in the process.

Comments: Great bait work good for small and large mouth with aggressive strikes. Use a 5:1 to ratio if possible creates perfect action.

From: Kris: Pinckney, MI

***Note: If you have questions about this product or need assistance with an order please email your questions to info@tacklewarehouse.com
View Large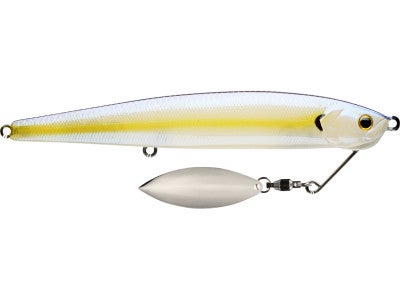 15 Available Colors
More Lucky Craft Rip Baits