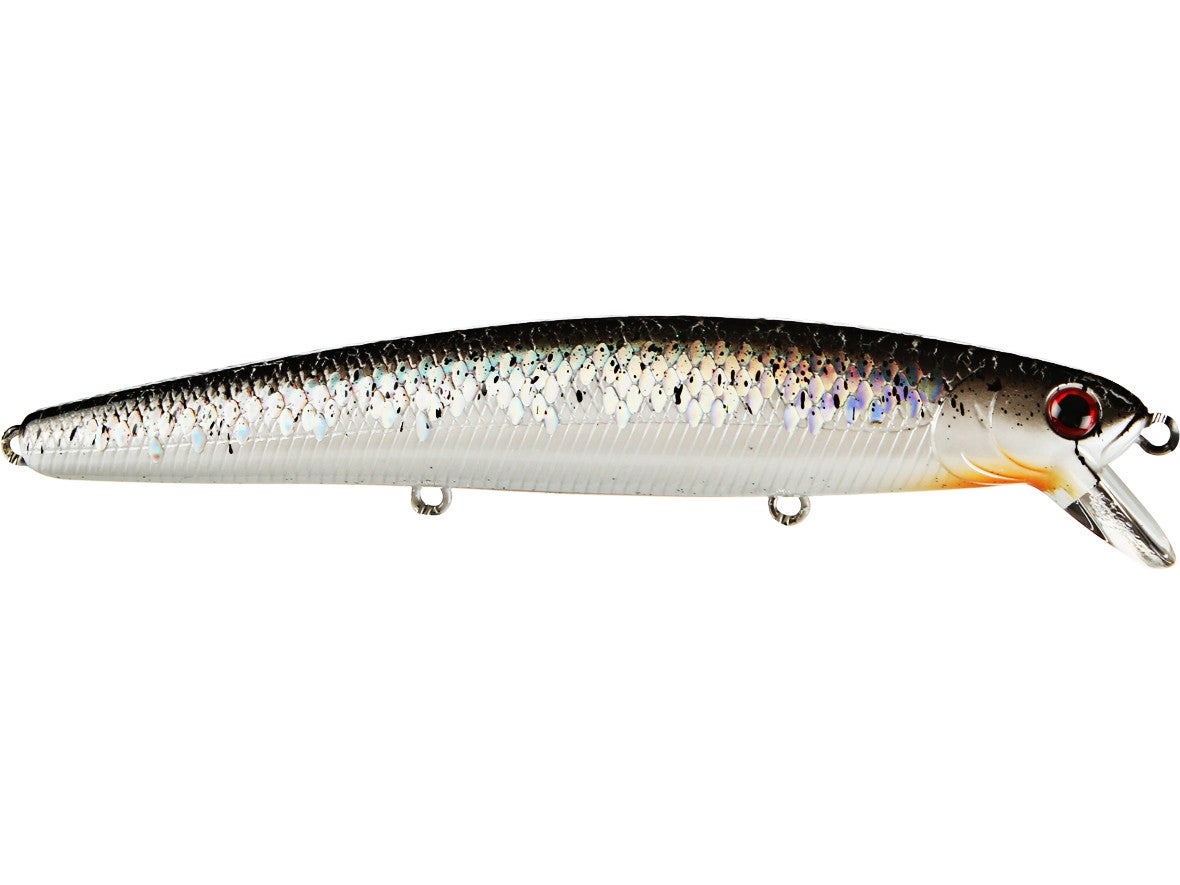 The Flashminnow series baits have a classic minnow look; a slim narrow body that is incredibly lifelike. The Flashminnows have a built-in weight shifting system which provides accurate long distance casts. This bait has outstanding action while worked fast or slow. The real fish catching feature is the wobbling vibration given off when the bait is stopped and suspending. Made specifically for the 2-3 foot range the Flashminnows are perfect for working flats and points.
| | | | | | | |
| --- | --- | --- | --- | --- | --- | --- |
| Lucky Craft | Length | Weight | Depth | Class | Hook | Line |
| Flash Minnow 110 SP | 4.5" | 5/8oz | 2-3ft | Suspending | #6 | 10-15lb |
9 Colors
More From Lucky Craft Rip Baits
Customer Reviews
Comments: I wade fish a lot of rocky rivers that also have lots of woody snags and I love this lure because in dives just deep enough to trigger big fish and not get hung up all the time. The 95 Flash Minnow is a big smallmouth and brown trout killer whether you crank-pause, or jerk, crank, and pause it. It consistently catches the biggest fish in the rivers I fish. You want to trophy hunt for big river smallmouth and brown trout then put one of these bad boys on your line.
From: Jay: White Hall, MD 4/30/14
Comments: Great bait....but the 95 needs to be altered to get any sort of suspended/slow sink action. They immediately fall tail down on a pause out of the package. A larger front hook and smaller back hook does the trick ok. Not so great as a jerkbait, but really good as a slow or fast moving shallow runner.

From: Adam: Chicago, IL

Comments: This bait has a very "classic minnow" shape. I like it. It is a suspending jerkbait but I know a few fisherman who love to fish their jerkbaits by slowww reeling them then pausing...slowww reel-pause...etc. Instead of hard jerks. This is a great bait for that. It doesnt have the most errattic darting shape to it. Great when they want something toned-down a bait or over early growing grass/weeds...this will tick the tops in the 2 ft. range and drive em nuts. a great alternative jerkbait. I personally have dozens and dozens of jerkbaits. a Jerkbait is a very versatile tool and u need them in ALL varieties: Short, Long, slender, wide, shallow, deep, suspending, sinking, slow float/sinking, floating...subtle or silent, errattic and loud...You need to equip yourself. Jerkbaits have gotten pigeon-holed into a "coldwater" bait which is absurd. They catch fish all year if you're using the right one. Don't overlook them for amazing subtle topwater baits, a floater jerked then rising up over spawning flats is unbelievable...and of course classic ways of fishing them.

Comments: First commenter and Andy are right. The flashminnow 110 is killer for halibuts and saltwater bass down here in southern california, but please change out the hooks to owner st41 if you don't want to lose a big one. Retrieve slowly and feel for that wobble, pause it once in a while and you will get them. Don't be afraid to use it at night, especially on a full moon!!! Good luck.

Color: MS MJ herring

From: David: Murrieta, CA

Comments: My first LC I ever owned. Had one over 10 pull off during an FLW on Clear Lake...cheange those stock hooks. Or watch a 1,000 bucks swim away out of net range.

From: Angry Andy

Comments: This Lure kicks butt when surf fishing for california halibut. Use a SLOW steady retrieve with short pauses every 5-6 cranks.