Lucky Craft Flash Pointer 115 MR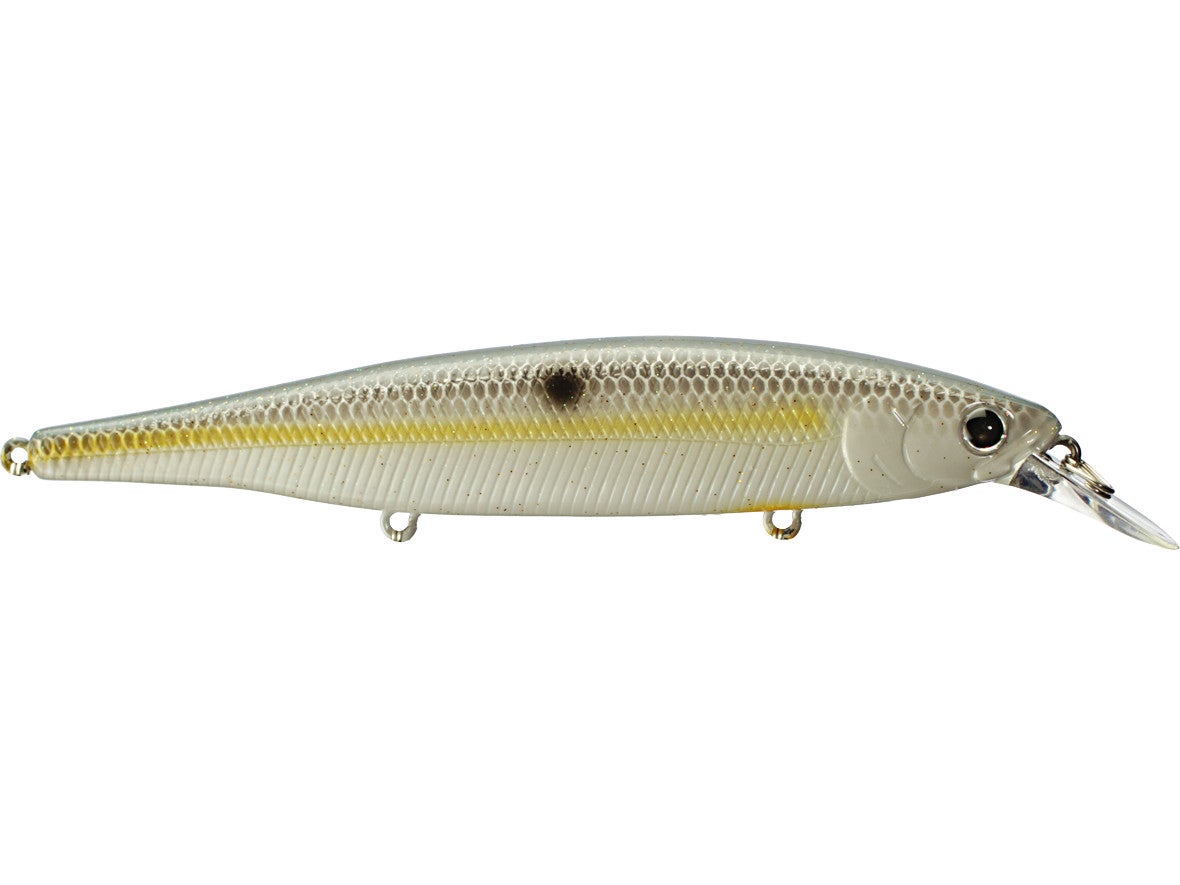 The latest model of Lucky Craft's tournament winning jerkbait series, the Lucky Craft Flash Pointer 115 combines the best action and attributes of the Pointer and Flash Minnow into one deadly bait. Designed to more effectively fish the critical 7 to 9 foot depth range, this slow sinking rip bait slowly falls with its nose down on the pause and has a wider side-to-side action. It also features loud rattles, and a weight transfer system that allows you to cast it a mile. Perfect for a variety of shallow water situations, get the best of both worlds with the Lucky Craft Flash Pointer 115. Also equipped with super sharp hooks and ready to go right out-of-the-box, it's available in a range of Lucky Craft's best colors.
| | | | | |
| --- | --- | --- | --- | --- |
| Lucky Craft | Length | Weight | Depth | Class |
| Flash Pointer | 4-1/2" | 1/2oz | 7-9ft | Slow Sinking |
20 Colors
More From Lucky Craft Rip Baits
Customer Reviews
Comments: this is a great lure. Dives to a good depth. Catches my striper limit. Get some different colors TW! Had to buy the"crystal pro blue" from basspro. I would've rather bought from here though

From: striper team: flezno

Comments: When everyone's POUNDING the fish w/ suspending jerkbaits ona highly pressured body of water in the coldwater and winter to spring transition...Use this bait. Everyone's so stuck on suspending but a slow floating or slowly sinking stick bait can make all the difference. This is a great option over flats for smallies as well and when bluegill are around the beds/shallows during the spawn...cast this thru the areas with a faster cadence and pause...that slow rise will drive em nuts.

From: Tanner: SE, Massachusetts

Comments: Wow! Not only caught a bunch of peacockbass, but also caught loads of largemouth. Placed 2nd in a tournament with this bait. Huge fan of the Slender pointer 97, but this bigger profile catches bigger fish. Change the hooks to the triple grip hooks and you will rarely lose a fish.

From: 1Puttric: Ft. Luaderdale, FL

Comments: Sikk rip bait! Caught some decent bass with this new guy. The new tapered body(wider back and slender belly) and thin lip really makes this bait go wild when ripped. The action to this bait is between and vision 110 and a squad minnow, which is exactly what LC needed....new favorite!

From: OgBass: Cal Delta

Comments: this is a great lure, the head tilts down when you jerk it in the water, I've caught some striped bass on it already. You gotta have one of these in your arsenal of rip baits! -Hmong Striper team-

From: _FeBeast_: Fresno, CA

Comments: I've been waiting for this lure.. Should be a striper magnet here in California.. Hmong striper team, we got a new "go to" lure!!!

From: the tank: Fresno