Lucky Craft Flash Pointer SP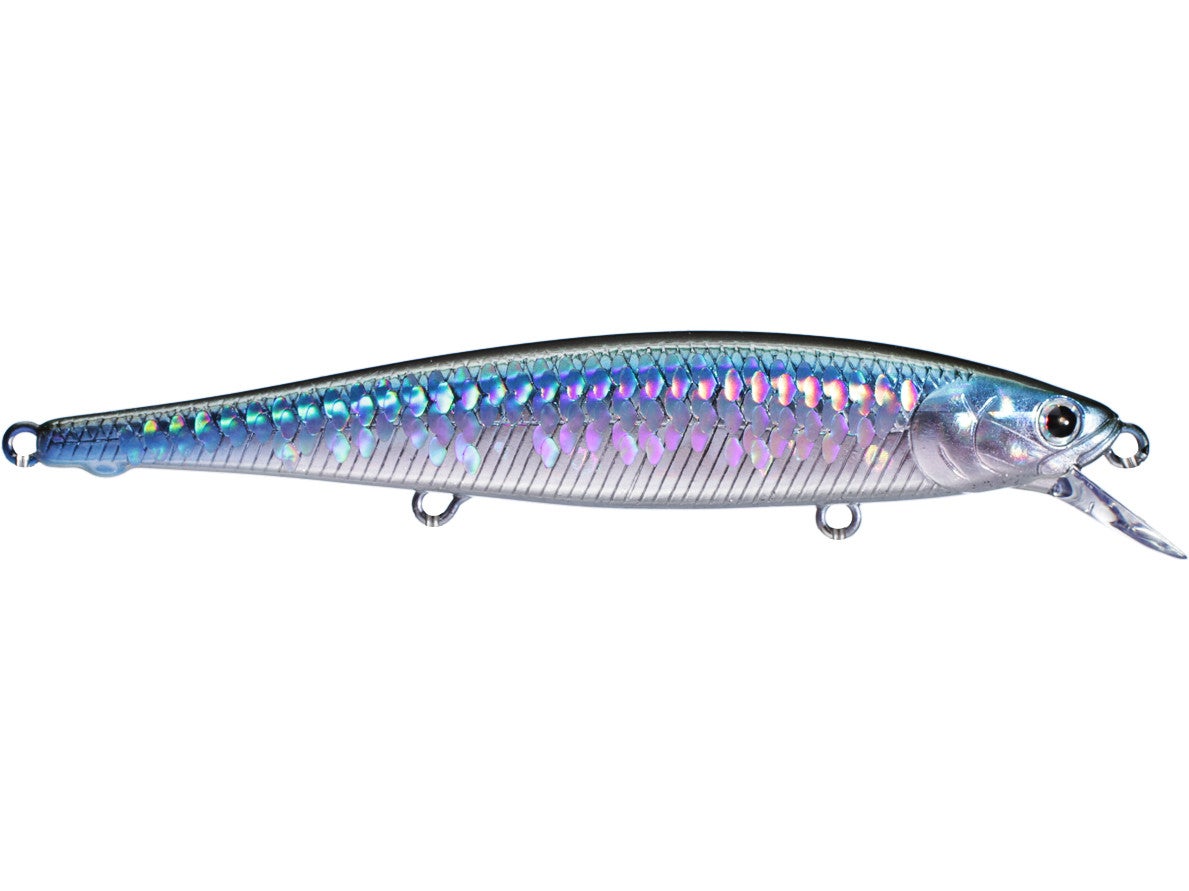 The newest addition to Lucky Craft's extensive lineup of jerkbaits, the Lucky Craft Flash Pointer SP blends the action of both the Pointer and the Flash Minnow into an attractive and dynamic package. The secret behind the Lucky Craft Flash Pointer SP lies in its tungsten weight transfer system. During casts, the tungsten ball shifts to the rear of the body and alters the momentum, carrying the Lucky Craft Flash Pointer SP an incredible distance. Once in the water, the ball rolls back-and-forth with twitching, and generates an enticing nose down presentation with an unmatched side-to-side action.

Engineered with an extremely aerodynamic triangular shape, the precisely crafted body of the Lucky Craft Flash Pointer SP is armed with three sticky sharp treble hooks to grab any fish that swipes at it, no matter how slight the strike. A shoe-in for your next "go-to" bait, the Lucky Craft Flash Pointer SP offers an exquisite level of detail and craftsmanship that's sure to yield big results.
| | | | | |
| --- | --- | --- | --- | --- |
| Lucky Craft | Length | Weight | Depth | Class |
| Flash Pointer SP 100 | 4" | 3/8oz | 4-5ft | Suspending |
| Flash Pointer SP 115 | 4-1/2" | 1/2oz | 5-6ft | Suspending |
17 Colors
More From Lucky Craft Rip Baits
Customer Reviews
Comments: I've had a lot of luck with the 115 size & it suspends well with little or no modification. I bought two of the 100 size for the days when there extra finicky & also for shallower water applications but haven't really fished them yet because both of them sink like a stone, might as well consider them a countdown jb . Most of the time when i'm fishing a jerkbait it's around weeds or rocky flats where i need the bait to suspend so it won't end up in the weeds or caught up in rocks. I really like these jerkbaits, wish the smaller ones would suspend better.
4/15/16

Comments: By far away my go to jerkbait. The 100 catches numbers and size. FF Herring and Ghost Minnow are a must on herring lakes. Highly recommend this bait.
From: Devin: Lake Hartwell, SC 3/9/15

Comments: Smoked em the other day on a local lake around here on the flash pointer 100. Has a good eratic side to side action on quick snap jerks. Does not have a lot of action when just reeling the bait in you must work the bait to get the good action. Durability and paint jobs are great. I have a lot of confidence in this bait.
From: Gino: NC 5/15/14

Comments: As a collegiate angler, this is by far the best jerk bait I have ever thrown! right out of the package it's ready to fish! No extra weights or new treble hooks are needed! When fishing in extremely cold weather is where I was most pleased with the erratic action. You still get amazing action with this bait when you fish it extremely slow.
From: Adam: Jackson, MO
Comments: I just tried one of these today and I have to say I'm impressed. I used the 100 size, and it reminded me a lot of the Megabass 110 jr in both profile and action, and the fish agreed with me. I will be getting more of these, especially since they're cheaper than the 110s.

From: Greg: Northern Utah/Southeast Idaho

Comments: This bait has been very productive for me. In fact, first time I had it tied on, I jerked it at the side of the boat to see the action and a bass came up and ate it. Very nice erratic action. I didn't even feel the need to change out the treble hooks. 10/10 for sure

From: Bryce: Trabuco canyon California