Lucky Craft Gunfish - $15.99 to $17.99
The Lucky Craft Gunfish is a topwater bait that combines a "walk the dog" action with the splashing ability of a popper. The slim tapered body design delivers quiet landings and a unique action. The Lucky Craft Gunfish has a "walk the dog" action similiar to the Sammy, but uniquely different. The tapered body provides a tight walk that glides across the water, while the Sammy has a more sporadic action. When stopped, this bait can be twitched and popped to create a splashing, darting action. The resin/tungsten weighting system allows for long, accurate casts. Try this lure when conditions are prime for topwater but the fish are being stubborn. The Lucky Craft Gunfish will catch fish in those high pressure situations.
| | | | | |
| --- | --- | --- | --- | --- |
| Lucky Craft | Length | Weight | Hooks | Line Recommendation |
| Gunfish 95 | 4" | 3/8oz | #6 | 10-16lb |
| Gunfish 115 | 4.5" | 3/5oz | #6 | 10-12lb |
| Gunfish 135 | 5-1/2" | 1oz | -- | -- |
Comments: This is the best topwater bait on the market. Fish can't stand not to hit it !!! You can use it with a little wind or when it's slick water, doesn't matter-- Me and my son caught a 4 pound bass on these every trip to Cedar Creek Lake this year. Buy it, you will not be disappointed

From: Johnnie: lancaster, ky USA

Comments: I am a firm believer in the Gunfish. It outfishes any TW bait I have ever used. Many complain about the finish, my finish started coming off after a few fish as well. To fix this issue, I got in my daughters fingernail polish bag and borrowed her nail hardener, painted the entire bait. Problem fixed! A year and a half later, still no more finish has come off. Cheap and easy fix. I know you shouldn't have to do that with a $16.00 lure but it is what it is. Regardless, IT CATCHES FISH!!!!

From: Mike: Jackson, MI

Comments: This is the perfect bait for moody postspawn bass when a Sammy or Spook is too large and too loud. Just has the perfect size and action to trigger pressured fish. The spotted bass here in North Georgia absolutely love the 95!

From: Alan: Adairsville, GA

Comments: Its always interesting to here different views and opinions about higher priced lures. I have yet to purchase a hard body lure that doesnt get thrashed after consistant fish catches. To me that is proof enough that these products are worth every penny. If you lure isnt thrashed it hasnt been catching fish, i would rather be rippin on some lips that looking at perfect lures that are still in the pachages.

From: Kam: UT

Comments: Picked up a shell white one. Finish is completely worn off and hook rash like no other. Bought an new one and it DOESN'T even come close to getting bit as the old worn out one. Just cause the finish is beat up doesn't make a difference. Stop crying about the finish. If it is too much for you find something else.

From: dirty spook chucker: AZ

Comments: Best walk the dog lure on the market, consistantly catches fish when others won't. I like to use it when the waters choppy slow retrieve or fast retrieve it catches them all!! Wish TW would carry the 75 size as they are harder to find for finesse applications but if your contemplating about buying just buy one, you won't regret it!!

From: touchainzz: Tulsa, OK

Comments: I use MS Black 115 size at nights , love it. Casts a mile, very good walking splashing action.Caught biggest one last summer 11.4 pounder. Not bad at all for $ 16 lure.

From: Steve: Studio City, CA

Comments: Needed to give a little more feedback, after spending $80 which to some may not be a lot I am slowly becoming less satisfied with this product; yes it catches fish... My 3 most recent purchases, scales were falling off out of the box, after using and not even catching anything more fell off; after two hours of use I had a nickel size portion of the paint come off on one. I am partly ocd, so things like this really bother me, but you just wouldn't expect the lack of quality control for a lure of this price. Will no longer be purchasing, moving over to Jackall Mudsucker; performs the same, costs less and the finish is by far much nicer than lucky craft.

From: Brett: Rochester, KY

Comments: I wish I could post a picture, after a days use the finish is already coming off; something I would not expect from a $16.00 lure. Also contacted TW when lure first arrived, scales were flaking off. As for performance, this lure just flat out catches fish but I would expect the finish to be much more durable...

From: Brett: Rochester, NY

Comments: THIS LURE IS AWESOME!!! This is honestly my go to bait. I use a shad color and a minnow color. The action is phenomenal. I can work long wide walks, short erratic action. It spits too while working erraticly. My only beef is that TW needs to carry the smaller version 85 like another large competior already does.

From: George: PHX, AZ

Comments: Top water has not been great this year, so I have not put this to the test too much. However I was hauling in a 3-3.5 brownie and at the boat he decided to jump and got off.. After a few casts I checked my line and the hook was bent out, something that should not happen with a $16.00 bait. I think I probably boated 6-8 fish before this happened, spending $16 on a bait and having to worry about changing the hooks is just too deep for me to invest in.

From: NY
Comments: If they could make this in a black hitch that would be awesome!!

From: PT: IL

Comments: This is a awesome topwater bait. It's has outfished my zora spooks time and time again. I only use my zora spook in case bass come up schooling while i got my gunfish already out. The price is high but it's worth the money

From: Gary: Lake Murray, SC

Comments: Man this is an awesome topwater bait. On the second cast, i caught a 4.8 pound large mouth. I was impressed on this baits first day out. Caught several over 3 pounds, including a nice six pounder that just hammered it. I mean man they smash this thing. I would highly recommend this bait, great job lucky craft.

From: Cody: LA

Comments: Using only the 115 model exclusively for 3-bar Peacocks and Giant snakehead. Best pencil popper ever produce.

From: Adam: S'pore

Comments: I love this topwater! Number 1 topwater lure for sure! It's a all in one!

From: K.M.: OK

Comments: My No. 1 favorite topwater lure i have a whole tray of almost every color lucky craft makes in every size i love this bait by far the best walk the dog bait on the market

From: Patrick: G.B. NC

Comments: Great postspawn bait, the cupped mouth seems to represent a bluegill feeding more than a sammy would. Largemouth killer.

From: GVD
Comments: I wanted to follow up with another tip that I think will help you put more fish in the boat. I changed the #4 hooks to #2 hooks and took the feathered treble off the back. I have yet to lose a fish with the bigger hooks. The gunfish is amazing and any thing that I can do to improve its fish catching ability I will give it a try. I have to say that the gunfish is becoming my #1 topwater bait. I still love the sammy when the water is smooth but the gunfish is the best there is.

From: William: Hohenwald, TN
Comments: this is one good lure! just like all the lucky craft bait's, it's all they say it is. when skeet reese and kelly jordan among other top pro's fish this bait for the BIG BUCK"S, you should know it's something special. it will out fish most lure's of the same type including the cordell pencil popper's, which say's something about its effectiveness.

From: Wes: Salinas, CA
Comments:Great topwater bait. I now own every size of the gunfish tha Lucky Craft makes. They all work like a charm. Saturday morning me and my son were bass fishing on Kentucky lake when we saw fish busting the top of the water. I took the gunfish 115 and started casting into the swarm. When it was over we boated 14 largemouth bass and I would guess around 50 stripe bass. This is one of the best topwater lures I have ever owned. The gunfish will roll, it will glide from side to side and it will pop and throw water like a popper. The fish don't know what to expect. Buy a hand full of these baits and you can put the rest of the one's that don't work away. They are great baits and the only thing you need to do is put feathered treble on the gunfish 115. Tacklewarehouse has the best price and selection.
From:William: Hohenwald, TN
Comments: I love this bait!!!! It's so good!! I've caught count less fish with it. One of my biggest is of this bait it was a 6 pounder.
From: Johnny, San Diego, CA 5/06
***Note: If you have questions about this product or need assistance with an order please email your questions to info@tacklewarehouse.com
View Large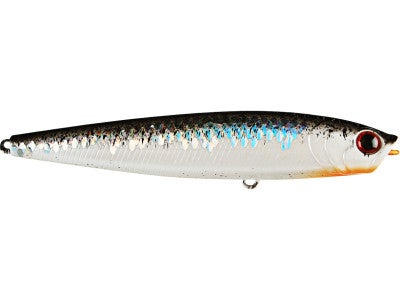 36 Available Colors
More Lucky Craft Topwater Baits