Lucky Craft LV 500 Lipless Crankbait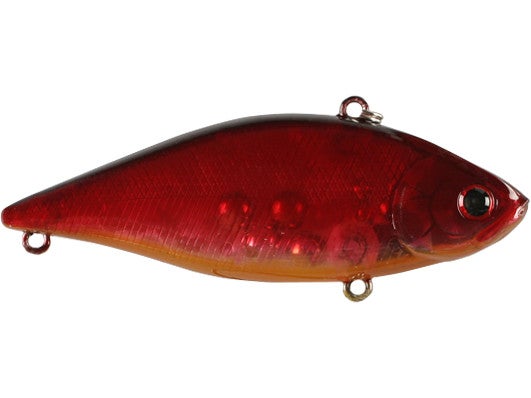 The Lucky Craft LV 500 Lipless Crankbait definitely stands alone. These three inch, 3/4 ounce baits have the look, sound and size that fish find irresistible. The brass and glass rattles create a loud, unique sound, and the forward weight design makes these baits cast like bullets. Equipped to handle depths down to 15 feet, the natural shape, tight wobble, and vibrating action unique to the LV series is like a dinner bell to unsuspecting fish.
Fish these baits one time and you will realize why the LV 500s are head and shoulders above other lipless crankbaits. Whether you fish the clear waters of the West or the stained water of a Southern slough, with Lucky Craft's unique and incredibly lifelike finishes, you can be assured that there is a Lucky Craft LV 500 Lipless Crankbait that's right for you.
| | | | |
| --- | --- | --- | --- |
| Lucky Craft | Length | Weight | Class |
| LV 500 | 3" | 3/4oz | Sinking |

Click the logo to view their review.
22 Colors
More From Lucky Craft Lipless Crankbaits
Customer Reviews
Comments: I have a couple of these lures in chartreuse & American shad colors. If you want to make mile-long casts to cover flats, these lures are incredible! Their weight, vibration & sound will catch just about everything swimming; stripers, black bass, walleye. Great lure!
From: John: Knoxville, TN 10/13/15

Comments: Got this lure out in Ghost Baby Bluegill. Went to spot I haven't had much luck on and that changed they kept hitting this thing hard. Glad a made the jump for more expensive lure but the quality and action shows what your paying for. Rip this thing through grass or burn it, they'll hit it.
From: Justin: NY 7/21/15

Comments: I call it THA BOMBER. As in, you can bomb it to Berlin because it is so heavy. Usually comes back with a fish attached to it, which isn't a bad thing.
From: Jay6: USA 9/19/14

Comments: It's a beast in the water. They are fast and loud -- Not only can you cast it a mile, it sinks like a rock. Its great for covering deeper water. The detailing is by far the best amongst other lipless crankbaits. Runs true on every cast.
From: A Snod: Tulsa, OK 6/4/14

Comments: I have only had my LV 500 lures for less than a month and I honestly can not describe how pleased I am with these lures. I have caught several large mouth bass and as of Oct 4 2013 I just caught my first Salmon on the LV 500, 65 lb braid and BPS PQ reel while fishing for striped bass in the California Delta. This Salmon nearly ripped the rod out of my hand. Only problem this puppy was so large she bent out my hooks during the landing and escaped.

From: Percy: Elk Grove, CA
Comments: Big, heavy, mean and nasty. Just like I like my women!!! And they produce. I own two and only two. Gone through 8 million replacement hooks. Like that nerdy bodybuilder, they get picked on a little but they handle the abuse and bite back.

From: meatwad: slump bustin

Comments: One of my LV500s is literally so bruised and beaten that the inside rattles are rusting due to cracks in the bait. One eye and some paint is gone, but its all good. These baits are great, and the only reason mine looks the way it does is because its survived tons of fishing. Rusting, cracked, beat up, and still catching fish! Say what you want about $15 rattle baits, but this bait has a wonderful record of catching lots of big fish. Very much worth the money!

Comments: awesome year-round bait. catches em in most all situations. ive caught fish by burning them, jigging them , yoyo retrieves, ripping them back, and when cover permits, just straight up killing them. mine no longer are painted due to the many bass and pike that i have caught - but they are still just as effective! theyre that good!

From: Metro, MN

Comments: Great bait for post front and cooler water situations.

From: Trent: Redbud, IL

Comments: These baits are great! When I cant get a bite on anything else I always throw one of these! Highly reccomended!

From: Stephen: RI
Comments: painted bait. used for less than an hour and it went from aurora craw to a silver bait. sent two emails to luckycraft and no response. very sad that a bait this expensive does not last at all.

From: Michael: Malvern, AR
Comments: When I want to make some noise I turn to the LV 500. Unbelievably loud rattle, on a calm day you can hear the rattle thumping from the second it hits the water till you get it back to the boat. Casts like a bullet and runs true no matter how hard you crank it. Pair it with a high speed reel and burn it back in the spring and fall and you will crush some giants. Best colors for me have been ghost minnow and American shad.

From: Big J: Houston, TX