Lucky Craft Pointer Minnow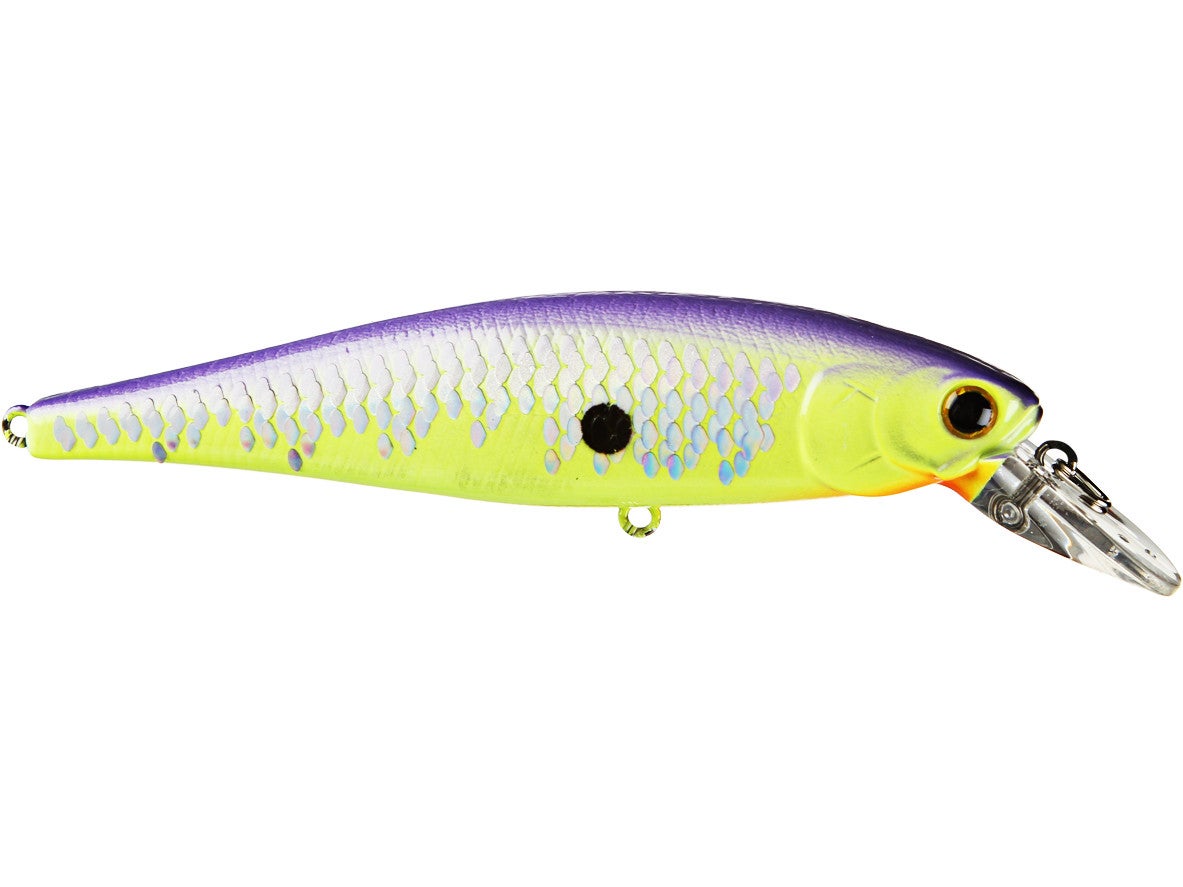 When Lucky Craft introduced the Pointer series rip-baits, they set the standard by which all other rip-baits are measured. Special internal brass weights create a low center of gravity causing the Pointer to wobble and vibrate when the retrieve is stopped. The Pointer is designed to suspend 4-5 feet deep, and the same weights that create a low center of gravity also emit a fish calling vibration. Not only do the Lucky Craft Pointers have an incredible suspending action, they also have a retrieve action that can't be found in other rip-baits. When ripped or twitched, the pointer has a "Walk the Dog" underwater action that is unique to this bait. From the 78 to the 128, the Pointer series has the sizes, colors and unique fish catching action that only the Pointer can deliver. Try one and you will see why pros have been catching and winning with this lure since its inception.
| | | | | | | |
| --- | --- | --- | --- | --- | --- | --- |
| Lucky Craft | Length | Weight | Depth | Class | Hooks | Line Recommendation |
| Pointer 65(SP) | 2-1/2" | 3/16oz | 4-5ft. | Suspending | #8 | 6-8lb |
| Pointer 78(SP) | 3" | 3/8oz | 4-5ft. | Suspending | #6 | 10-12lb |
| Pointer 100(SP) | 4" | 5/8oz | 4-5ft. | Suspending | #5 | 10-12lb |
| Pointer 128(SP) | 5" | 1oz | 4-5ft. | Suspending | #4 | 15-20lb |
51 Colors
More From Lucky Craft Rip Baits
Customer Reviews
Comments: Probably one of the most valuable fishing lures for all species in the last 10 years. Once you match the correct color to your quarry, you'll be replacing the hooks and re-painting the finish. Many bait companies have copied and innovated this lure, but Luck Craft set the standard on jerkbait performance.
From: John: Knoxville, TN 11/10/14

Comments: I have found a new use for this lure, bonito fishing from pier!!! use a wooden egg bought from Michaels, tie a 5 foot fluorocarbon leader and attach to lure (pointer 78 in baitfish silver) throw out as far as you can, reel in and use a twitch-twitch pattern, Hookups galore!!!!
From: David: Murrieta, CA 9/19/14

Comments: Excellent large mouth and stripped bass Lure. Out fishing California Delta today (8/27/14) and had a massive large mouth completely engulf my pointer 65 and cut the line in less than a second. I was in shock watching the lure disappear so fast, never had a chance to set the hook. Strippers and large mouth bass hit these pointers like crazy. Looks like I will be getting more, kinda have to now.
From: Percy: Elk Grove, CA 8/27/14

Comments: Best jerk bait i've used. Got 10 of these. This is a bass magnet, i've landed bass year round with this lure depending on the season n the way you work this lure. By far the best jerk bait lure. Highly recommend
From: Mr. X: Fairfield, CA 4/19/14
Comments: I'm just a weekend angler. This month alone, over 100 bass and 1 bluegill. LC Pointer is responsible for 90+% of all my catch.

From: Shimano: Cali

Comments: Early spring with cold conditions,whip out a pointer 100 and get ready for a frenzy.

From: Jon: Alton, NH

Comments: Man this bait is my go to bait on windy cold days. now in pre spawn, it is a killer bait. these bass goes crazy. i fish it pretty slow just to put it right in the fish face. going to get more.

From: Fresno, CA

Comments: I have the Sexy Chartreuse Shad in 128. Not my favorite jerkbait. Ive had it over a year now, and dont use it very often. I like an erratic action with lots of flash for a jerkbait. This one just doesnt do it for me. I bet the smaller sizes work better. I have a silent 95, and that is pretty awesome....I wont be buying another 128.

From: Mike: Huntington Beach, CA

Comments: Even though it's in the higher price range of jerkbaits they're worth every penny. They have super sharp hooks. I have caught so many smallmouth bass and brown trout on ghost minnow(color). I caught a 15 pound brown trout on this lure. You get what you pay for.

Comments: The action of this jerk bait is perfect, it suspends when its not being worked and the weight system allows for hailmary-like casts. I've caught more quality bass with the 78 size more often than the larger 100's and 128's. A proven winner in my book thanks for the attention to detail.

From: Mike: Georgia, USA
Comments: I fished Roosevelt Lake using the size 78 in new ayu color. Caught 4 largemouth bass within 30 minutes. Great action on this jerkbait.

From: Emmanuel: Tucson, AZ
Comments: I fish a river a Pennsylvania and there is no better lure all year round than a lucky craft pointer. They are worth there weight in gold. If you fish a river system for pissed off smallies pick a couple up.

From: Tyler: Middletown, PA
Comments: I'm not a big jerkbait fan. I've got no patience and I hate waiting. That being said, the Pointer is highly effective in the right conditions. Winter and early spring, when things are cold and the bass move slow, there are not many better options than a Lucky Craft Pointer in Ghost Minnow. I prefer the 78 size, for both numbers and bigger fish.

From: Big J: Houston, TX
Comments:If you are going to fish a jerkbait..fish this one. If you don't know how to throw a jerkbait..learn..with this one.
From:Mike: Decatur, AL
Comments:I was not exaggerating when I said this is a miracle lure!!! I have caught so many largemouth bass and striped bass using the 78sp and 78dd in ghost minnow color. The lure is great for trolling too, particularly the 78dd. I dont really need any other crankbaits anymore, I retired most of them when I acquired the pointer(s). One more thing, you guys are great, very fast shipping and wonderful service, keep up the great work.
From:Chuong: Murrieta, CA