Lucky Craft "Skeet Reese" SKT Fat Smasher - $14.99 to $20.99
The Lucky Craft Fat Smasher is a versatile crankbait/swimbait hybrid that can be fished similar to a shallow crankbait or a swimbait. By holding the rod tip low to the water, the Fat Smasher swims in the side-to-side wobbling action of a crankbait, and when retrieved fast with the rod tip held high, it creates a smooth waking action on or near the surface. Available in a range of lifelike colors, use either retrieve and the Lucky Craft Fat Smasher will produce violent strikes from bass on any body of water.
| | | | |
| --- | --- | --- | --- |
| Lucky Craft | Length | Weight | Class |
| Fat Smasher 55 | 2.17" | 5/16oz | Slow Sink |
| Fat Smasher 60 | 2.36" | 1/2oz | Slow Sink |
| Fat Smasher 75 | 2.95" | 3/4oz | Slow Sink |
| Fat Smasher 90 | 3.75" | 1-1/4oz | Slow Sink |
Comments: was the ones skeet using good and these flaws? I have on but it didn't have action. No action means useless lure. Skeet needs to make a new one that works. God bless Skeet and you all

From: Alex
Comments: This thing is the biggest POS that I have ever bought. It has absolutely NO Swimming action whatsoever. It's like realing in a stick. DO NOT buy this, it is a waste of your money.

From: Andy: Angola, IN

Comments: Plain and Simple.... JUNK.... Very odd, that its a lucky craft. Keep the money and buy Lunch.

From: Tim: CA Delta

Comments: lucky craft..skt fat crapper...this bait stinks,no action,cheap made for lucky craft standards,this bait would have ben better off without the joints and just left it a fat profile topwater bait,the joints do absolutly nothing for this lure,i think its so catch the fisherman not the fish.....pass on this one trust me.

From: Steve: USA

Comments: piece of crap...infact mine got me mad enough cause alls it did was swim in cirlces even after i tuned it a dozen times,well needless to say i threw mine out 50 yrds. from me and gave it a burial at sea,this thing is a turd bait,and i love lucky craft,ill stick with my kelly j's and the rick clunn wakebaits from lucky craft.this POS needs to go back to the drawing boards and get a major overhaul.and skeet reece said he loves these...no wonder why he dont win tournaments anymore.

From: Stveo: USA

Comments: GREAT BAIT! FISHED OVER SUBMERGED GRASSBEDS AND CAUGHT NUMEROUS FISH WHEN NOTHING ELSE WAS WORKING. BAIT WORKED GREAT AND SURVIVED ABOUT 40 CAUGHT FISH OVER A 2 DAY PERIOD!

From: Tommy: Jacksonville, FL

Comments: Continued from the first comment. Does not work well at all. I've used it a dozen times and not a single fish. To top it off the front joint split. Now I have a 20.00 hunk of junk.

From: Mike: Norman Park, GA

Comments: This bait is horrible. Not impressed at all. Doesnt swim right, sinks to fast, and after about 15 casts the joints started sticking together causing the bait to make circles. Very dissapointed.

From: Bridge City, TX

Comments: Not super impressed with this LC bait...does not swim as good as I hoped. And it sure sinks fast! No way you are going to "wake" this bait unless you burn it - and then it has no action. Oh well, it will still catch fish used as a shallow runing crankbait, but without a lit don't fish around any cover!!!

From: Rob: OV, CA

Comments: Swims o.k. Sinks like rock not slow. Colors look good. Going to see if if catches fish. To be continued...

From: Mike: Norman Park, GA

Comments: Was very impressed by the baits design. But like the previous review, wasnt very pleased by its action. I did catch a fish. But just that, A fish. Singular. Not giving up yet either. Looks like this one has its time and place. Well wait and see.

From: Chris: Los Angeles

Comments: Didn't swim as good as I expected, but I am not giving up on it yet. On the other hand it is a beautiful bait.

From: Eddy: TX

***Note: If you have questions about this product or need assistance with an order please email your questions to info@tacklewarehouse.com
View Large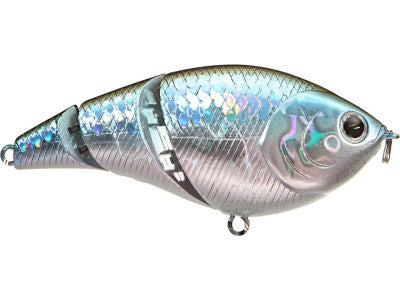 13 Available Colors
More Lucky Craft Crankbaits