Lucky Craft Staysees 90 ver.2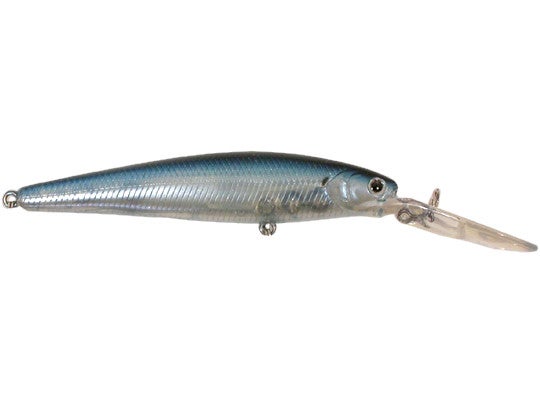 The Lucky Craft Staysee is a deep diving, suspending rip-bait that stays in a nose down position between rips. This ensures a deep diving action with every pull. The Staysee's unique combination of rattles creates a gravity suspending action that also aids in long accurate casts. Offered in a wide range of colors, there is a Staysee that is right for any environment. So when fish are stubborn but still chasing deep bait, try a Staysee. Your luck will definitely change.
Lucky Craft Staysee 90(SP) VER.2

Length

Weight

Depth

Class

Hooks

Line Recommendation

3 1/2"
7/16oz
8-10ft.
Suspending
#6
10-12lb
39 Colors
More From Lucky Craft Rip Baits
Customer Reviews
Comments: Absolutely awesome jerk bait! Won a tournament on pickwick yesterday with 20lbs including a 7.04 and 6.14 coming off the ghost chart shad. Everybody else was throwing the A rig but they weren't on the swimming shad. You had to get it down to that 10-12ft range then just twitch it and they would kill it. The 7.04 had the jerk completely crossways inits mouth. Even caught the first northern pike ive ever caught yesterday on it on pickwick. Great bait highly recommend.

From: Will: Tuscumbia, AL

Comments: Hey Sam from NorCal...U probably bought the Staysees 90 ver. 3 instead of the Staysees 90 ver. 2. The ver. 3 is a slow sink whereas the ver. 2 is a suspending model.

From: TJ: OH

Comments: Bought Green Sexy at local tackle store. Took it out and the bait doesnt suspend at all. Just sinks. Nose down. Pretty dissapointed for $16

From: Sam: NorCal

Comments: must have for California springtime fishing

From: Cleby: CA

Comments: Great winter jerkbait. It suspends perfect.

From: Cody: The Ozarks

Comments: good deep diving jerk bait for late spring, post spawn when the bass move deeper and hang around points, humps and ledges. clear water, you guessed it GHOST

From: Jeff: NJ

Comments: My go to bait in the spring!!!

From: Paul: Mt. Union, PA
Comments: excellent in cold water 40-50 degree ranges pulled down in deep structure and paused.

From: Jason: Huntingdon, PA