Lunker City Salad Spoon 5" 4pk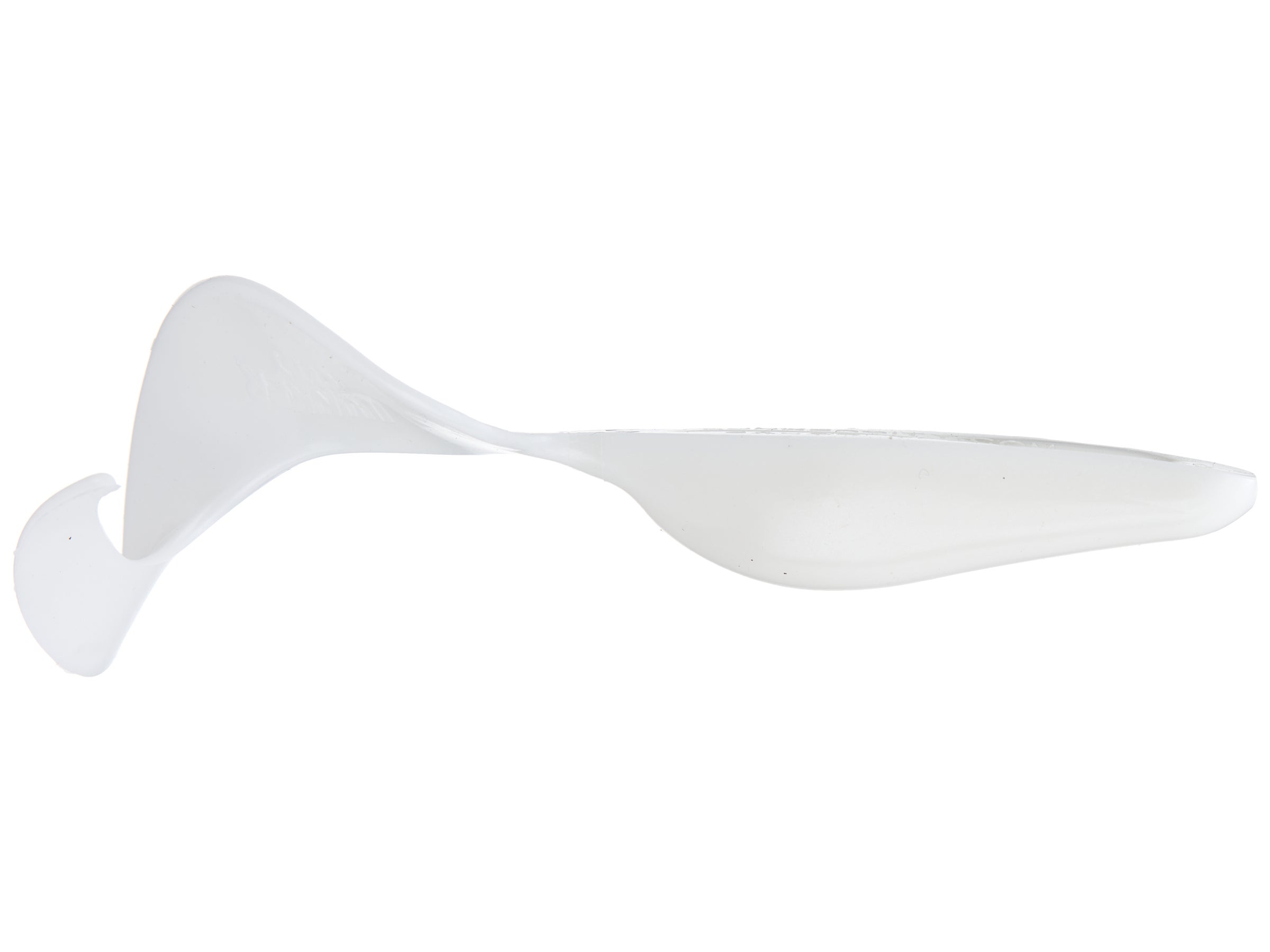 The Lunker City Salad Spoon couples the best features of a surface spoon, a soft plastic lure and a buzz bait, into one exciting lure! Rigged on the appropriate offset shank hook, the SaladSpoon casts easily, yet its soft-plastic body enters the water with a gentle plunk and its hydrodynamic planing shape keeps it at the top on the slowest retrieve.
The Salad Spoon incorporates a wide action tail that flaps and slaps at the surface when retrieved, creating a tantalizing ruckus that fish respond to more readily than the steady mechanical drone of a buzzbait. And with no spinning blade to foul with moss and algae, the Salad Spoon gurgles right into and through bass-filled areas that stop normal buzz baits in their tracks. Milfoil, lily pads, reed beds, brush, even giant globs of semi-submerged "angel hair" algae...the Salad Spoon comes through without becoming hung. If a bass can swim there, so can the Salad Spoon!
7 Colors
More From Lunker City Soft Baits
Customer Reviews
Comments: What a game changer! Was struggling for a few hours at a local pond to catch finicky bass. At sunset I decided to tie on the salad spoon in white satin on a 5/o owner J hook and I began to wake it on the surface around shallow mats. Before long, I had a 2 lb bass slurp the salad spoon down and soon after I had a fat 3 lber annihilate it! Sick lure, definitely something great for pressured ponds. The bass haven't seen something like it so they are more willing to take a nab at it! Tie one on, and hold on tight.
From: Jason: NY 9/18/15

Comments: Great lure. No bass where I live but there are lots of pike and the Salad Spoon works great for them. I especially like the way they swim on the surface yet with a quick jerk, they will go subsurface when needed. I can even get them back up on the surface. I've experienced no twisting problems. They cast well and hook ups are easy. I have yet to find any in my Province. my stock is getting low but I don't go pike fishing very often anyway. If I come across this lure again someday, I will be sure to buy some. I would love to see a larger size.
From: Daniel: Quebec, Canada 7/10/15

Comments: This is the best slop bait I've used. Just Texas Rig it and it'll swim on the surface on a slow (jitterbug speed) retrieve. It's good for when you'd normally throw a jitterbug but there's too much slop to use trebles. This has got to be one of the best baits that Lunker City has ever invented. I have no idea why it's not more famous.
From: Brad: Gate City, VA 8/29/14

Comments: MishAp here to let you know that these are SICK. SICK in a good way. Very versatile. I swim them up top or just a little under the skurface. Ya feel me? Got a swim jig? Slap it on thur. LC is kind of an 'under tha radar' operation, so buy em up and fish them, that boat in front of you probably ISNT.

From: MishAp: tule patch 47a

Comments: good bait I rig it on a 4/0 EWG hook my favorite color is black Chartreuse

Comments: if you fish in the tules, this is a must have bait. i use different colors according to water clarity but i favor white or black. i find the stanley double frog hooks in the 4/0 size to be the most effective for me . the back weighted or no wt. are good hookers on this bait. if there's a better weedless set-up, i don't know of it. i like 50# braid by hi seas and a heavy/med. heavy stick works well. hooks and colors are a matter of choice but braided line is mandatory. like the frog strikes, give a pause before setting the hook. these baits work! give them a try---

From: Wes: Salinas, CA

Comments: i like these, to me they are the "original" to what we now call the strike king rage tail eeliminator.but these produce better for me and have better hook up ratios,i think due to the downsized tail.i tend to use a 4/0 frog hook on these sometimes or a owner beast hook.they last for me (7-12) fish per bait give or take some.but for the price,whocares.next time your out froggin give these a try,or add a slide weight and swim them just over the growing weedlines....tightlines!!!

From: Sam: Chicago, IL

Comments: I have had a lot of success with the Salad spoon. I was looking for something a little more subtle than the typical frog topwater and I found it. I have caught countless 4-6 pound bass when the bass are passing on the frog. I fish them in heavy cover and open water. I also fish very heavily pressured water and this has given the bass a completely new look that they are not used to. They do tend to roll if not rigged just so. But when they are rigged correctly, they produce. The only downside is that they are not very durable. I've had some last 5 fish and I've had some last 1 before they were trashed. I rig them with an Owner Wide Gap Plus 3/0 and that has worked better than any other hooks or sizes.

From: Carter: Texas, USA