Lunkerhunt Bento Minnow - $7.59
2012 ICAST New Product Showcase Winner
Designed to perfection, the Lunkerhunt Bento Minnow is one of the most realistic baitfish imitators on the market. Featuring a lively tapered split tail, holographic core, and biologically correct detailing, all of these elements are incorporated into a soft yet durable body construction that enables the Lunker Hunt Bento Minnow to come to life with the slightest movement. Available in a variety of incredible colors, the Lunkerhunt Bento Minnow is also available in bot 3-inch and 4.5-inch sizes.
| | |
| --- | --- |
| Length | Quantity |
| 3" | 6 |
| 4.5" | 5 |
Comments: Bought a few packs and getting more. Used 4.5 inch Dace by drop shot and as a twitch/soft jerkbait. Caught good fish. No problems with action or durability.

From: Mike: CA

Comments: Review:Dace is hands down my one of my most productive drop shot baits! dace 4.5

From: Louis: Green Bay

Comments: Fished the Bento weedless and on a drop shot. Did not have any issues with hook ups. Caught a mixed bag using Dace and Sassy in the 4.5 inch size. My trick for good hook ups is to use a hook with a wide enough gap for a good hookset. Drop shot technique uses an exposed hook so hookups should not be a problem. Maybe your hooks are too small. Could also be rod stiffness or your line. I use a braid main line with a fluoro leader to add back bone and help with hook ups. Caught a bunch of fish on the Bento to date. Biggest so far is a largie just shy of 5# caught drop shoting a drop off. Most realistic soft plastic I have seen or fished with. I'd recommend it.

From: Danny: Gilbertsville, KY

Comments: Almost a copy of Japan brand O.S.P Mylaminnow. which released long time ago.

From: Johnson

Comments: Cody said it best, rig it like the pack says and its fish on.

From: Dan: Tillery, NC

Comments: on the back of the package it says the minnow is meant to be rigged on drop shot or on a jig... not a weedless hook

From: Cody: Oneida Lake, NY

Comments: Good looking bait and draws strikes but it's a little hard to set the hook with because its a very tough body. But as far as realistic and action, it can't be beat!

From: Tanner: Greenville, NC

Comments: You have to try this Bento bait out. I used the 4.5 Dace color last weekend in a tournament and it was the reason we won. Hooked it on a drop shot rig and it was awesome. The smallmouth could not resist the action and how real it looks. My first fish on it was a 5.3lb smallie. The bait stood up well to all the action. Great job Lunkerhunt!

From: Mike: Binbrook, Ontario, Canada

Comments: I have bought tons of items form TW and have yet to submit a review on a product. After purchasing this product and fishing a tournament over the weekend I felt compelled to inform on the Bento Minnow. I bought the 4.5" Dace. What an awesome looking bait in and out of the water. I threw it with a 3.0 Trokar hook and a small split weight attached to the nose. I had tons of fish come up and hit it. I missed way more fish than I caught. After a 5# Black hit and the next cast a 3# Smallie hit it the bait was ruined. The eyes were knocked off it but remained inside the body. The body is very tough and durable. I actually think it is too tough. I credit its toughness to the reason I missed so many fish. I could not get the hook set before they would let the bait go. I switched to a Zoom Fluke and the next bite I put a fish in the boat. These baits look awesome and will make the fish attack them. In my opinion they are too tough and no soft enough for these Oklahoma bass. Best of luck to Lunkerhunt Bento Minnow, but until they make some adjustments I will pass on them in the future.

From: Curt: Sulphur, OK

***Note: If you have questions about this product or need assistance with an order please email your questions to info@tacklewarehouse.com
View Large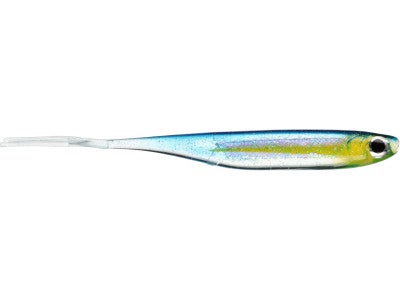 5 Available Colors
More Lunkerhunt Soft Plastics