Lunkerhunt Combat Frog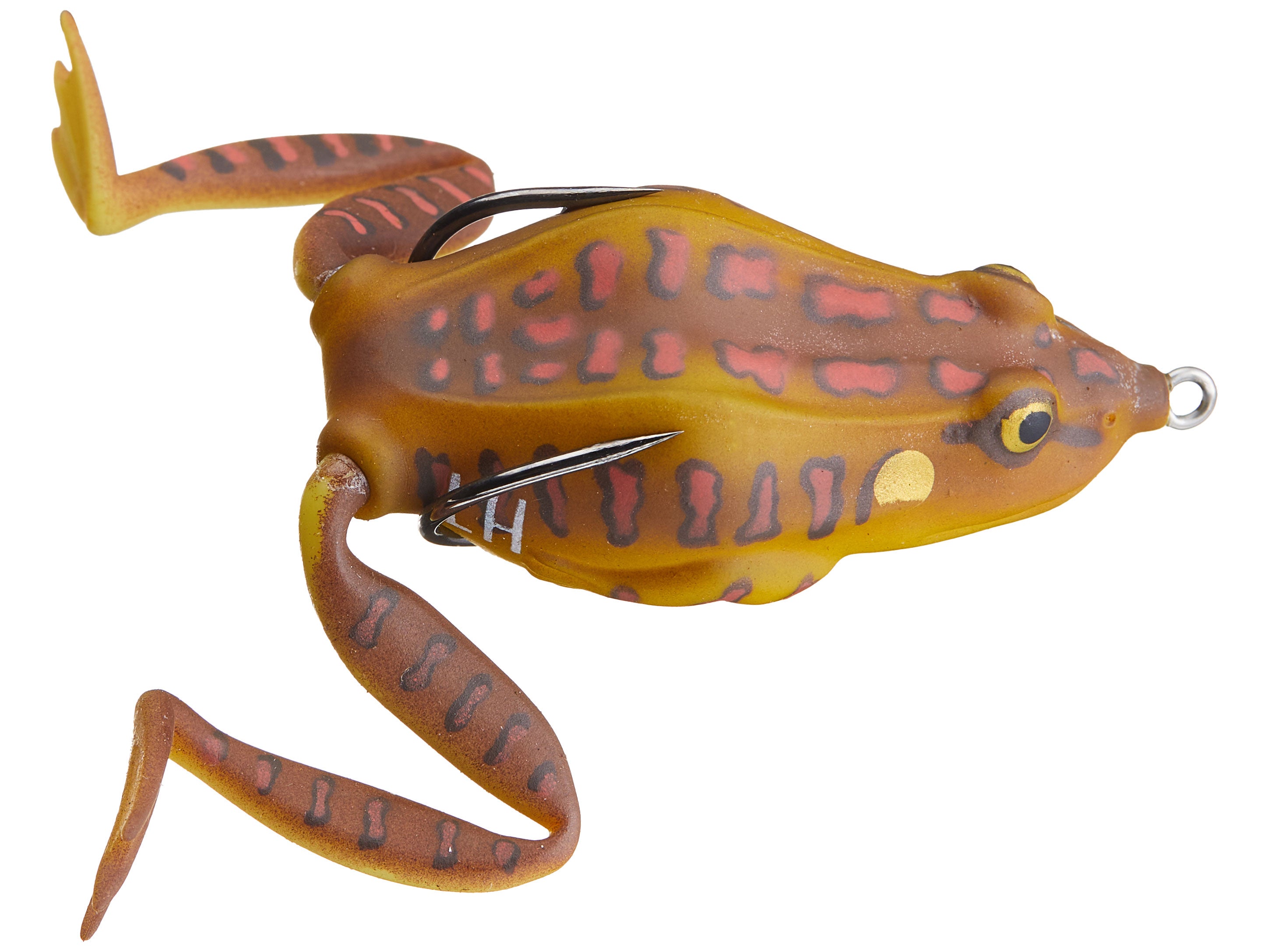 The Lunkerhunt Combat Frog has been designed to get big fish out of the harshest conditions. A tapered nose helps the Combat Frog pass smoothly through heavy cover such as mats, weeds, and reeds. The patented Combat Frog legs also extend and on the retrieve and retract on the pause. The enlarged air bladder not only gives it the ability to float high in the water, but also shields the hook, making them extremely weedless as well. Large oversized hooks are gauged just right to ensure when fish bite they set easily and hold. If you are looking to battle big fish, the Lunkerhunt Combat Frog is the frog for you.
11 Colors
More From Lunkerhunt Frogs
Customer Reviews
Comments: Great jigs & awesome colors. Only downfall to this jig is the rubber band that holds skirt on deteriorates & skirts falls off.
From: Brandon: IL 8/31/16

Comments: I used each frog to catch less than 3 fish. Legs fell out or the spot where they were attached got ripped. After one day of use I had wasted about $30. I won't be buying these again.
From: Rey: Rockford, IL 7/13/16

Comments: I found that silicone will help with the sinking issue. also stretching the legs out before use helps with the action. they make some type of glue in a tube I have seen used on these in a youtube video.
From: Chad: OK 10/21/15
Comments: Purchased two & love the action. I get more bites with this frog than any other frog I have ever used. Id love to see more of a Blue Gil pattern.
From: Chris: Hiram, GA 9/22/15

Comments: Could have been a killer bait but not. please Lunkerhunt, you have to test your lures before to sell them, your frog is not balanced,she drink more water than foreign legionners drink Heineken, the legs fall too easily, your hooks suck. Wake up guys, when you have a good concept, don't let it fall like that...
From: Ben: France 9/10/15

Comments: Love the concept, hate the product. I bought several of these to fish a Hollow body frog tournament and what a waste of money. They cast great but after several they sank like a ROCK. Wish I could get my money back. They are coming out of my frog collection.
From: Phil: Kodak, TN 7/26/15

Comments: Purchased Delta and love the action. Own the Pocket version as well. Best swimming frog I have used.
From: Jeff: Appleton, WI 6/30/15

Comments: I'm truly disappointed in this Frog. I tried a smaller Lunkerhunter with great success and decided to pick up one of these as well. On the first cast I made two hops and it filled with water and sank. This happened repeatedly and if it didn't sink it would just roll over.
From: John: Atlanta, GA 6/14/15
Comments: Good concept, terrible lure. Not balanced and SANK. A topwater frog does and will take on water. This frog actually drinks water. I think that's enough to prove that this lure is worthless.
From: Moe: Gastonia, NC 6/3/15

Comments: I bought two & they both do not sit level in the water. I have to empty the frog after every cast as it fills with water.
From: Brett: Chesterville, ME 5/25/15

Comments: Very disappointed in the durability of these frogs. The first hit I got ripped the first leg off, then the second cast ripped the other leg completely out of the body as well as the hooks.
From: Adam: Land O Lakes, FL 5/22/15

Comments: It is a pretty good frog, hoom gap is good, action is good, but dang it fills with water pretty quick. Mot too bad though, every couple of casts, just squeeze it & keep going. Hookup is as good as any other frog.
From: Matt: USA 5/8/15

Comments: Great response from hard hitting bass, but got frustrated over the misses. Good lure but needs some modification with an additional hook -- a treble hook!
From: Garry: Forth Worth, TX 11/19/14

Comments: I guess I should have read the reviews on these. got one today. Took it out of package and checked the hooks: one hook was ok but needed to be sharpened, the other was very dull and actually had point bent in. After sharpening the hooks, I tied it on and dropped it in the water and immediately noticed that it leaned to one side.. not balanced. one leg is longer than the other and sits deeper in water. the legs did not have the action that is shown in video; retrieved thru slop and it seem to ride nose down and it picked up a lot of slim / trash and a ton of water. Very disappointed. don't waste your money.
From: John: Jacksonville, FL 9/25/14

Comments: Great frog! The angled hooks really do help with hook sets, and these come through cover considerably better than the lunker frogs due to their weight and shape. I've thrown them a lot, caught several 4+ lb fish with them and neither of the frogs I have are showing damage yet. Love love love these frogs for a large profile chugging action. I also have several of both sizes of the original lunker frogs and these make a great addition to the available profiles in my box. These aren't walking frogs at all, but they excel in their presentation for sure- they draw a lot of strikes!
From: Matt: USA 9/19/14

Comments: I wanted to like these. Great size great look. First fish 3.5 pounds. After that.... The frog never worked the same. It sinks every cast. I super glued the hole where the hook exits the body. Worked for a while. Then the weight fell out and one leg fell off. I had the same problems with the other frog these guys make. They are so close to a great frog. I just wish they did more testing before selling.
From: Danny: Stockton, CA 9/14/14