Lunkerhunt Combat Frogs - $8.99
The Lunkerhunt Combat Frog has been designed to get big fish out of the harshest conditions. A tapered nose helps the Combat Frog pass smoothly through heavy cover such as mats, weeds, and reeds. The patented Combat Frog legs also extend and on the retrieve and retract on the pause. The enlarged air bladder not only gives it the ability to float high in the water, but also shields the hook, making them extremely weedless as well. Large oversized hooks are gauged just right to ensure when fish bite they set easily and hold. If you are looking to battle big fish, the Lunkerhunt Combat Frog is the frog for you.
Comments: I guess I should have read the reviews on these. got one today. Took it out of package and checked the hooks: one hook was ok but needed to be sharpened, the other was very dull and actually had point bent in. After sharpening the hooks, I tied it on and dropped it in the water and immediately noticed that it leaned to one side.. not balanced. one leg is longer than the other and sits deeper in water. the legs did not have the action that is shown in video; retrieved thru slop and it seem to ride nose down and it picked up a lot of slim / trash and a ton of water. Very disappointed. don't waste your money.
From: John: Jacksonville, FL 9/25/14

Comments: Great frog! The angled hooks really do help with hook sets, and these come through cover considerably better than the lunker frogs due to their weight and shape. I've thrown them a lot, caught several 4+ lb fish with them and neither of the frogs I have are showing damage yet. Love love love these frogs for a large profile chugging action. I also have several of both sizes of the original lunker frogs and these make a great addition to the available profiles in my box. These aren't walking frogs at all, but they excel in their presentation for sure- they draw a lot of strikes!
Do note though- common sense should tell you that the molded legs are subject to 'bad luck damage' just as the originals are- they can get ripped off or torn by a hard strike or a pickerel attack, this is just the way it is. Should this happen to you don't get down, just pull the other leg out- then take some matching jig skirting, tie a knot in the middle and push/pull it through like a normal frog has. Boom- Now it actually walks. It's like the second life to these lunkerhunt frogs- when they blow up, they just become a livetarget on 'roids with a little fanagling so I don't understand why people are so pissed when the legs rip. It happens. Adapt and overcome. I give 'em 2 thumbs up. Way up. Killer frog that's like nothing else.
From: Matt: USA 9/19/14

Comments: I wanted to like these. Great size great look. First fish 3.5 pounds. After that.... The frog never worked the same. It sinks every cast. I super glued the hole where the hook exits the body. Worked for a while. Then the weight fell out and one leg fell off. I had the same problems with the other frog these guys make. They are so close to a great frog. I just wish they did more testing before selling.
From: Danny: Stockton, CA 9/14/14

***Note: If you have questions about this product or need assistance with an order please email your questions to info@tacklewarehouse.com
Color:
Cane
View Large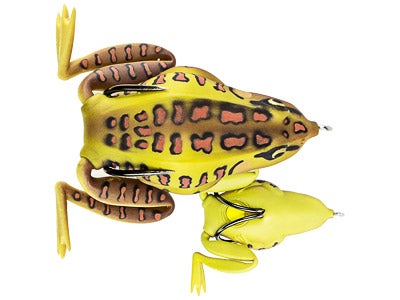 6 Available Colors
More Lunkerhunt Frogs