Lunkerhunt Lunker Frog - $6.99 to $7.99

2013 ICAST "Best of Show" Winner in Soft Lure Category
Lunkerhunt has outdone themself with the creation of the ultra-realistic Lunkerhunt Lunker Frog. The Lunkerhunt Lunker Frog features an amazing swimming leg design that extends and retracts during retrieve for an astonishingly true-to-life presentation. When paused, the Lunkerhunt Lunker Frog rests at an advantageous 45-degree angle, which gives it a natural look and also results in higher hook-up percentages. The Lunkerhunt Lunker Frog is designed with a soft-body that collapses easily upon attack and quickly exposes its razor-sharp double frog hook. Available in some of the most vivid frog colors on the market, the Lunkerhunt Lunker Frog is sure to generate explosive blow-ups wherever it's fished – and that's no bullfrog.
| | | |
| --- | --- | --- |
| Lunkerhunt | Length | Weight |
| Pocket Frog | 1-1/2" | 1/4oz |
| Lunker Frog | 2-1/2" | 1/2oz |
Comments: This frog is just awesome. ive landed so many 4lb bass on this thing until i lost it to a giant. its obvious you cant walk this frog because of the legs but if u give it a solid tug the legs extend and the fish explode on it. great frog
From: Nick: Richmond, TX 9/17/14

Comments: Best frog I have used yet. Super soft body, super sharp hooks, and probably the best hookup ratio of any frog I've used. I'm surprised to see so many negative reviews. I love the swimming action of these lures. The legs do what they're supposed to. Yes they get some water in them, but I honestly think the water helps. Adds weight and helps cast even further. Whenever you stop your retrieve, the head sits upright out of the water, while the body and legs are down in the water, just like a real frog. I've found these work best if you reel them with a steady retrieve and give it a light downward twitch as you retrieve. It swims at or maybe an inch deep and creates a perfect wake and looks so realistic because of the kicking legs. Drives the bass crazy. I'll be picking up more of these for sure!
From: Seth: Pittsburgh, PA 9/8/14

Comments: he legs that come with this frog are garbage, but if they are replaced with the normal skirt material used for frog legs then this frog is pretty much exactly the same as the medium sized livetarget frog for a cheaper price. After I replaced the legs, this became my go to frog
From: Jake: Amston, CT 7/4/14

Comments: If you like walking your frogs upside down while the legs don't work at all, then this is the frog for you. If your like the rest of us who want their frogs right side up and to have the action they "claim" to have then buy a live target, phatfrog, or a sumo frog.
From: Dany: NY 6/19/14

Comments: I bought this frog over the winter thinking about the new leg design and it looked really good in the video. I first tested it out last weekend and I have only one thing to say about this frog. It is by far the worst frog I have in my box. You cannot pop this frog or walk it. The legs don't move on it and it picks up all the weeds and slop it goes through. Worst 7 dollars I've spent. Don't waste your time.
From: Taylor: USA 6/18/14

Comments: This frog is amazing. The color "Green Tea" looks just like the species of frog called the Green frog. it does not fill with water past the annoying point but water does get in but is easily squeezed out. I had 3 but a pickerel sliced the left leg which made it weak and easily ripped off. both legs are now attached inside as one piece aswell. So the lunker hunt frog is my go to topwater frog, fished with 50lb braid with a 20lb mono leader its deadly!
From: Tyler: Belchertown, MA 6/10/14

Comments: The Lunker Lure Frog does have the action the lure promises. The legs kick and retract like a real frog. The lure also fills with water faster than any other frog I have ever seen. On my 3rd cadence with this frog it had filled with water and sunk about a foot in the water. I know some anglers like the sinking/diving frog lures but I am not a fan. 6/10 Rating. There are better frogs on the market.
From: Yakenstein: Hickory, NC 6/6/14

Comments: I bought the pocket frog version to fish on light tackle and it has been a fun lure to fish. First four fish I hooked came off right at the shore. I bent the hooks out to open the gap and landed the next four. I haven't had the issues with the body filling up or the legs coming off like others. I would say it performs better in open water and sparse weeds.
From: Evan: Fort Worth, TX 5/16/14

Comments: At first glance, the frog looked really nice and really well made. Took it out on the water last week and was disappointed. Was fishing sparse lily pads and the frog filled up with water and would occasionally sink. It would also flip upside down a lot of the time. Only impressed with the way the legs kicked in open water.
From: Sunny: NY 5/8/14

Comments: The frog did fill up with water after the first fish, I have the toad color and the green tea, had to sharpen the hooks as well. Seems low quality even for the good price point, bad hooks and I could not get the thing to stop filling with water after one submersion.
From: Davey: Stockton, CA 5/5/14
Comments: Its not going to replace a Spro or Koppers in my lineup as was originally intended but I am starting to use it as a "subsurface swimming frog". It fills up with water way too fast and the legs are barely attached. Superglue the legs in. It swims beautifully and does elicit strikes.
From: Ric: NJ 5/2/14
Comments: Frog looked great in the package and not bad on its first test in open water. First cast up in to some small patch of weeds form last season, started to pop it thru, one leg came off after some dead grass caught on it! I replaced the legs with skirt material, we'll see if it fishes better, it does have a nice soft body. My rating so far... Poor to say the least.
From: Rox: Suffield, CT 5/1/14
Comments: I typically use SPRO frogs, but wanted to try this unique Lunker Frog. I live in central Florida and get considerable action by popping hollow frogs through grassy areas. Action does not alway equate to solid hooks, since the bass often knock the frog out of the way during strikes. Today I tried the Lunker Frog, and experienced several solid hook-ups. After four catches between two and four pounds, the frog was still in good shape. Yes, I had to re-adjust the soft body between the hooks, but it still tracked well and remained buoyant. It did not get caught-up in thick weeds or grass, and the small size appeared to aid solid hook-ups. Good action and performance. Thankfully, I purchased two, in case I lose one on an active day.
From: Curt: Ocala, FL 4/25/14
Comments: Legs don't kick matey they do for other people or matey it's cause I got it from Walmart but this frog stinks
From: Unknown: USA 4/22/14
Comments: Terrible threw 8 bucks in the trash.. The legs got ripped of on the very first fish not to mention it was only 2 pounds. never will purchase again..
From: Joe: Coconut Creek, FL 4/13/14
Comments: I wanted to love this frog...It looks great sitting on the water,leg action is awesome, but at a fast retrieve, it will belly up on me and almost do a 360. I don't mind that it takes on a little water a lot of frogs do, but I want a frog that will be consistently upright. I still will throw this frog , but I will probably default to spro/ live target first.
From: Johan: Santa Rosa, CA
Comments: This frog fills up with water. I can handle squeezing the water out every cast or so but this frog cant even stay on top of the water for a full cast retrieve. I maybe get 2 pops with this frog until it sinks. This frog has great action, I probabl yjust got a defected frog.
From: Anthony: FL
Comments: well...it looked good, the paint is great, it looks more realistic than the live target. i got my friend the green tea frog and we were using it on christmas day, i cant blame the frog completely, but 6 or so fish hit it, and none got hooked. the frog hooks sit angled upward on the frog and pretty much the only way you will get the most hookups is if you get hit on the pause- where the bait sits upright in the water. its haard to explain but you might have to fish it for yourself, just my opinion
From: Evan: USA
Comments: I have a half dozen of these. Green tea, Texas Toad, Croaker and Rocky Toad. Rocky Toad has been my most productive. This is the most realistic frog I have fished but had the legs pulled off of one while it sat still in the water. The company immediately replaced it upon me sending them a photo of the otherwise untouched bait. Yeah, they do get some water in them but most frogs due, especially the ones with softer bodies that collapse easier on the bite.
I have only fished it on weed edges and pockets - it's not designed to be fished on pads.
I have a lot of frogs and to date this one has easily been the most productive.
From: Tom: Aurora, Co
Comments: I fancy myself a good frog fisherman, and believe i know a good frog when i come across one. The lunker hunt frog is just that. This frog is not for all situations but certainly has its place. This frog is mainly a open water , on the edges and around mats and lilly pads type of frog. you odnt want to fish it on top of pads and mats because frankly it defeats the purpose of this particular frog. What sets the lun ker hunt frog aside from the competition is the legs that kick and retract. and believe me, they most certainly do. the kick is fast, but it is there for sure. the key to this frog is to fish it slow. one or two slow pops, then sit untill the wake rings dissapear. you will get hits, be patient with the hook set, and hang on.patience is key when it comes to being a top tier frog fisherman.

From: Fantasia: Mass

Comments: Been perfect with this frog. Every time out I've had great success. Thx TW.

From: Charlie: AL

Comments: I saw that same vid on youtube. I bought a few styles and have been extremely impressed. This is definitely my go to frog now. Waiting to get my hands on the pocket frog when it launches. I wrote the company and they said sometime this month. Looking forward to giving it a try!

From: Gerald: TX

Comments: True to its name. This is an unbelievable frog. I've had amazing success this past weekend throwing this frog. Best open water frog I've ever seen, the action is perfect.

From: Jared: AL

Comments: I seen a vid on youtube of a popular bass fisherman nailing huge bass with a lunker frog so I had to have it for my collection..I collect and fish many different frogs..Koppers,Spro,Boze,KVD,River2sea,Snagproof,etc,etc..anyhow I picked up 5 different lunker frog colors..when they arrived I was not so impressed with color and material..kind of cheap looking to be honest..I still had to go down to the pond and give it a whirl..tied on the all white frog and within 3 cast it would fill with water and begin to sink..squeeze squeeze and I was back at it..3 cast later same problem..over and over..and yes it would float upside down very often..also I contacted there customer support and they did nothing to try and correct this..they didn't even offer advice..as a matter of fact they deleted my comment from there yt vid..nice addition for the collection but not satisfied with the performance..not saying it wont catch fish because we all know you can throw a bottle cap with a hook in the water and catch a bass but to me this is more of a novelty item..move on to the next frog tackle warehouse has a wide selection to choose from..

From: BigDawg: USA
Comments: I am writing this review because I want people to get an honest impression of this frog and not brush it off from some of the reviews here. First off, this is without a doubt the most realistic frog I have ever fished. The body looks incredibly realistic, and the legs have a phenomenal action when retrieved properly. Yes, it does fill up with water, but honestly what frog doesn't. Quit being a baby and take two seconds to squeeze it out. Also, this is not a magical "be all end frog" that works all the time regardless of technique. This frog really excels under certain situations. It should NOT be used when fishing heavy mats, because the legs will interfere with the retrieve (and honestly you don't need to use this on mats because the fish won't be able to see the legs anyway). Where this frog really excels is in open water, around shorelines, and moderate vegetation like lily pads. Work it slow with some pauses and I promise you will see results. As far as durability, I have had zero issues, although I also know how to properly set the hook on a frog. When you get a bite, drop your rod and slowly reel until you feel the weight of the fish, and then set. This will give the fish enough time to engulf the frog, and you will have no problems with legs ripping off. I have caught many 5-6 lb fish on the same frog and it still works very well. Just be smart about it people, but definitely try this frog

From: Joshua: Boca Raton, FL

Comments: Purchased one of these, to add to my arsenal of frogs. I chose the green tea color. Looks great, very sharp hooks & feels fairly soft. Tied it on yesterday @ my local pond where I do fairly well on frogs. After a few cast into multiple moss mats & open water. My frog did fill up with water, but it wasn't a big concern. But, when the frog started turning onto it's back @ a fast cadence. This was disappointing. I still have hope for this frog. I just wasn't expecting it to belly up on me.

From: Ryan: NorCal

Comments: worse lure in my arsenal where do I begin ,well for starters the legs dont extend like it says, it fills with water and if it dont land the right way forget it and just real it in. It really stinks because I waited over a month to get one and now I have an 8 dollar lure ill never use. The only good thing about this lure is its appearance so maybe for Christmas ill make it an ornament cause I sure as heck cant fish with. And just to be clear I dont work for any fishing companies.

From: Musto: NJ

Comments: Great in grass. Caught my biggest LM to date on it. Would recommend.

From: Jon: Browndell, TX

Comments: I'm definitely not the competition as some say in earlier reviews, but I've had terrible results w/ these frogs, fill w/ water and sink extremely fast, I threw mine away, there are better frogs out there.

From: Doug: Okeechobee

Comments: great weekend throwing the poison Color frog. Was bagging buckets.

From: Jeff: Albany, New York

Comments: Not very impressed at all, if you are a real frog fisherman you know what I am talking about. It is not very versatile in how it can be worked, it takes on water on almost every cast, and I ripped a leg off pulling it out of thick cover. I tried over an over but could not gain any type of confidence in this frog.

From: Brett: NY

Comments: I tried to fish with this frog Saturday but after the first cast the frog was filling up with water and sinking below the surface every time. I had high hopes for this frog but was let down. Now it's a nice tackle box ornament.

From: Jonathon: Nashville, TN

Comments: Great frog, very impressed. Thanks

From: John: Atlanta, GA

Comments: This says it all!!! Check out this catch I found on youtube using the Lunker Frog.

http://www.youtube.com/watch?v=HDIGyozPnKI&feature=c4-overview&list=UU8ha6SsRNvDGkwcPTCXkW3g

From: Brad: Bay Shore, NY

Comments: Is it just me or does it sound like a bunch of competitor pro staff complaining here. I got my frog about a month ago and have not had any issues with it. Only question I have is when can I get another Croaker?

From: John: Minnetonka,MN

Comments: Frog is great. Bought 2 colors and legs have been totally fine. Prb pulled in 10-12 fish on each color over the weekend. Only tried the Lunker Frog.

From: Richie: Lakeland, FL USA

Comments: it's pretty obvious which reviews are real reviews and which are fake ones done by the company. My experience is the same as all the others- looks great but has serious durability issues and takes on water.

From: Brian: GA

Comments: I purchased the Texas Toad and couldnâ•ÂË™t believe the action on this Frog. Within the first ten minutes of using it I had a 3 Ã≠Â∏ pound bass in the boat. Poison and Croaker will be my next purchase.

From: Carl: Houston, TX USA

Comments: Great Looking frog, soft body... and legs do have good action on open water. But still disappointed....as others have said, it takes on water, sinks below the surface and loses it action after a couple of casts. The hole where the hook comes through is already starting to propagate a tear right up the belly. I don't foresee this lasting much longer and have only bagged one fish on it. The legs also don't mix well with weeds, lillies or heavy cover. They just flop around, cause the lure to get hung up, or flip upsidedown. I'll take a silicone skirt over these legs.

From: Brian: Worcester, MA

Comments: Purchased the pocket and Lunker frog last month and all I can say is wow. I've had great success fishing both sizes and the top water bite is definitely on in my area. Hands down the best frog on the market.

From: Jim: Carisle, PA

Comments: Jumped on the opportunity to get 2 of these frogs just in time for early fall bite. After reading reviews, I added super glue where the legs meet the body. On the slop, this frogs lands upside down 50/50. Usually when the frogs gets to open water, it will true itself right side up; however, it takes on water pretty quick. I tried 'em and would not recommend. I will go back to my River2Sea or Koppers hollow-belly frogs.

From: Mickey: Olathe, KS

Comments: I was really impressed by the action and looks of this lure. The frog started taking on a lot of water and by the third fish the legs were gone. For an $8 lure you'd think it would be more durable. They just want you to buy a new one so they can make more money off you.

From: Nick: MI, USA

Comments: 38 bass and my frog is still kicking. Most unbelievable action I've ever seen.

From: Jayme: delray beach, fla

Comments: Caught my biggest bass to date on this frog. Nothing but good things to say. Don't knock it till you try it.

From: Devin: SC

Comments: best frog I've ever used. Paint jobs are super realistic and hook up ratios are great. I've caught some huge fish with these and never had any problems.

From: Warren: NJ, USA

Comments: brought the lunker frog and the pocket frog last friday, got it wednesday, and took it out thursday afternoon and all i can say is how is this best in show at icast the lunker frog does not do what it says the legs crisscross on retrieve. total BS, however if you are lookim.ng for a good frog go witht the pocket frog it works great and i recommend the poison color i caught 2 3lbs and even had a 1lb catfish take it in shallow water. the lunker frog "SUCKS"......

From: Jennie: morganton nc...USA

Comments: This is one good looking frog. My main complaint for this one... it takes on water and does not float/swim properly anymore. The other frog i like to use is the koppers version, it's very similar in looks except that this one have the legs. My take on this... might be a design flaw with seal of this frog since i have try two of them and both have the same problems. Unless they fix the problem with frog taking on water, my advice is to go with koppers version.

From: Haze: ca, usa

Comments: These frogs look and work great, however the second bass that hit it tore one leg off and the plug on the bottom of the frog was gone. Like most other reviews state, these are not durable at all & i wont be buying more.

From: Tony: Chicago

Comments: NOT A BIG FAN LOOKS COOL BUT DOES NOT PRODUCE...

From: Josh: Orlando

Comments: This frog looks and swims awesome. Unfortunately it doesn't hold up very well and their Customer Service STINKS! First fish bent the heck out of my hooks and my second tore the legs out of it. This is a two fish throw away lure! At $8.00 you would think it should hold up a little better. I wont be buying anymore!!

From: John: Folsom, NJ

Comments: At first glance I was impressed with the detail and interested in the action of the frog. After using it for the first time, I had a small fish take one of the legs right off. Contacted the company about getting extra set of legs and they were no help. There suggestions were to purchased a replacement silicone skirt from tackle warehouse to continue to use the body of the frog. Then they tell me "We are also in production with a "NEXT GENERATION" Lunker Frog which will have improved leg durability and swimming action." Boy the confidence level that this bait will work is not great. As a tournament fisherman, it's hard to recommend this bait to anyone....

From: Ken: Benton, arkansas

Comments: It seems like most people like these frogs. I bought the large Green Tea frog and the smaller Texas Toad models. Upon arrival they looked awesome although the large frog was somewhat deshoveled in its box and almost looked used. I went out to use them not thinking anything of it and by the 2nd cast, that Green Tea frog started sinking like a ROCK. I looked at it and saw a gash in its belly. Don't know if it was a manufacturer defect or what. I could not return it because I had used it unknowing that it was faulty. The legs also feel as if they will come off after a few strikes and the hooks rub on the sides of the frog scraping the paint off. I really wanted to love these frogs and they looked so promising. Save your money on these frogs. Put it toward Live Target made by Koppers if you want life like frogs with razor sharp hooks and very soft collapsible bodies.

From: Daniel: MD

Comments: Received my frogs today and went to a local pond to try them out. The 1/4 ounce is much smaller than I anticipated. As i worked it it kept taking on water and sinking. Didn't attract any strikes. I tied on the 1/2 ounce and was getting the same sinking with it taking on water. I changed my retrieve to more of a sweeping motion and it produced better results for me. I was able to produce 3 subtle strikes but no hook ups. I plan to try the super glue on the legs and belly weight as mentioned in one of the other reviews to see if this increases the seal. Love the leg action and realistic appearance. I will post again after I have a tried them again.

From: Jason: Harrisburg, PA, USA

Comments: I was very excited to try these frogs. After ordering two to give them a try, I'm not impressed. First the Texas Toad takes on water after every cast to the point of sinking. The Fire Belly had a coating and a odor that made my nose cringe can't expect the fish to be any different. Yeah I washed it any put some of favorite attractant on but first frog out of the different brands I own that I ran across this. But I still thought these frogs had potential, so I ordered the Croaker color. As with the Texas Toad one it too took on way to much water. So for an eight dollar frog I expected more. Gonna try some super glue and give them another shot.

From: Ronnie: Waldorf, MD

Comments: Great looking lure, It probably would have worked except that on my 3rd cast the plug in the back of the bait broke off so the hollow body fills with water and it no longer performs as designed. Not what I expected to have happen. Maybe I got a defective one but if this is the quality of this bait I wouldn't recommend it or buy any others.

From: Alex: Chatsworth, CA

Comments: This is the Best frog that I ever used, I fish on the Potomac River where Frog fishing is key, the first tournament that I've used the Lunker Hunt Frog I had a third place finish, I wanted to keep this product a secrete, but my social media friends and followers now know how great this Frog is Thanks Lunker Hunt!!!!

From: Marvin: Fredericksburg Virginia

Comments: Does attract bass but only downfall is that the legs snaps off after a few hits

From: Ed: Stroudsburg, PA

Comments: update on my last post: got a hit from a small bass two weeks ago, both legs popped right out. if I ever buy another, I'll definitely superglue the legs

From: J: IL

Comments: Incredible realism. They straight up munch these things. However, before you put it in the water, take the legs out, epoxy them in place and the nose. Makes for a much longer lasting and sealed bait.

From: Zach: Johnsburg Il, United states

Comments: Bought a couple for my brother and we took them out to a local lake. They got hit every cast until they were destroyed, but the downfall was that happened after around 10 hits. And after only 2 or 3 hits one leg was gone and it was sinking (which may not be a bad thing, they really hit it when it was subsurface). Just not the kind of durability that I would expect out of an $8 frog. Very disappointed in that, sucks to have a lure that works but just isn't remotely cost effective.

From: Wes: ILM, NC

Comments: Tried out the Lunker hunt Fire Belly. Spent the day with the boat parallel to the bank throwing over weed beds up shallow all the way to 6' deep. Frogs held up real well to some solid fish. With the cloudy water the fish were dialing in on the intense red of the Fire belly. Outfished the live target all day, perhaps the kicking of the legs was a factor as well. Would recommend these as a go to tournament frog to cover water and fish the nasty stuff.

From: Andrew: Toronto, Ontario, Canada

Comments: As a serious shallow water fisherman, this frog is the most realistic frog I have fished with. Great action on the kicking legs, good sized profile and the way the frog sits with the legs hanging makes it irresistible. In addition to being a great tool to use around lily pads, I have been having a lot of luck using the frog in deeper water over thick weed beds. The fish tend to hit on the pause when the legs are hanging so make sure to slow down and let the lure do its thing.

From: Mike: Peterborough, ON, Canada

Comments: Cool frog. First bite the legs were GONE. Save your money.

From: G
Comments: this frog sits lower in the water, so it's easy for the fish to take it, it's soft and the kicking legs are very attractive, right colors and right price... maybe they could make spare legs available

From: Lot: Italy

Comments: Every time i get a new frog I put a dab of crazy glue around the belly weight. I find it makes a frog float higher and last longer. While putting glue around the belly weight on this frog, I also put some where the legs meet the body. I've had 5 outings now with lots of fish and my frog is still kicking.

From: Carl: Springville UT

Comments: first frog I got had the paint already peeled off of it, no problem, tacklewarehouse sent me a brand new one for free. got to use it for the first time the other night. out of all of the frogs ive used, i was able to hook fish the easiest on this one. the body is pretty soft and collapses well on hooksets. good frog and great customer service tacklewarehouse!

From: J: IL

Comments: I love this frog. The legs kick and it looks like a real frog to us humans. BUT after catching 3 small bass( less then 2lbs each) one of the legs fell off. I may have a defective one. I will continue to order this frok and keep it as my primary frog lure. The kicking legs help attract fish.

From: Wesley: Logan Utah

Comments: Frog is good to look at out of the package however, first fish blew off one of the legs on 3rd cast...now I have a disabled frog...they should have spent more money on stronger rubber instead of the packaging...

From: Scott: Brooklyn, NY USA

Comments: like a shotgun to tha face, I was blown away. But dont buy any. Stick to your Spros and Sexy Frogs....I want all of these to my 'delf.

From: MishAp: Croaking

Comments: This is a great, small frog. The legs are much stiffer than the Dalhberg frog which is a good thing. You can work this frog nice and hard and have excellent and very realistic action. If you like the Dalhberg, you will love this one. Plus it's not made of the same material, so it won't melt when mixed with other baits. I hope they come out with other sizes and colors soon.

From: Enrique: Austin, TX, USA

Comments: badass frog here, own the water (and the fish) with this bad guy.on a 2 day outting this lil froggie got hit so much his legs where where shredded, if this happens to u, for a great replacement set of legs I used the river2sea dahlberg frog legs.worked like a charm.

From: Steveo
Comments: One of the most realistic actions I have ever seen in a frog. The legs on this frog displace much more water than other frogs with skirts and this most definitely proves to get the bassâ•ÂË™ attention. The first time I used the frog I was actually crappie fishing and I had an 8-10â•Âˇ crappie on and when I was reeling it in, a 6 pound bass tried to eat the crappie. So I immediately released the crappie and grabbed my bass rod with the lunker frog tied on. I flipped it right where the bass was and with a couple twitches later I seen a huge explosion in the water and had the big bass on. If you are looking for a frog with a super realistic action, look no farther. With a extremely fair price this frog has it all, realistic pattern/color and the realistic legs surely puts the final touches on the frog. You will not be disappointed!

From: Brandon: Iowa City, Iowa, United States

Comments: Bought the Green Tea a few weeks ago at a store. I have only had time to try it in a golf course pond so far. Looks really nice in the water. Fooled the fish too. Caught 3 bass and the water was really clear. Can't wait to get out on the boat to try it.

From: Dale: San Antonio, Texas

***Note: If you have questions about this product or need assistance with an order please email your questions to info@tacklewarehouse.com
View Large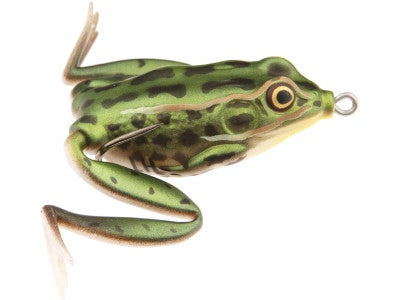 10 Available Colors
More Lunkerhunt Frogs