M-Pack Lures Football Jig - $6.99
Explore lake floors like never before with the M-pack Lures Football Jig. Built with an innovative Structure Guard weedguard, the M-Pack Lures Football Jig delivers a whole new level of weedlessness that is perfect for crawling over sticks, brush, and craggy terrain.

Unlike traditional weedguards, the Structure Guard weedguard deflects cover without collapsing, which keeps the hook point covered and prevents snagging. When bass bite down, the guard is designed to roll to the side, exposing the hook point and facilitating strong hook sets. To add a trailer to the M-Pack Lures Football Jig, simply slide the connecting grommet up the weedguard, place your trailer on the jig, and then slide the grommet back over the hook point.

Complete with a durable powder coat paint job, the M-Pack Lures Football Jig is built to handle aggressive strikes and rocky bottom where big bass feed. Made from a 52-strand silicone flash skirting, the M-Pack Lures Football Jig offers a natural action that bass can't resist. Backed by a razor-sharp 5/0 Gamakatsu hook, the M-Pack Lures Football Jig delivers game-changing technology that will help you snag less, so you can fish more.
Comments: Mark Pack handed me one of these jigs when they were still in the prototype phase and I was impressed from the beginning. These jigs were out in the field for a long time before being introduced to the market. They were put to the test on a lake with the heaviest cover and some of the biggest bass a fisherman will encounter: Lake Fork. These jigs not only come through virtually any type of cover, they also hook fish very well. The unique weedguard design will pivot to the side and once the fish is hooked it presses back against the jaw of the fish. Once hooked, the fish is pinned to the jig. I lose less fish on these jigs than any jig I've used so far, and I believe I've used just about every style and brand. I encourage you to give these jigs a try.
From: Andrew: Lake Fork, TX 6/17/14

Comments: Awesome big fish topwater bait! Wider back and sits lower in the water than the Punker. The cupped throat makes a rippin/blurpin sound that is a game changer. Great color choices and excellent feathers/hooks. The wood Punker just got punked!!!!
From: Joshua: Lexington, KY 6/13/14

***Note: If you have questions about this product or need assistance with an order please email your questions to info@tacklewarehouse.com
Color:
Bama Bug
View Large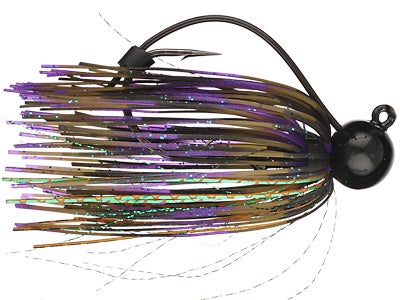 10 Available Colors
More M-Pack Lure Jigs