MC Swimbaits Weedless Swimbait - $6.99
The product of tireless research and development, the MC Swimbaits Weedless Swimbait offers anglers a snag-resistant baitfish imitation that works at any speed, in any environment, and for any kind of bass. Developed to absolute perfection, the MC Swimbaits Weedless Swimbait delivers a true-swimming action with a fast retrieve, slow crawl, and on the drop as well. Built with a deep, pre-split hook pocket, the MC Swimbait Weedless Swimbait is designed to fit a 7/0 Lazer Trokar Magnum Swimbait Hook for a perfectly balanced, weedless presentation.
Capable of being fished in grass, weeds, wood, and in open water, the MC Swimbaits Weedless Swimbait is already responsible for a number of trophy largemouth, striper, and calico catches. Hand-poured, one at a time, in the USA, the MC Swimbaits Weedless Swimbait has been tested over-and-over in a wide variety of situations to make it as versatile and as effective as possible.
Comments: This swimbait is incredible. Its like fishing a piece of art work. I have been fishing this bait just under the surface on a medium retrieve to a slow crawl out in 25-30 feet of water. This swimbait is so versatile when fished with a Trokar 7/0 weighted 3/8oz swimbait hook. And yes this bait is a true weedless swimbait and then some! The action is as realistic as any bait fish seen swimming naturally in the water. I have five different baits with five or six fish on each of them and there still running strong with fish up to seven pounds. All the colors are great and realistic but where are the pan fish colors?
From: George: Cali
Comments: Excellent swimbait! Totally weed less, great action, durable, and it produces lots of fish for me! Colors are awesome too

From: Bryce: Trabuco canyon California

***Note: If you have questions about this product or need assistance with an order please email your questions to info@tacklewarehouse.com
View Large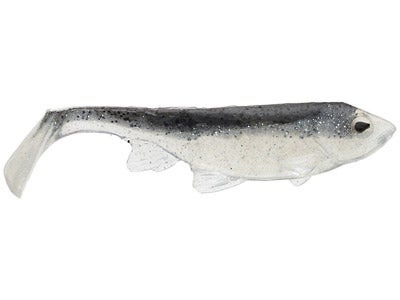 10 Available Colors
More MC Swimbaits