MESU Baits BuzzeRR Buzzbait - $4.99
Built with a number of specialized modifications, the MESU Baits Buzzer Buzzbait produces a strong surface disturbance using MESU's signature gash – a small cut along the edge of the blade that creates a pronounced bubble trail and makes it easier to tune. Additionally, the head of the MESU Baits Buzzer Buzzbait is attached to the wire with a snap ring to give it a tempting side-to-side swimming action. Also, the snap ring makes it harder for fish to use the lure as leverage to spit the hook. Incredibly easy to cast, the MESU Baits Buzzer Buzzbait leaves other buzzbaits in the dust with a customized design that is second-to-none.
Comments: Awesome Bait!!! I'm a huge buzzbait thrower, it's my bait of choice. I've tried every buzzbait made and have modified many over the years. I got turned on to this bait a couple weeks ago and put it to work last weekend. Had a limit by 10am and was catching fish on it most of the day. The Trokar hook is legit and with head connecting to the wire with a split shot it provides a swivelling point meaning more fish in the boat. I didn't even use a trailer hook which was scary at 1st but I believe is unnecessary. Highly recommend this bait. I'm a believer!
From: Josh: Augusta, KS 4/16/24
Comments: An outstanding bait!! Makes a very unique noise coming through the water. The free swinging bait makes it near impossible for a fish to come off. The only modification I do to mine is rough up the rivet behind the blade with pliers to get a high pitched squeak out of it. Way to go MESU!!
From: Kyle: KS
Comments: This is an incredible casting buzz bait. Fishing grass and mud flats this thing is a must have.
great hook up ratio with the free swinging hook. I definitely boated more fish with this design. Good Job MESU!!!

From: Matt: afton OK USA

***Note: If you have questions about this product or need assistance with an order please email your questions to info@tacklewarehouse.com
View Large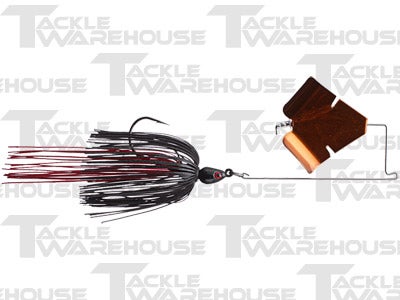 4 Available Colors
More MESU Baits Buzzbaits