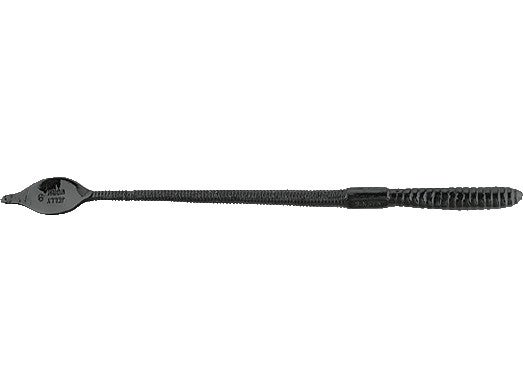 Since it's introduction to the fishing world in 1967 the Mann's Jelly Worm has remained to be the #1 selling worm of all time. Mann's Jelly Worms one time referred to as "Jellies" are responsible for helping Paul Elias claim the all-time BASS 4 day weight record of 132lbs 8oz. Whether you have been a fan of the Jelly Worm since its introduction or are just starting out. The Mann's Jelly Worm belongs in your tackle selection.
| | |
| --- | --- |
| Length | Quantity |
| 9" | 20 |
| 12" | 10 |
14 Colors
More From Mann's Softbaits
Customer Reviews
Comments: Love the 9 inch worm, first cast caught a good sized largemouth, rest of that day just nailed them. The hardnose helps alot, Best worm by far!
From: Thomas: ND 3/31/14
Comments: I've fished soft plastics for my entire life. Worms being my go to, these are by far one of the best for many situations. Although a time consuming strategy, the results pay off. With a slow retrieve and numerous irregular pauses, the soft bodied worms entice the wariest of lunkers. The motor oil works great on overcast days, and especially well during the rain. The black has always been great for weed lines and shady transition lines.
From: Dom: PA
Comments: I use the 9 inch on jig heads and as a jig trailer. Yes a jig trailer. Black only. Just give it a try. Unreal snakie action!

From: Joe: ME

Comments: Worm fishing for large mouth bass can be slow and problematic but if you want to catch some of the largest fish in that body of water then the12" ifs the way to go with the hard nose. i caught on my first cast a 5lber and within two hours i caught two more fish that were the biggest I have ever caught with pics to prove it! This is my not just my go to worm but my go to bait! Love, love, love it!

From: Jeremy: Florence, MS

Comments: Definitely one of my favorite baits. Also, after you have caught tons of fish and the worm is beat up, you can cut the head off and make it a great dropshot bait. Really impressed! Good job Manns!

From: Casey: RI

Comments: if youre goin for big fish in farm ponds or small lakes or ponds were you often throw worms. get the 8'' and 12'' inch jelly worm and go to town, watermelon, red melon flake is awusome !!!!

From: Nathan: GA

Comments: the best worm out there i've caught tons of pounds of bass at lake erie never had a bad day great bait and 20 pack of 9" for 4.49 great deal recomened if you like catching bass every cast 16 fish out of 20 worms on 6/4/10

Comments: Really hard to beat for the money, very durable.

From: Seth: Chattanooga, TN