Mann's Stone Jig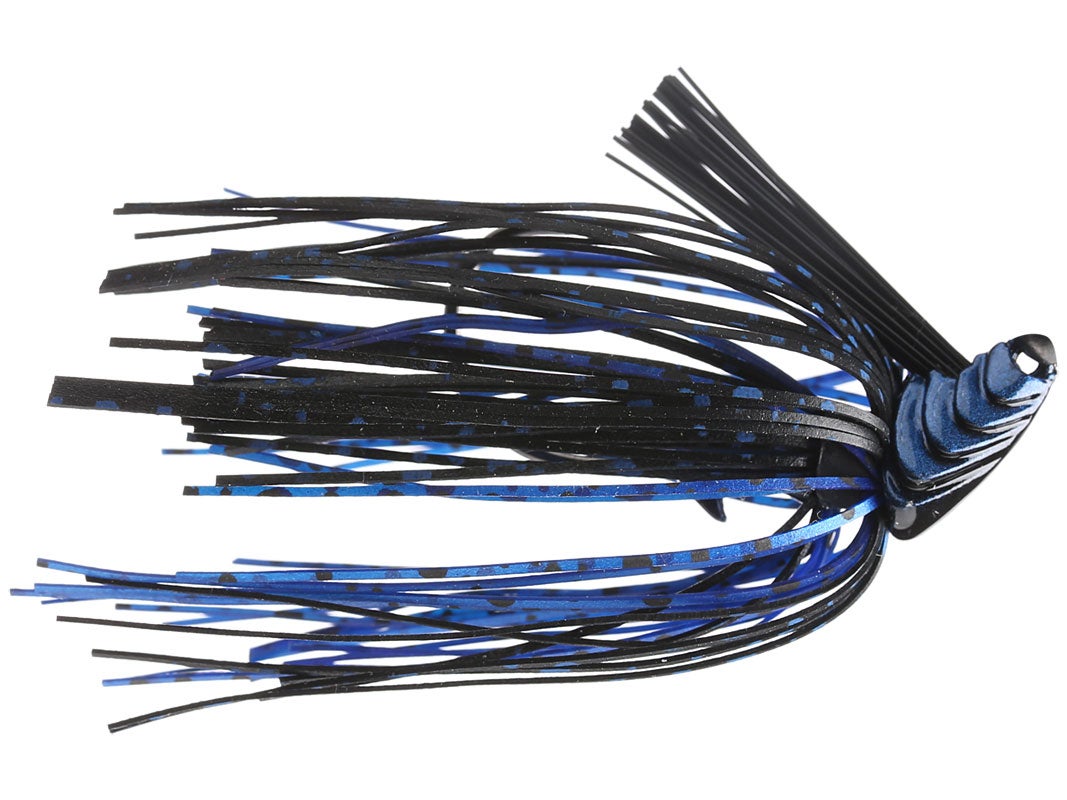 Used by Mike Iaconelli to win the 2003 Bassmaster Classic, the Mann's Stone Jig will catch fish for you in your favorite lake. Whether flipping cover or dragging over rocky structure, the Stone Jig offers some great advantages. To eliminate hang-ups and make you more efficient, this jig has a unique head design. The head features ridges molded into the sides for more water displacement and a different vibration in the water. It tapers to a point enabling it to slip through rocks and sticks that would jam other heads. The flat bottom of the head makes this jig really stand up and the 30-strand weedguard protects the super sharp, premium hook. There is a sharp keeper hook molded into the back of the head to securely hold your plastic trailers. The head is powder coated for a tough, chip resistant finish. Included is a message from Mike Iaconelli describing some of his methods for fishing with the Stone Jig.
9 Colors
More From Mann's Jigs
Customer Reviews
Comments: Although I'd prefer a heavier hook on these, I wish I could just buy the jig heads. The skirt collar will melt away after one season, so I typically replace the skirt & collar right out of the box with my preference. Other than that, its about the best head design around for skipping under docks. Might get some competition now from the Booyah Bank Roll jig.
From: Big John: NY 2/29/16

Comments: I've been using this jig for about a year & it has gotten the job done. I purchased the black and blue 3/8 oz paired with the xcite chunk trailer & caught several 7+ lbs bass off of it. The skirt has held up fine but some paint has chipped off the head, but that's due to ripping it though heavy structure. Great jig, will be buying several more.
From: Hunter: Ruston, LA 10/1/15

Comments: I don't know what these guys are talking about, but this is a tournament size getter! I like the delta special with a zoom ultra vibe chunk in black. Modifications are trim the weed guard to the hook and trim the skirt back about 1/2 an inch or so. Great jig for the price.
From: Wade: AR 11/8/14

Comments: curse mann's stone jigs, they have the best head desin so i keep using them, but iv straitend hooks puting it out of tules and have even had the weed gaurd fall out of on, no idea how one cast i went to get weeds of and the weed gaurd was gone, iv also had the skirt fall out 2, but thats and easy fix. are they good jigs? yes. do they have the best head desin? yes. do they out fish all the outher fliping jigs on the market? yes. Could the use som better hardware? yes. Do i freaking love these sons of guns? hell ya i do.

From: Michael: san jose, ca

Comments: Best head design of any jig on the market. could definetly use some better skirt colors but you can always replace the skirts. For the money this is the best.

Comments: Great jig hooked up with a 10+ pound bass lost her but my fault

From: Bug Bob: So Cal

Comments: This is a good jig to have as an option when you're jig fishing. I fish with a jig a lot and have had days when it is 'the one' they're eating. Buy a few and try them!

From: Scott: Lexington, KY
Comments: this jig produced for me when others would not. I believe its because it was standing up when others will not. Fished the natural color with a yamamoto flappin hog trailer most often.

From: Matt: Greenfield, MA
Comments: Absolutely the BEST jig out there!

From: Alec: USA
Comments: I think this is hands down the best jig on the market, I am not sure if it is the head design or just the fact that I throw it allot but the bass really seem to prefer it over other jigs. The only downside to this jig is the black blue color is "shiney" but all in all a great jig

From: Jeremy: Punxsutawney, PA