Marcum Underwater Viewing System VS385C - $529.99
Delivering crisp, clear, live video of the underwater world - now in brilliant color -the Marcum VS385C Underwater Viewing System is another instant classic from MarCum Technologies. Offering a full menu of powerful fish and structure finding features - all with a learning curve shorter than the time it takes to remove the tape from the box, immerse yourself in MarCum's industry-best SONY Super HAD 2 camera optics.
A luxurious 7-inch crystal clear LCD screen displays it all with 800 x 480 Pixel resolution and even allows you to switch between color and black & white for the sharpest images in any water condition. You can also dial up MarCum's exclusive Darkwater LED lights to provide optimal viewing even during the darkest hours when big fish prowl. The advanced Manta camera and 75-feet of cable take you everywhere you want to be. At the end of the day, pack everything away into a custom protective MarCum softpack, and when you get home plug in the included 3-stage Auto Battery Charger and get ready to discover more hotspots tomorrow. The powerful Marcum VS385C Underwater Viewing System is the ultimate addition to any boat or ice fishing house.
Features:
-7" Wide screen Flat panel, Hi-Res, Switchable Color/B&W LCD
-800 X 480 Pixel resolution
-Waterproof Display with Video Out
-Sony Super HAD II CCD 1/3" image sensor .01 lux camera, with 75-feet of cable
-Darkwater LED Lighting Technology
-Soft Pack, 12-volt 7-amp Rechargeable Battery, Battery Charger and Down-View/Stabilizer Fin included
-3-stage Auto Battery Charger included
-One year warranty
No customer feedback has been added yet! Be the first to write something about this product.
***Note: If you have questions about this product or need assistance with an order please email your questions to info@tacklewarehouse.com
View Large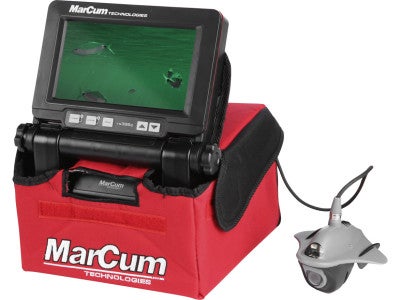 Place Your Order
More Marcum Underwater Viewing Systems