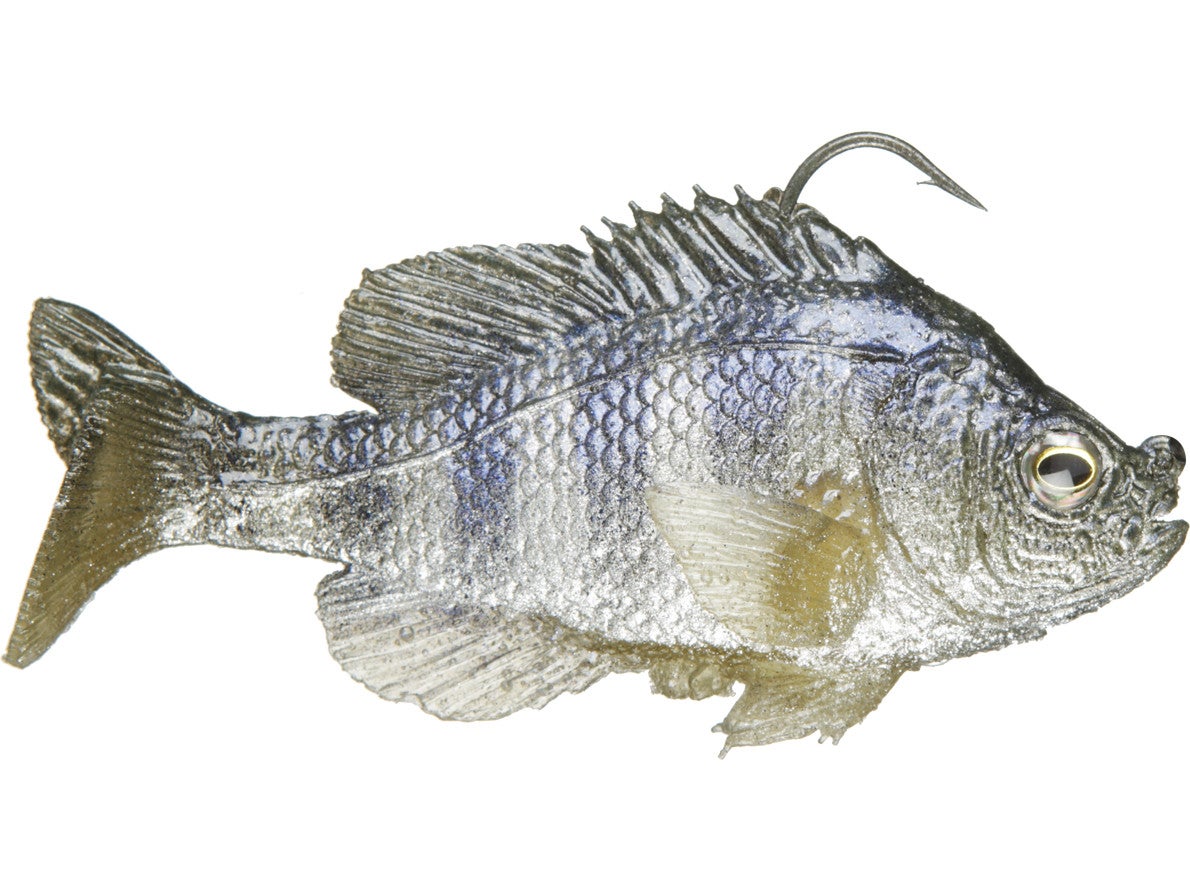 Please Note: Floating model features belly treble with a swivel (not top hook pictured).
The Mattlures U2 Bluegill is the baby brother of the famous Ultimate Bluegill. Incredibly realistic, it has been improved in just about every way. Better balanced and featuring a more durable plastic construction for a longer life and the same great action, the Mattlures U2 Bluegill boasts some of the best paint jobs ever seen in a soft plastic swimbait.
The finned Boot Tail version is perfect for swimming over the tops of weeds and past ambush points where big bass are waiting to eat a little sunfish, and it can also be fished just under the surface, creating a wake that imitates a fleeing bluegill.
The Flat Tail is arguably one of the best bed baits for big female bed fish ever made. It sits nose down with its tail up off the ground, simulating a bluegill that is feeding on bass eggs. If the bass knocks the bait over it will sit back up on its own without the fisherman having to move it. Just bounce this little gill in the bed and witness the most furious strikes you have ever seen. The sinking flat tail also makes a great jig. Because it sits upright, you can hop it, jig it, and drag it, and it will stay in the upright position the whole time.
Made with Mustad Ultra Point hooks with an eyelet on the bottom of the bait for an optional stinger hook, the Mattlures U2 Bluegills come in many different colors to match just about any bluegill, sunfish, bream or crappie that the bass in your waters are eating.
| | | | |
| --- | --- | --- | --- |
| Mattlures | Length | Weight | Class |
| U2 Bluegill | 4" | 1-oz | Sinking |
| U2 Bluegill | 4" | 0.90-oz | Floating |
9 Colors
More From Matt Lures Swimbaits
Customer Reviews
Comments: This lure looks great out of the box but after one fish the it was completely destroyed. This swimbait looks amazing but the durability is terrible.
From: Devin: USA 7/4/16

Comments: I purchased the boot tail pumpkinseed model of this bait & just from hucking the thing out there the harness ripped through the skin of the bait and ruined it. I hadn't even caught a fish on it! If you were going to use it for bed fishing and you were only flipping it out there, I would recommend it. Don't get me wrong, this thing looks AMAZING and I know it has worked for many people, but the durability is sub par.
From: Art: NJ 9/15/15

Comments: This bait is great people say that the bait rolls on its side, I've had 3 & 0 have rolled on their side. People complain about the tail ripping as soon as you get this bait go to your nearest pond & put it through hell, skip it, backlash it gently tug on the tail, not too hard to rip the tail, but enough to put the bait through the daily demands it has. CATCH FISH & BE DURABLE. If you prepare it before you fish it its worth the money, if not go to your nearest pond & throw 20 dollar bill in the water.
From: Will: TX 7/14/15

Comments: Great looking bait. The durability is very poor. I was only able to catch 1 fish on the bait before the rubber body peeled off the weight. Total waste of money in my opinion.
From: McNeel: Allen, TX 5/8/14

Comments: Caught two fish on it, count that TWO and it was ripped beyond repair. I throw keitech swimbaits, i know whats its like to enjoy throwing a non durable bait but for 18 bucks I will not be dropping that kind of cash again.
From: Jdub: RVA 3/17/14
Comments: this bait is outstanding literally 2nd cast slow rolling a 6 1/2 nailed it but ripped it durribility could be better but good action while slow rolling would recommend to any type of angler with blueguill as a main forage in your lake
From: Austin: Atlanta, GA
Comments: I throw the boot tail in the baby gill colour and the big girls just SMASH it! I use it as a swimbait and roll it slow over weeds/logs or burn it in shallow water. GULP! The durability could be better, ive glued it back together a number of times but its still catching fish! great buy and will be ordering more!

From: LunkerNige: Ontario, CAN
Comments: The floater is sooooo sick. I use it for sight fishing (not bed fishing). During the summer at my local pond the larger bass all hang out in front of drain pipes. I sneak up on them and drop the floater in the water... twitch, deadstick..... BOOM! They kill it.

From: Cullen: Ashburn, VA

Comments: Recently fished a tournament where the fish were up on beds and i could not get this fish to bite so my pro handed me his rod with the TW baby bluegill color, BBBAAAMMMM!!!! first cast 3 lber and ended up winning the tournament. Buy these my fellow fishermen!

From: Jesse: Avondale,AZ

Comments: I have noticed that at night time talapias come up and stick their lips out of the water. I got a flat tail floater an dead stuck it by some pencil grass at night, first cast I caught a 9.4 pound largemouth! It absolutely crushed the bait and it's still my pb as of today! MUST BUY!!!

From: Austin: FL

Comments: I have never seen a more realistic looking bait. Does anyone know how well the sinking one swims? Secondly, is the floating version just a wake bait? I wish this guy posted videos, he didnt have any on his personal website either

From: skeptic mcbuyer: IL
Comments: Amazing bait!! Slowed rolled this bait over submerged trees and HAMMERED'em!! I would highly recommedn this bait to everyone.

From: Ron: Trabucco Canyon, CA

Comments: To cover up the plastic smell use a scent like Pro Cure Super Gel. It's really sticky! After a few hours throwing the bait you'll see your lure still has the gel in it! I've heard Smelly Jelly Pro Guide 3X and Megastrike Fish Attractant are very good too! They can cover up the plastic smell and the bass will hold the bait longer. Plus, the bait will slide in the bass mouth better and you'll get better hookups!

From: Marco: Portugal

Comments: WOW. this bait is absolutely mind boggling. i bought the male gill, flat tail sinking, for bed fishing and the flat tail floater in tilapia for a dead sticking bait. all i can say is that they CATCH FISH. i was using the male gill just bouncing it in some rocks and caught a lot of 2-2.5 lbers. a 4lber her at Sam Rayburn. then after we found some grass. i took the tilapia color floater (because it looks like a shad) & twitched it over some grass and HAMMERED some fish. they both barely have in rips and suprisingly the fins that stick out didnt even tear. its a great bait. just costs a little

From: Cutter: TX

Comments: Very nice action, runs straight even with high retrieves, and it stands straight went sitting on the bottom. Any suggestions on how to remove or cover up the strong plastic smell?

From: Gary: League City, TX

Comments: I've heard some people saying the bait would roll over, but then they boil the bait and after that the bait swims right! Put the swimbait in boiling water (just let the eyes out) for 15 seconds each time. Then take it out of the water, hold the pectoral fins folded in the eyes direction and submerge it in cold water while holding it. The fins will flare out really well! Also look at all fins and make sure they aren't crooked. Try to straight them while the bait its hot and hold it in cold water until the fins are right. The bait should swim right and the tail will kick at even slower speeds after boiling it.

From: Marco: Portugal

Comments: Finally got a chance to fish the boot tail today. At a price of $18 I am very disappointed. It stands straight up with nose to the bottom, but when ever I tried to swim the bait it would roll over on its side. The only way to keep the role from happening was to crawl the bait extremely slow. So slow the tail would not kick.

From: Joe: Sonora, CA

Comments: Great Bait, ripped my first one and MATT replaced it for free, then once i got it back i go out to the lake and catch me a 7 pounder! top notch product!!!

From: Omar: Pittsburg, CA

Comments: This bait is unbelievable. Easily Matt's best work in my opinion. The U2 'gill really does just make you ooze confidence. The detail is exquisite, from the amazing paint job to the life like pectoral fins. There is not another swimbait on the market that looks more realistic. Add the true swimming motion that doesn't roll and the incredible feat of making this bait stand nose up even when knocked over it's truly mind boggling. On top of all that, the bait is bite size, meaning you won't need dedicated swimbait gear to throw it. You'll get both number and size when fishing the U2. Be warned though, buying one of these will empty your wallet in a hurry. I bought one thinking I'd only throw it every so often, but now I have it in just about every color and always have one tied on.

From: Sam: Illinois

Comments: This is some of Matt's best work.Great bed bait that stands up on it's nose,that fish just crush.

From: Mark: Mishawaka, IN

Comments: This swimbait is money it looks just like a fish trying to eat bass larva and the big momma's cant stand that

From: Jacob: Bluemong, IL