MegaBass Vibration-X - $21.99
Another original 3D design from famed lure specialist, Yuki Ito, the Megabass Vibration-X is built with painstaking Japanese precision and uncompromising innovation. The flat head of the Megabass Vibration-X was designed specifically to displace water, and its hydrodynamic tail to cut through the water disturbance for a stabilizing effect and a tight vibrating wobble. In addition, the Megabass Vibration-X features three separate rattle chambers that create a booming underwater rattling, and alerts bass to its presence. Recognized for its effectiveness, the Megabass Vibration-X produces year-round, in clear or dirty water, and at any retrieve speed. To top off its exacting design the Megabass Vibration-X has been hand painted in myriad of intricate color schemes for a wide range of conditions.
| | | | |
| --- | --- | --- | --- |
| Megabass | Length | Weight | Class |
| Vibration-X | 3" | 3/4oz | Sinking |
Comments: This lure is awesome. The colors are sweet! the hooks are super sharp and when I received these the hooks actually broke through the plastic; they are thinner than normal and have a little bit of flex but I never straighten a hook on a crank before so no problem for me. If you love lipless cranks this is a must have.

From: Ryan: NE

Comments: Cheap baits for cheap people, expensive baits for rich people. If you have time to complain about the price, you should go get a job and make extra money to buy MegaBass. You can still catch fish with $1 lure selling at MalMart, you know. MegaBAss is a killer brand!

From: Jade: SoCal

Comments: Small price to pay for perfection.

From: John: MI

Comments: Is anyone tired of people telling you that the baits you fish anit no good and over priced? Yes the hooks are so so and they do have a price on them but they do work for me . I wish the best of luck to you and your Excaliber that you fish , but have you fish any Megabass , I have a open mind when I fish maybe it could help yall to .

From: Phillip: TX

Comments: This lure catches fisherman not fish. What can this lure do differently than an excalibur, red eye shad, tremor etc. I am sure that there is a frequency underwater with the right rattles and chamber combination that makes the fish go crazy; but isn't there also a note that makes everyone go number 2 in there pants...I am pretty sure pooping your pants is still pooping your pants in my book. Don't buy into the marketing scam and encourage outrageous price increases. Sure the paint jobs are amazing, I am sure that in about 15 feet of water or low light conditions those colors look pretty amazing to a bass whose eyes are as highly developed as a humans to perceive color right (sarcastic voice)? I agree with will, the hooks suck and the lure doesn't even have oval split rings, I thought this lure was "superbly engineered"??

From: John: CA

Comments: Nope, just you dude! Sorry

From: Ace: CA

Comments: Is anyone tired of megabass on other rediculously over priced japanese lure brands yet? The hooks that come on them are crap and you can do all the same things with an excaliber or other quality brands. Especially in the case of a lipless crankbait, they all nearly have the same action I mean come on.

From: Will: Waltham, MA

***Note: If you have questions about this product or need assistance with an order please email your questions to info@tacklewarehouse.com
View Large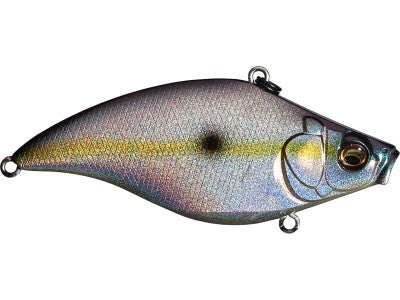 13 Available Colors