Megabass Deep-Six Crankbait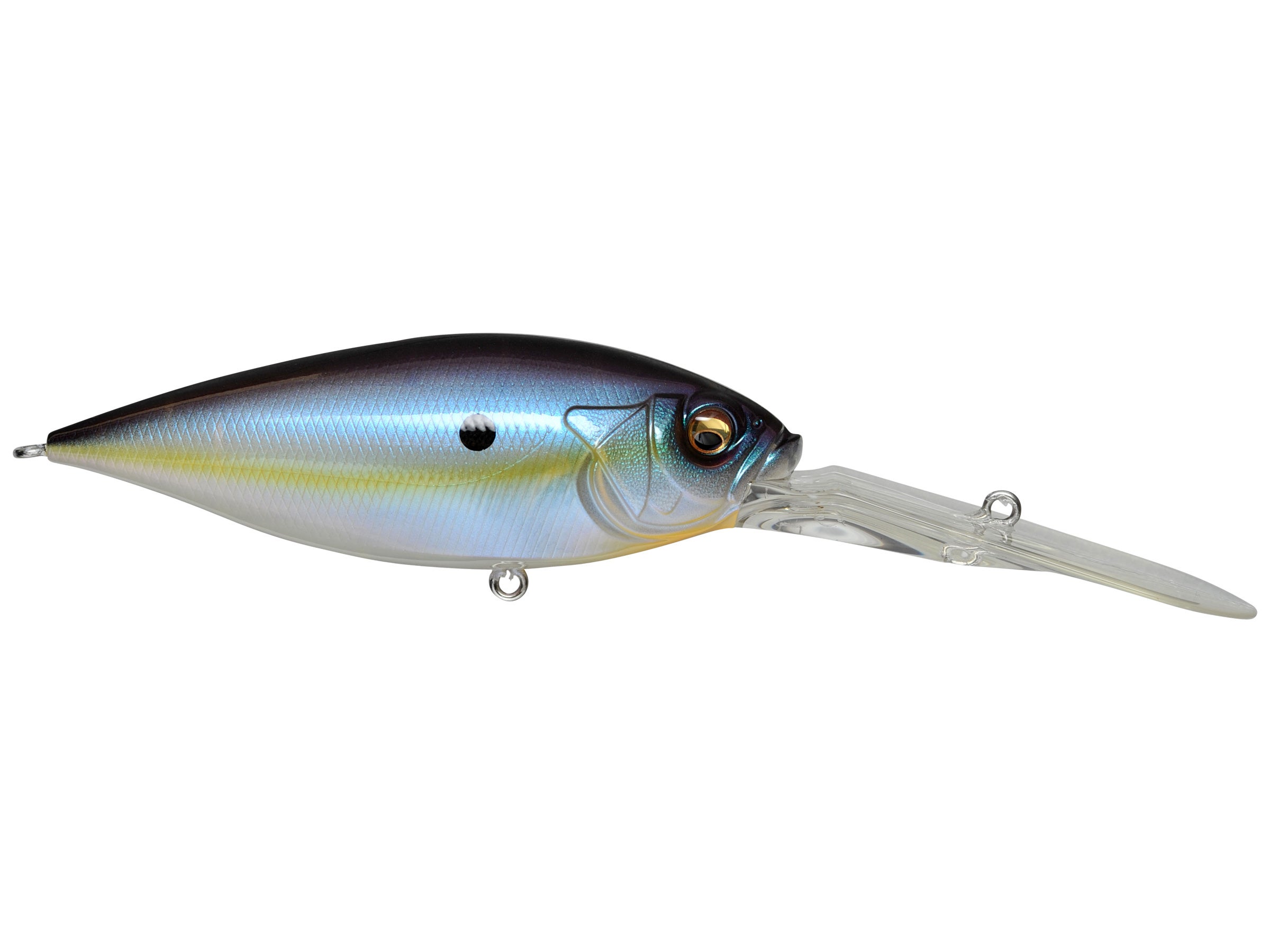 The super deep depths have remained a relative safe haven for big bass against deep diving cranks - that is until now. Introducing the Megabass Deep-Six Crakbait designed by master lure creator, Yuki Ito to attack depths in excess of 20ft. Its unique, super thin lip slices through currents, and helps the Deep-Six maintain the ideal balance required for a steep dive-angle.
The Deep-Six also incorporates the renowned Megabass Multi-Way Moving Balancer System (PAT.P). During casts, the main weight moves to the rear, positioning Deep-Six tail-first to maximize aerodynamics and casting distance, and when diving, the weight moves to the front of the lure to increase the Deep-Six's diving angle, which means you get down to target depth much faster. Then when the Deep-Six reaches its maximum diving depth and contacts the bottom, underwater structure, or is twitched, the main balancer is released, causing the weight to slide and increase its action. If Deep-Six levels out at its maximum depth without contacting bottom, the main weight is also released from the front, and moves to the middle position, transitioning its action from wobbling to rolling.
Available in a variety of detailed colors that only Megabass could create, the Megabass Deep-Six ignites the instinct of monsters in the deep with its lively flash and aggressive high pitch rolling and wobbling action.
| | | | |
| --- | --- | --- | --- |
| Megabass | Length | Weight | Depth |
| Deep-Six | 3.15" | 7/8oz | 20ft+ |
13 Colors
More From Megabass Crankbaits
Customer Reviews
Comments: I love my MB baits and will spend to buy them but I will also admit their flaws. This bait is beautiful and cast better and pulls less than other companies. As for 20+ feet. No way. Threw it side by side with the 6xd on same tackle and it def took a lot longer to hit 15+ feet vs 6xd. Def will not hit 20 on 12# FC unless u are long lining. Did not like how long it took to get go the bottom. 6xd still caught more but I will keeping buying MB baits from TW
From: Frank: Highland Lakes, NJ 9/15/15

Comments: This is the best 20ft crankbait on the market. There is no question. If you think there is a better one you are ignorant. This thing casts further, stays in the strike zone longer, and catches more fish than any others on the market. I wish they would make more craw colors but that is beside the point. If you are up in the air about it, don't buy it just know the guy who is stealing your money at all your club tournaments did. If your a serious fisherman doing bass opens or rayovac tournaments and you have $1000s invested don't blow it by buying a cheap lure to save a buck, you owe it to yourself to buy the best.
From: Dany: Schenectady, NY 8/10/14

Comments: Do the lures cost a lot? Yes! Do they catch fish? Absolutely! By all means...don't buy one and I'll wax you like I have several other fishermen that are using other lures in the same boat, at the same time. I've made my money back hundreds of times over on these lures.
From: Jeff: Villa Rica, GA
Comments: all I've got to say is I'll put any one of my megabass baits against any Norman or spro and see who catches quality... Either way bass fishing is expensive, why not use the best...

From: Daniel: Hampton, va

Comments: Deep-six is bad to the bone , I am from Texas I have two deep-six when there deep deep deep down here there are coming up . People put Megabass down a lot but just get one and see how it will out perform all your other baits , from the one tens to dogs x s to deep six the hole line up you won't be dissatisfied

From: Phillip: TX

Comments: I'm not going to go broke over a piece of plastic. I mean, really, think about it. It must be tough fishing where your at to go out and buy a 27 dollar crankbait lol. It's amazing what people will do these days to catch a fish. It just makes me shake my head.

Comments: I can bet this a super crankbait, I have some of the other lures that megabass put out ( like the popmax,giant dog-x for example.) And I can tell you now these baits are awesome!! It's the detail in the lure, and the quality of the hardware that makes megabass worth every penny!! You can shop around but your not going to find a crankbait that has the looks of this one and the quality! Hey you know what, don't fish em', leave em' for me!!

From: mrbond007: East Lansing, MI

Comments: no offense to people who like any other baits , save up and get one , dont knock the megabass people for making money , if you aint got one but from your words being so offensive i can tell you want one.

From: Phillip: TX

Comments: now we have 6 people who don't own this lure commenting about it, i do own this lure, plus many other MB'S and it is worth every penny!5 smallmouth over 3lbs in less than an hour,12 lb red label 20 ft every time!!!and as far as the spro it is a good lure but nowhere near a megabass or the osp blitz, also megabass for a jdm lure is an outstanding value!i would suggest putting the smart rings on it, because it does dive 20ft.

From: ScottL NY

Comments: Wow, 5 comments from 5 people who DONT own this lure!well as someone who does own 1, plus many other MB lures, it IS worth every penny!on 12lb seaguar red label gets down to 20 ft easy! outstanding fit and finish and fish catching, 5 smallmouth over 3lbs in less than an hour,yeah you could buy 5 normans or strike out king, but it takes as many of those other lures to eqaul the GREATNESS of 1 megabass. and as far as the crews knock off. i would rather have the O.S.P. blitz!

From: urbanshark

Comments: Great bait, fishe it for the first time and nailed a couple good fish. Stop whining about the price, I know it's expensive but until you own one; you just don't understand. All I'm saying is just buy one and you will be inpressed

From: Bob: Hightower, VA

Comments: no offense to anyone who likes Megabass, but this is one of the reasons that I love Spro. Spro is fisherman friendly and has quality products. I'm not saying Megabass does not have quality products, I'm saying they charge to much for them, but to be quite blunt, companies like Megabass, Jackel,etc. squeeze as much money as they can get. I go with Spro and that's just my opinion, God bless and tight lines (for those who can stil fish:)

From: Elijah: "Submarine capital of the world" Groton CT

Comments: I concur...I'll stick with Spro any day.

Comments: looks like it can get down deep fast , I have not run a bombers, normans , deep crankbait , but I have some six x d s they get deep but it takes time to get them that deep . long lineing take some time to do too.... might not hurt to get one and see , I Igot a open mind

From: Phillip: TX

Comments: Anybody who will pay 26 dollars for a crankbait obviously has more money than good common sense. I will stick with my normans strike kings and bombers and catch just as many as anybody with these damn things

From: Josh: KY

Comments: absolutely ridiculous! 26 bucks for a crankbait because of its weight transfer system? I would much rather spend 26 bucks on a load of Normans

Comments: Oh no, these look insane and I am sooo broke.

From: Jeff