Megabass FX Knuckle 60 - $21.99
The Megabass FX Knuckle 60 is an innovative shallow-diving crankbait featuring an adjustable square bill. Utilizing Megass' advanced FX lip technology, the lip has two position settings that deliver different running depths and different actions. With the bill positioned up, the Knuckle 60 dives a little deeper - down to 5-feet, and produces a wider wobbling action. With the bill tilted down, it runs a little shallower with at tighter wobble. The Knuckle 60 also channels water between the lip and body in a sort of "water intake" system, which provides the bait with added stability so it doesn't roll over at high speed like other square bills tend to do. Available in a range of proven Megabass colors, the Megabass FX Knuckle 60 Square Bill Crankbait is as good as having two crankbaits tied on at once.
| | | | | |
| --- | --- | --- | --- | --- |
| Megabass | Length | Weight | Depth | Class |
| Knuckle 60 | 2-3/8" | 3/8oz | 1-5ft | Floating |
Comments: Another GEM from Megabass. Say what you want about the prices...yes, they are very high BUT they are imported from Japan and the quality is IMMEDIATELY evident when you open a Megabass bait...From the packaging (a hard plastic reclosable box w/ foam on bottom for complete bait protection, and a full directions/tips/design info booklet- some bait come like this. others are just usual packaging. The knuckle is just regular packaging but has a good pamphlet in it), to the hooks, to the split rings...But most of all is the overall designs... The Research and Development is very evident. The attention to detail is amazing. They're works of art, truly. The paint jobs are so amazing...great gloss and sheen and color-shifts. The eyes they use are incredibly realistic. The Gill, mouth, and general "face" detailing is done so well. The Knuckle is so cool. The Bill is very sturdy, don't worry. It works the same as the way the "lip" clicks on the X-Pod. The Knuckle has 2 settings though. The first will fish 4-6' depending on fluoro or mono and line size. I had it down to about 6' w/ 12# fluorocarbon. The Shallow bill setting runs 0'-2'. Again, depending on line/size/type/retrieve. It can be absolutely "waked" on top or speed it up and drop your rod tip and it will get down 2' or so. It's a very versatile bait and switching bill-settings is SO easy...it's like having 2 amazing squarebills tied-on @ one time.

From: Tanner: Southeastern, Massachusetts

Comments: Absolutely cool bait. I love the X-pod that has an adjustable lip but it makes even more sense on a crankbait than it does on the X-pod topwater...With one click u can go from 0-1" wake/super shallow crank, to a 5' squarebill cover-bumper....the finishes are unreal of course. Quality top notch of course. Great bait, of course.

From: Tanner

Comments: Chad i got my hands on some two , the adjustment its cool price is ok but a two for one bait in my book . they work well for me !! good bait

Comments: I bought one to try out and man I'm hooked. I love the ability to adjust the depth on the fly and the attention to detail on these baits are amazing. Thanks Megabass

From: Chad: LA

***Note: If you have questions about this product or need assistance with an order please email your questions to info@tacklewarehouse.com
View Large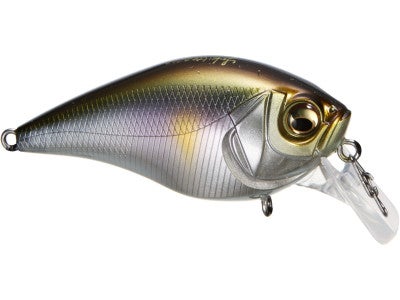 22 Available Colors