Megabass Ito Vision 110+1 Jerkbait - $24.99
The Megabasss Ito Vision 110+1 Jerkbait is designed to dive 3ft deeper in depth than the original Ito Vision 110. The 110+1's medium bill is crafted to eliminate the traditional issues of high water-resistance, fatigue, and deadened darting-action often associated with long-bill minnows, while at the same time preserving the legendary action of the original 110. By positioning the line-eye close to the body, water resistance is reduced, making it easier to work the 110+1. Preliminary field-testing by Megabass' pro staff indicates that it requires even less effort than the original Ito Vision 110. In addition, this angler-friendly design also channels more water towards the lure's forehead and along the carefully sculpted body, allowing for an irresistible darting action with the slightest angler input. Available in a range of Megabass' detailed colors, the Megabass Ito Vision 110+1 is finished off with sticky-sharp Katsuage hooks, two internal rattles, and a dual-tungsten Multi-Way Moving Balancer System, designed to produce superior long-distance castability - even in tough conditions. The Megabass Ito Vision 110+1: The legend just got deeper.
| | | | | |
| --- | --- | --- | --- | --- |
| Megabass | Length | Weigh | Depth | Class |
| Ito Vision 110+1 | 4-1/3" | 1/2oz | 4-9ft | Suspending |
Comments: This bait very appropriately picks up where the original and its shallower counterparts left off. It's money for the deeper suspended fish. My only complaint is that the outbarb hooks chew up the sides of the bait pretty good. That being said, they are definitely very sticky and increase the chance of hookups.
From: Tom: Rome, NY 7/4/14

Comments: With respect to 'kool keith', i found the review informative. I have never had a pike - and i have caught large ones - puncture my hard lures. Lots of scratches and dents but not punctured. And it seems it said a few 'medium' sizes, not large. I am sick of people who cut down other reviewers when they themselves do not read it carefully nor provide any useful info.

From: Wayne: TX

Comments: This is an awesome bait. In my top 3 of jerkbaits along with a ima flit 120 and a lucky craft pointer. Japan makes the best baits!

From: Pete: Oil City, PA

Comments: head down tail up... this thing darts quick.. pause so the fish is able to catch it

From: gerkbait fanatic: CA

Comments: DUDE. Pike have teeth. Any super-toothy fish can and will puncture a damn bait. I'm sick of looking through bait reviews and seeing people cry about this fact. Or the fact that a big goon fish will tear up a spinnerbait. Duh. It's part of the game. If I fished around large toothy fish, I would just face reality and use cheaper baits.

From: kool keith: huntin goobers

Comments: Excellent detail and action and it works. However, after a few medium sized pikes the lure has a small crack on the side where water is leaking in. Durability in question for such an expensive lure.

Comments: Caught my first 3 jerkbait fish of the year on a 110+1 today. This lure will be a producer just like the 110.

From: Chris: Moosic, PA

Comments: Just in time for deep diving, suspending rip bait season! This bait is already whackin em, folks. One of the few DD ripbaits I have tried that fishes like a ripbait once you get 'er down deep. Hell, you can even just crank it back in.

From: Meatwad: Rippin

***Note: If you have questions about this product or need assistance with an order please email your questions to info@tacklewarehouse.com
View Large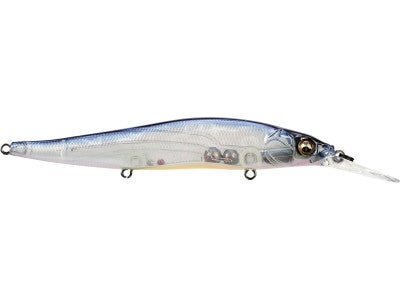 19 Available Colors
More Megabass Jerkbaits