Megabass Ito Vision 110 Jerkbait - $24.99
Once the closely-guarded secret of the pros, the Megabass Ito Vision 110 has quickly become a staple among professional and amateur anglers alike. Carefully crafted and precision engineered, it sets the standard for jerkbait performance - offering a one-of-a-kind darting action that continually cashes checks and puts fish in the boat. The Vision 110's advanced tungsten Multi-Way Moving Balancer System (PAT) not only fuels the Ito Vision 110's unparalleled action and huge flashes, it also allows you to cast it like a bullet. Three Katsuage out-barb treble hooks also increase hook-setting percentages to maximize your strike to catch ratio.
Available in a wide range of colors, the Megabass Ito Vision 110 really excels when the water temps are between 38 and 70 degrees. During this time (especially from November to April in most U.S. waters), the Megabass Ito Vision 110 is an excellent choice for fishing points, flats, rocky banks, bluffs, and over underwater grass beds. It can also be deadly around boat docks in the heat of the Summer, and in Northern waters smallmouth bass attack this lure from Spring to Fall.
| | | | | |
| --- | --- | --- | --- | --- |
| Megabass | Length | Weigh | Depth | Class |
| Ito Vision 110 | 4-1/3" | 1/2oz | 4-6ft | Slow Floating |

Click the logo to view their review.
Comments: I have a couple dozen of these, and I did finally break a bill on one. However, I was fishing from shore in high winds and didn't realize how shallow it was and jerked it into some rocks. I've caught hundreds of fish on these though, and I've haven't had any problems with any of the others. The paint jobs are amazing, and I actually really like the hooks. The light wire penetrates incredibly well. These are made to be fished on fairly light line, so for you guys bending out the hooks, you might want to ease up a bit. I caught a 30" walleye on one that went crazy in the net, and it only slightly bent one hook on one treble, so I don't think that's too shabby.
From: Greg: UT 5/5/14
Comments: Best fish-catching hard jerk bait I have ever used. HOWEVER, I will not buy any more because they are TOO FRAGILE! Too expensive for the lack of durability. Bills break easily and yesterday I had one break in half. Buy these only if you fish open water with no structure like docks, rocks, grass (yes, bills will break off even in grass!). Waiting for Megabass to admit that they have a problem and fix it. Surely they can make the same type of jerk bait but stronger. Lucky Craft jerk baits are a close second but without the breakage problems.
From: Scott: Austin, TX 3/9/14
Comments: Rogues and xraps are like girls you take to prom, but the vision 110s are like supermodels you take to prom! I like its head down attitude, and also the ratting sound they make too, it is somewhat similar to the rogue sound....Only downside is lack of better descriptions, you see gg, gp, ht, m next to models sometimes with baits in the same pattern. I have no idea what they are talking about.
From: Bigpoppabass: Nashua, NH 3/2/14
Comments: These lures are junk. Bill just snapped right off after an hour of use. Highly disappointed with the quality, will not be re-purchasing these lures.

From: James: Knoxville TN

Comments: First let me say this bait is second to none, there is no question it catches fish. I bought one to try out and caught a ton of smallies on that bait, it quickly became one of my confidence baits. This past weekend i went fishing and broke the bill off of two of these baits bumping rocks while retrieving. It was the first time i had fished one of the baits, I am very disappointed and I will not waste my money again.

From: Eddie: Georgetown, KY. US

Comments: Megabass jerkbaits will catch fish,BUT at a high price; bills break too easily,some will sink, they crack more so than any baits! My advice stick with Lucky Craft, they will last longer !

From: Larry: OK

Comments: Theres just something this bait does a little extra than other jerk baits. I love lucky craft slender pointers and even the rc stx are good for the price. But these damn things just out fish them bottom line. I hate the price and the quality for a 25 dollar bait is not what you would expect. But theres no faster way to load the boat in my opinion. Try it you will love it, just treat like your baby!!

From: Kyle: OH

Comments: I bought two of the RC STXs' and one of the Megabass this last winter and couldn't wait to use them this spring. I particularly couldn't wait to use the Megabass after all the hype and also because I don't regularily spend this kind of money on a jerkbait. First bait I tie on is the Megabass. Second fish the bill broke, no kidding. I almost puked. So I tie on one of the RC STX and killed the smallies the rest of the day. True story. Have never had a bill break on a jerkbait like this, not even on $5 dollar husky jerks.

From: Cory: Uppermidwest

Comments: Works great, but fragile and over priced. I'll stick with Lucky Craft.

From: Brian
Comments: Great bait but not very durable. A fish crunched my bill off =[ I fished the rest of the week with a RC Stx and caught just as many as my partner throwing the Ito. Ito has better components and a better wobble on the pull. The RC Stx seems to dart without the wobble. Though every fish was caught on the pause (3-6 seconds). After 4 days of fishing my partners tail end of his Ito split.

From: Matt: Broken Arrow, OK

Comments: I originally thought that $25 for a jerkbait was insane, and who would ever pay that? Well, I'll tell ya, they're worth every bit of the price tag. These lures are in a class of their own. I've outfished guys throwing Pointers, X-raps, Husky jerks, McSticks, and whatever else you may think with these jerkbaits. Truly in a class of their own. They cast very well, their color patterns are exceptional, their hooks are sticky sharp and plenty strong. Also, they sit nose-down in the water, something that I look for in a quality jerkbait that really helps to trigger bites. If you can get past the outrageous price tag then you will not be disappointed with these lures. Just don't let the pickerel or pike get to them.

From: Zach: NJ, USA

Comments: hi peaple, i am a fishermam from Brazil, i have a small boat and almost every week my friends and i go to trolling fishing for Spanish, blufish and dolphin-fish. we have buy thousands of lures all over the world, and nothing compares to Megabass vision 110. yo-zury, rapala and many others are not comparable with this jerkbait. its the best ever!!! and i think is not too durable because the fish go very hard on it.

From: Gunar: Brazil

Comments: This bait is expensive for a reason. QUALITY. Go ahead compare them to RC and lucky crafts and you will see which bait puts more fish in the boat. Bro in law sweared by the RC so after throwing his RC and me throwing 110 not only did I catch more fish but I hooked into a nice 6-7lber. This bait flat out catches fish of any size from dinks to hogs even stripers. Easily my go to bait. In fact I caught the biggest bass of my life on one (3oz shy of 10). The fish won't leave alone! Now if I can only figure out how to keep the little fish from biting it before the big ones get to it. Favorite colors are the bass and natural. Hooks are sticky sharp but thin and after catching 100+ fish on them they will break or bend. I've had one where the bill broke off but that's after casting it into a rock. What bait isn't going to take that abuse? I can easily say that they are worth spending the extra money on. Besides having the best erratic swimming action, you can cast them a country mile and I really believe that's one of the keys it's such a good bait because of all the water it covers.

From: Jaime: Central CA

Comments: Just a question. $30 is a lot to spend on a bait when the same baits of this class like LC are half and more durable. it seems to me Megabass is over priced without reason to cost double. Why so expensive?

From: Bob: NC

Comments: I shipped 4 to megabass due to broken bills and they only sent 2 new ones back. they said 2 of them were overly used so they wouldn't replace those. kind of dissatisfied! I did email them prior to sending it and they even responded that they would replace all but no

From: gerkbait fanatic: CA

Comments: Been fishing mine about 2 wks, put about a 15# bag in the boat today in 46 degree water and has held together so far. Those hooks are sharp, fishing open water so I am not worried about strength. Can't believe they don't include a split ring and not sure it catches any more fish my X-Raps

From: Woody: Woody

Comments: Fished the pearl today and caught everything in the river! Striper, bass, crappie, and even bluegill, never broke anything on the bait and I was throwing it at and through docks all day long.

From: Steve: NC

Comments: Picked up few in both the standard 110s and magnums about a year ago to see what the rave was all about. The attention to detail and paint jobs on these baits are second to none, one of the top paint jobs in the industry as far as I'm concerned. The action on these are more subtle for my taste, although they'd be great for real cold water applications. The hooks on these are decent with its outer barb design. I do warn that the stock hooks are pretty soft and I replace all mines out with owner st36s. With that being said, my top three rip baits topping the 110s are the squad minnow, lc pointer and lc flash pointer which are all 2/3 the cost of a vision 110. Are these worth $25, not in my book...my 2 cents...

From: deltaskunk

Comments: I like it one of the best all the colors work , now I have not broke any , but i run them in some crazy stuff down here in Texas , around rocks wood and anything y'all can think of and they have been good to me , maybe y'all need to slow down and fish it slower it might save y'all some baits good luck to all of y'all , I like these baits

From: Phillip: USA

Comments: used a lucky craft half the day and didnt have a bite. switched to a 110 and in 10 min had a 3+ and a 4 in the boat. only con is that after day two of the tournament, out of the 6 lures that i had, 5 of them had the bill broken off. good news is that if you email megabass, you can ship them back and they will send you all new ones.

From: Nick: KY

Comments: Save your money and buy three luck-e-strik RC stks and you will get the same quality bait, and you will be giving your money to an american company not japanese.


Comments: My first 110 has seen the water for 1/2 a day last winter. I just looked closely at the bill and it is cracked. Hopefully I can glue it and get a few more fish out of it.

From: David: Raymore, MO

Comments: This is by far the best rip bait on the market. I have won money on this bait when nothing else works. I haven't had a problem with the bill on any of my baits so far.

From: Jeff: Villa Rica, GA

Comments: GREAT lure. but so is the LuckEstrike RC stk. guess it depends on your outlook on things but i'll take 3 rc stks for the same price as one of the megabass. same lure..not same price. even with having to replace the hooks and split rings on the rc stk its still far cheaper for the same thing

From: Rob: Central, PA

Comments: I have used the old ones from japan. They don't break on rocks. The new ones must be cheaper made in mass production. I see guys say they break them easy?? Sounds bad for premium expensive bait that cost more then most food. I used my old ones on bass and other fish. Worked great. God bless you all

From: Alex
Comments: catches fish but poor material quality used on the bill.

From: Mai: WI

Comments: Best ripbait made yes. Highest quality? no The bills do break way to easy without banging them on anything. No split ring for a 25- 30 dollar bait???

From: Alan: USA

Comments: They are excellent baits and do catch fish. The cons: cheaply made, lucky to get 1 season out of them. Expensive.

From: Cyco: Green Bay, WI

Comments: Mark sorry to say the new ones bills break way to easy I have older ones and have never broken a bill. The new ones I broke 6 in a day all brand new out of package. There is something seriously wrong with the new ones they have A defect. All 6 broke in the exact same spot and none were due to bad casting even if all of us can't cast as good as you mark.

From: Barry: Lowell, MA

Comments: Great lure well made slick design, on my second test cast fish on. I just happen to donÕt like those hook come with it

From: Fishkiller01: Yonkers, NY

Comments: Awesome baits. Hooks suck, shouldn't have to replace hooks on a $25 before you fish with it. Only 1 bait broke when my brother smashed it off my powerpole. :)

From: Brian: CT

Comments: I have the pro blue and man this thing catches fish, i just wish they werent so expensive!

From: Jacob: GA

Comments: First trip of 2012 in 38 degree water didn't fare so well for my Vision 110. First cast and I lost the diving bill and a piece of the paint. Only jerked it through a patch of weeds. Very disappointed.

From: Daniel: Spokane, WA

Comments: Great bait for cali, texas, midwest and anywhere. I caught good size 2,3,and 4 lb bass. Action is good can be fished many ways and is nicely made. I caught alot of different species on this bait. It works for all kinds of fish. Its priced for reason because the quality and action. Not like rapala or other U.S. brands. Try one and see for yourself. Tacklewarehouse does very good service. Tacklewarehouse is kind of guys that want you to catch your next lunker. Good fishing!

From: Alex: Kansas

Comments: This is a beautiful bait that performs great, but you would think that Megabass would include a split ring on their baits!! For those who prefer a loop knot, they could always remove the split ring

From: William: Germantown, TN

Comments: Great bait that catches fish when nothing else will. Unfortunately, a very fragile bait too. The 110 is a good enough fish catcher that I can deal deal with its fragility though.

From: Bryan: Ponca City, OK

Comments: I bought one vision 110 earlier this year and now i'm on my seventh one. I have caught plenty of large and smallmouth bass on this thing to make me a believer. Its nice when your friends bet there lures for the most fish including pointer 100sp and Xraps to make your collection bigger because of the vision 110s. The only drawback i have is the kutsage hooks because there very thin so i'll usually swap them out for owner or gamagatsu 2x size 4. My favorite colors are tennessee shad, ghost pro blue, and the megabass sexy shad for most of the lakes I fish in.

From: Mark: MN

Comments: I have won well over $250,000.00 on this bait since its first appearance in 2000 hands down the best rip/jerkbait out there under tough conditions and for the guys breaking the bills learn to accurately cast even in the wind I hit whereever I aim. I still have my original mossback yellow from way back in the day and it has caught well over 500+ fish and it has yet to even show any signs of the bill breaking I have fished behind other teams throwing the other jerkbaits and will say this they dont get too picky for a 110

From: Trey: Virginia

Comments: HARRR-EU-KEN! You deserve a giant donkey punch if you call yoruself a ripbait fisherman and dont fish these. Not for people who refer to them as 'jerkbaits'...those people can stick to the Pointers.

From: Meatwad: The Truth

Comments: Shame on you Megabass for making these too beautiful to fish with, I hate taking mine out :(

From: Chuong: Murrieta, CA

Comments: These jerkbaits produce when the competition can't get bit. Strikes are vicious. I haven't had any issues with broken bills.

From: Joe: Trussville, AL

Comments: Friggin awesome cosmic shad

From: Danny: Milan, TN

Comments: broken bill fella's, stop throwing them on docks, rocks and pontoons, 110's are the best jb on the market

From: Jiggin NJ: 110 county, NJ

Comments: Great bait just not very durable. The bill of the bait broke on about the 10th fish of the day.

From: Bill: Nashville, TN

Comments: I caught at least 100 fish or more on a Megabass last season and used the same lure every time and it lasted a whole season before the bill broke in the fall. Thats 25 cents per fish or less. Well worth the money.

From: Brandon: MO

Comments: good baits and suspend amazing and will catch a lot of fish but very fragile for the money i have 5 broke right now kind of bad after spending $30 a bait

Comments: I have no doubts it catches fish, but like the others have mentioned, after just one lake, the lip is cracked and I'll be lucky to get another tournament out of it. Kind of a headache after spending $26 on it.

From: Caleb: IN

Comments: Don't listen to the haters. This is HANDS DOWN the best jerk bait on the market. There is a reason why they are $25. Megabass is the best.

From: Massachusetts, USA
Comments: I have purchased several of these in the past and have broken the bill on 5 different baits. One of them was on the very first cast. Megabass does not out perform the Lucky Craft line of jerkbaits in my book and definitely doesn't match-up in durability.

From: Dustin: Murray, KY
Comments: Great bait! Pair this with a Ball N Chain jig head and it's deadly!

From: Chris: Central Texas
Comments: I ordered two of these from TW. I broke the bill on both baits the first day out. To their credit, TW refunded my purchase. I will stick with Lucky Craft, they catch fish and are much, much more durable.

From: Kirk: Crossville, TN
Comments: BIG FISH BAIT.

From: Jacob: Indiana, USA
Comments: Best jerkbait ever made PERIOD.

From: Jeff
Comments: Used the HT-ITO Wakasagi and man bass including nothern pikes pounded this bait today! Have to order another because caught more than I have ever caught on a jerk bait! They just pound this lure even when it's cold. Caught my limit with 45 minutes. These are by far the best I've used. I have Rapala, Lucky Craft, and Damiki jerk baits and the 110 surpasses them all. Tomorrow trying out Natural and Blue II.

From: Damian: Minnesota, USA
Comments: Don't worry, you'll make your money back on the first day. Excellent jerk bait, the best.

From: Joe: Massachusetts, USA
Comments:Awesome, probably the best rip bait on the market. They are a little expensive but, well worth the money.
From:Adam: Grover Beach, CA
***Note: If you have questions about this product or need assistance with an order please email your questions to info@tacklewarehouse.com
View Large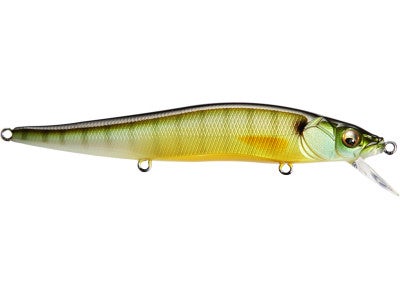 32 Available Colors
More Megabass Jerkbaits