Megabass Ito Vision 110 Magnum SP Jerkbait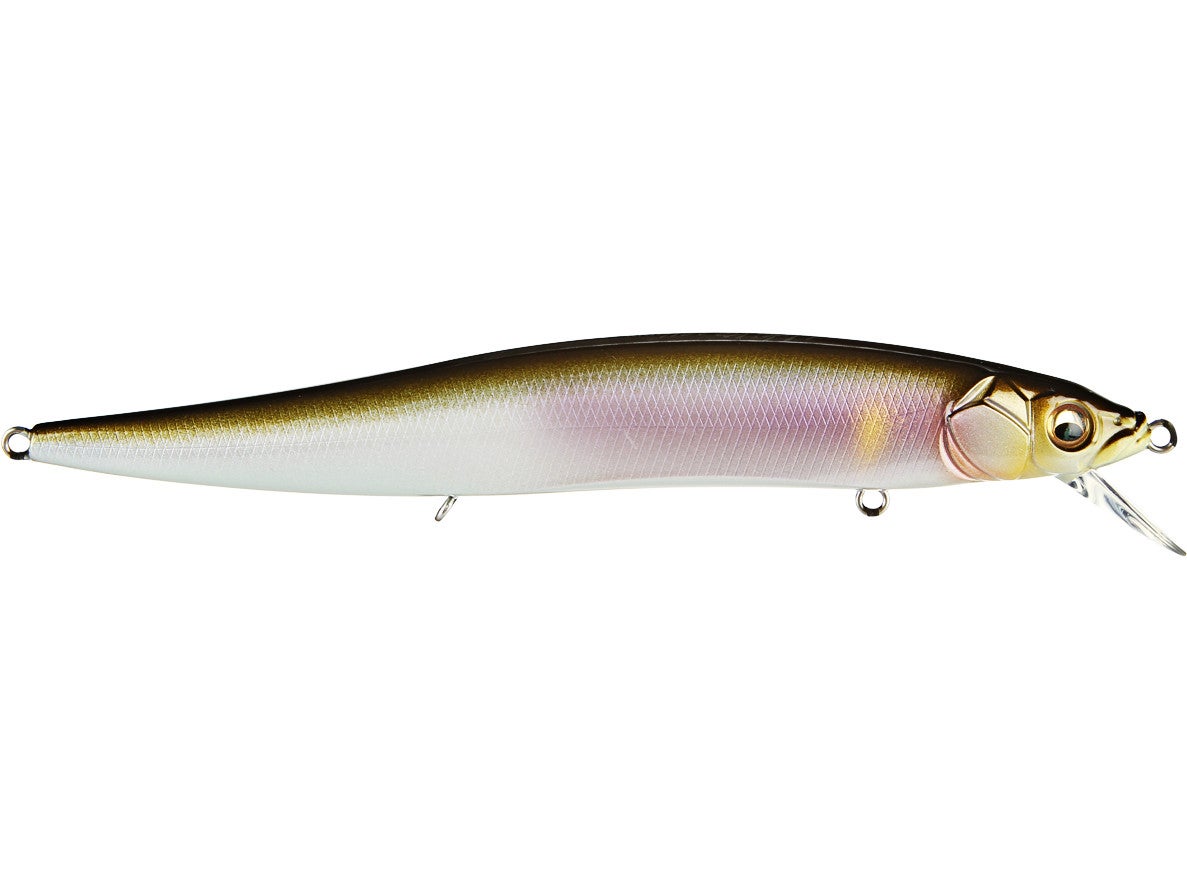 The legend just got bigger. The Megabass Vision 110 Magnum SP builds on the overwhelming success of the Vision ONETEN design in major tournaments around the world. Tuned to float perfectly balanced, it features a redesigned fixed-balancer system in addition to its larger profile. A steady retrieve will get the Magnum down to 4 feet on 10lb test, but the Magnum really starts to prove itself when you are targeting suspended fish at different depths.
With barely noticeable movements of the rod tip, you can get the Magnum to move subtly like a weakened baitfish in the water. Or with strong pulls or rips of your rod, you can get the Magnum to snap back and forth with the large darting action you've come to expect from the original Vision 110.
Tuned to work perfectly right out of the package, the Megabass Vision 110 Magnum SP is an especially deadly jerkbait perfect for pre-spawn situations and colder water.
| | | | |
| --- | --- | --- | --- |
| Megabass | Length | Weight | Class |
| Vision 110 Magnum | 5-1/6" | 5/8oz | Floating |
9 Colors
More From Megabass Jerkbaits
Customer Reviews
Comments: warning! works like hell but bills break easily

From: jerkbait man: ca

Comments: Great lures! I bought 2 of these last year and they worked great. However, I've received 2 of these this year and they FLOAT and DO NOT suspend though the packkage was marked suspend. TW is swapping the lure out and hopefully will get the suspend model.

From: Larry: TN

Comments: when pointers aren't working, i turn to this.... i have caught 25+fish with mine (tenn shad). big fish was 30"

From: Striper Team

Comments: Just like Axl Rose said "All you need is just a lil patience." If you are fishing deep just let it slow sink and do it's thing. If you are fishing shallow you can rip it a lil quicker. Pro Blue baby! If it's cold and deep fish it slow. Two bass thumbs up!

From: Danny: Milan, TN

Comments: just catch bass, crappie, and white bass with pro blue. my best fish was a 4 pound spotted bass.
the lure said it floats but it suspended well for me. maybe its just a really slow floater. it does matter. i still catch a ton of fish with it.

From: Ben: MO

Comments: You used to have to get saltwater Vision 110's if you wanted a suspending Ito Vision, since they would suspend in freshwater. Not anymore!

From: James: Illinois, USA