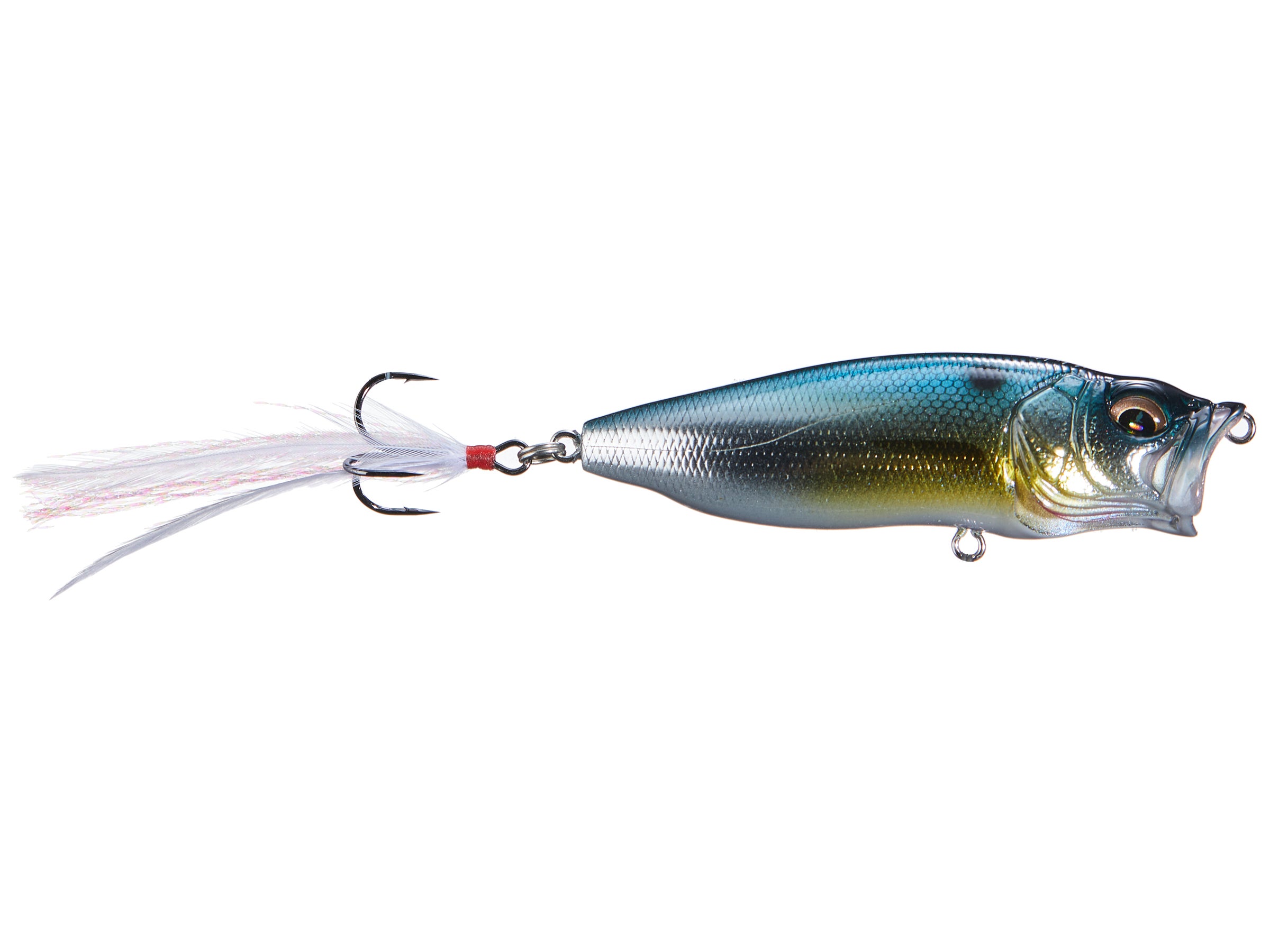 Based on a hand-carved original by Yuki Ito, the Megabass PopMax ups the ante of the well-respected PopX with a larger body, and redesigned gill-system. In addition to the PopX's gill openings that allow for water to pass through and create life-like bubbles, the PopMax also features a unique gill system that consists of six water-intakes and a water chamber. Four intakes channel water through the gills and out to the sides, creating a unique splashing/chugging action on the surface, while two additional intakes channel water into the internal chamber and out below the PopMax. This generates enticing bubbles and a surface disturbance that bass can't resist. The intake system also acts like a lip, utilizing the water pressure that is pushed through the lower chamber to keep the lure from skipping across the water, and helping to keep the lure grounded so it can be worked faster. In addition, when the lure is paused, water flows out of the chamber, causing the PopMax to raise its head and survey its surroundings.
The PopMax can be worked like a conventional popper, and with gentle rod-tip action, the PopMax will roll-walk dynamically, combining the winning elements of both poppers and walking baits. For best results, fish the Megabass PopMax around rocky or riprap banks, over grass beds, or on shallow points early in the morning. Available in a variety of proven Megabass colors, Megabass also recommends fishing the PopMax on 18lb Megabass Dragon Call fishing line.
| | | | |
| --- | --- | --- | --- |
| Megabass | Length | Weight | Class |
| PopMax | 3-1/4" | 1/2oz | Topwater |

Click the logo to view their review.
17 Colors
More From Megabass Topwater Baits
Customer Reviews
Comments: I used the white python color at a local pond & caught an 8lber on it followed by a 3 & a 2. Like the other guy said about the price, I agree. I was hesitant to get a $20 lure (also a teen) but the reviews were good and they look so cool. I'm glad I did too. One of my favorite poppers now and I plan to buy another.
From: Andrew: NC 8/26/16

Comments: This popper is absolutely phenomenal. I've caught 5lb bass on these from morning dawn to the end of the day. Being a teen it's a little hard to come up with $20 just for one lure but I intend on buying a few more. Worth the money.
From: Spencer: NH 7/12/16

Comments: My favorite popper, caught around 30 river smallies in 3 days on it. Great paint job just flat out catches fish. Paint job can chip if banged up against rocks or obviously by fish.
From: Brett: USA 1/2/16

Comments: This popper is by far the best top water bait I have ever thrown. I use pumpkinseed & GG bass & they are phenomenal. However, this is more of a walking bait than a popper, but that doesn't bother me because it still catches the fish. I have been using this bait all summer & it has caught well over 200 bass & it has held up great!
From: Richard: St. Louis, MO 12/19/15

Comments: Another go-to bait in my tacklebag. unbelieveable detail to bring out that realistic look. Throwing the Pumpkinseed color. nothing better than a top water blow up!
From: Jason: WI 9/13/15

Comments: I love fishing topwater and invested in the pop max in the French pearl color. It is a DECENT popper. It will catch fish but don't expect to be able to work this bait fast even when trying to walk it. For some reason, it wants to jump out of the water when chugging. Also, this bait is terrible fishing in any current. The bait wants to sink when trying to work it. Bottom line, I would think really hard before purchasing another one of these because I believe there are better poppers for less money such as a zell pop or a g-splash.
From: Drew: AL 7/30/15

Comments: Great bait. Good finish, easy to work with a great sound & the fish really like it. Doesn't catch as many fish as a Rico popper, but the fish it gets seem to be larger which is to be expected when stepping up to a magnum popper.
From: Steve: MD 6/2/15

Comments: I have two of these lures amazing pop to it, I'm a young angler and I got this lure but, I got my uncles to buy one of these, and they absolutely love these lure, I get slammed on these, I love MegaBass reliable quality, Definitely buying more MegaBass
From: Austin: Midlothian, VA 1/11/15

Comments: this is my go to for top water.this thing not only catches bass but the stripers boil for this thing..i use the bass colors and tend to work this bait very fast works better for me
From: Chad: Rancho Cucamonga, CA 9/17/14

Comments: Amazing.. I didn't want to like this bait as I personally think Megabass charges too much for a bait. Boy I was wrong though! First outing and got 4.25lb bass out in Northern Illinois lake, which is brutally tough due to bucket heads. Great great action paired with highest quality paint job. I will definitely need to try out the xpod jr as well! oh and it casts SUPER! Give it a shot if you're not close to me ;)

From: Toshiya: Elk Grove Village, IL
Comments: Great bait! it pop very good, but it walks effortlessly. You get what you pay for with this bait. First time out got a 4lber. This pooper will put other poppers to shame.

From: Ryan: USA

Comments: The best top water popper that ever will be made..Im catching bass after bass of big south fl largemouths some as soon as it hits the water...i got the chartruse back bass color and its killing them..best paint...best multi action popper on the market...

From: Lee: FL

Comments: GREAT lure! I have used it on about 5 trips and I have caught several big bass and a ton of otheres. The biggest I have caught on it so far was a 6lb'er. I have the PM Gill color and it comes with a chartruse trailer feather and it just gets hits, its that simple.

From: Casey: East Texas

Comments: My favorite work of art from Yuki Ito. The best popper I've ever used.

From: Tom: Rome, NY

Comments: Hard to find lure, bought one on an expo in Michigan, best top water plug ever...masterpiece!

From: David: Leon, GTO, MX

Comments: I LOVE THIS BAIT!!! One of the best topwater lures out there, you can walk the dog with it, and impart some crazy action out of it when you play around with it!! Just lost one tonight to a very big Northern Pike!! Awsome bait. Up north use leaders!! And yes, they catch big bass too!!

From: Mr. Bond: East Lansing, MI
Comments: These are the best topwater baits you can buy! Help me to land a 7lb bass on the third cast of the day.

From: Tim: Bethlehem, GA