Megabass X-80 TD Trick Darter - $17.99 to $22.99
Since it's introduction to the US market in the mid nineties, Megabass has gained a very loyal following among touring pros and the rest of us. Megabass has developed a reputation as being the most active baits in their class and, more important, the most natural actions as well. Each Megabass bait was designed and the prototype hand-carved by the master Japanese lure maker, Yuki Ito. The internal structure of Megabass lures is different than anything else on the market today; the external walls are thinner but completely supported by internal supports and each class of bait utilizes unique Moving Balancers that create the erratic action bass can't resist. The finishes on Megabass lures are unique as well. To give the most life-like look Megabass gives each bait numerous coats of paint that blend to make the color perfect and don't exhibit a sharp line from one color to the next but blend and fade into each other like in real life. All these features makes Megabass the leader in lure development and one of the 'secrets' that win some big money all over the US.
| | | | |
| --- | --- | --- | --- |
| Megabass | Length | Weight | Class |
| X-80 TD | 3" | 3/8oz | Suspending |
Comments: This is a much better product now that they removed the rattles and put a gloss finish on them. They seem to be much more durable as well... and still the easiest walking frog out there. The new leopard yellow color is sexier then the old chartreuse yellow, will def. be trying that one out come Spring.

From: Robert: Battle Creek , MI

Comments: To be honest with you, I don't like Megabass because of their way to "branding" the company - it is too much like cult to me. However, I use some certain lures made by them - Top water baits and rip baits. I have been using X80 Trick darter for about 5 years - way before TW started to sell, and I own a dozen of them. I have to say that this bait is one of the best small rip baits available today. The way they move is pretty tricky - goes left and right, up and down, etc. Too bad it's no longer my secret bait.

From: Jade: SoCal

Comments: This is a great little jerkbait. I threw it quite a bit this spring and I caught alot of quality fish. The bill seems to be plenty durable while bumping off structure, but I did crack one of them (the seam) after I threw it on the rocks. Overall, it has a place in any jerkbait fanatic's box....

From: Randy: Kansas

***Note: If you have questions about this product or need assistance with an order please email your questions to info@tacklewarehouse.com
View Large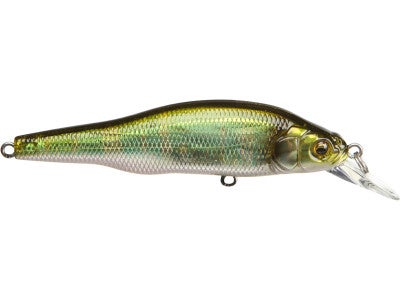 13 Available Colors