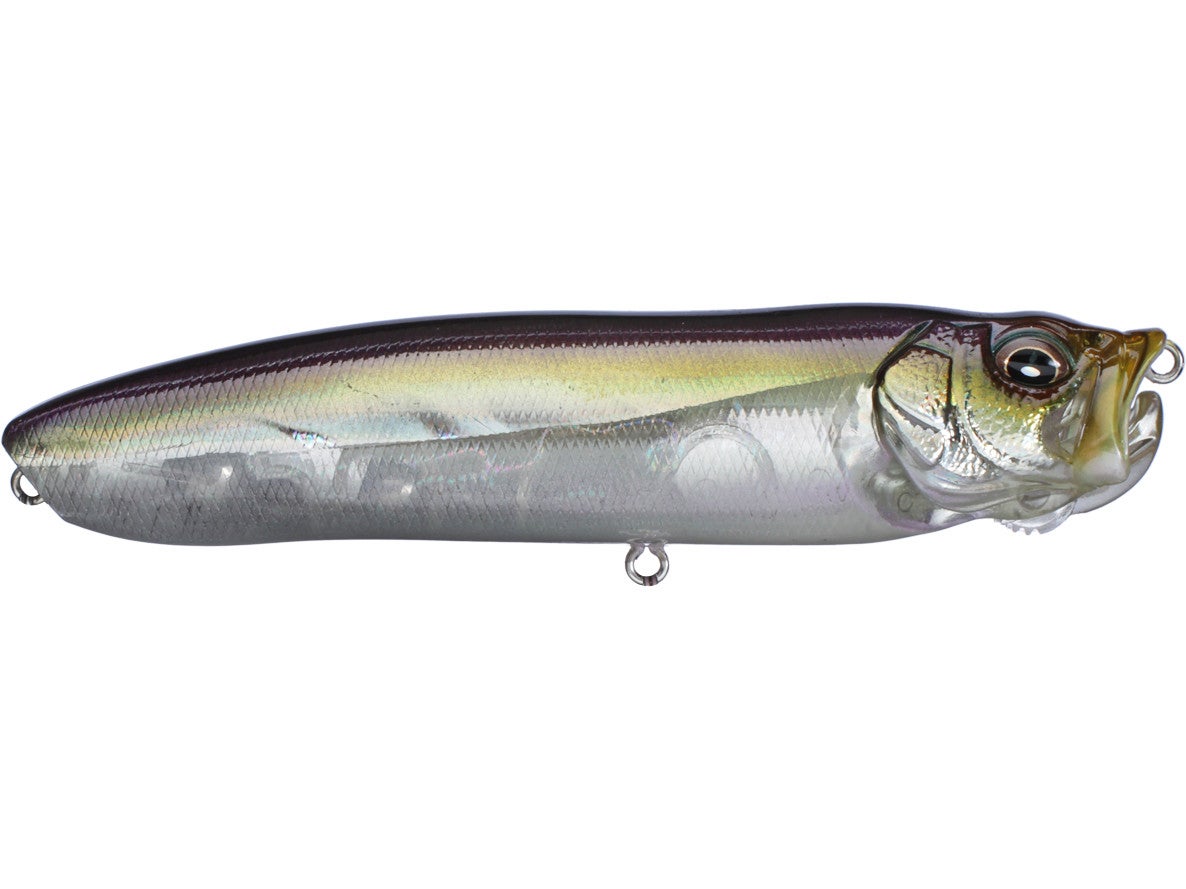 The Megabass X-Pod is the most unique, cutting-edge top-water lure to hit the market in years. While the strike-inducing profile and impeccable attention to detail might be the first thing that draws your eye to the X-Pod, its truly revolutionary feature lies in its adjustable lip. With seven distinct positions, the lip allows the angler to tune the X-Pod to each day's unique fishing situation so you always have the perfect amount of surface disturbance. From a calm day where little surface splash is needed, to choppy, windy conditions, the X-Pod's unique lip can be cranked open to handle the finicky feeding habits of bass.
Combining the walking-style of the legendary Giant Dog-X with the top-water action of the renowned PopMax, the Megabass X Pod creates an irresistible action and surface disturbance that draws fish from greater distances than ever before. For best results, fish the Megabass X-Pod on cloudy days or early mornings around points and flat banks. Available in a range of deadly Megabass colors, Megabass also recommends fishing the X Pod on 20lb Megabass Dragon Call fishing line.
Key Features:
*Position 1: Pencil Bait (roll walker mode)
*Position 2: Pencil Popper
*Position 3: Active Popper
*Position 4: Diving Popper / Splash Mode
*Position 5: Same actions as "Position 5" but dives deeper and throws more water
*Position 6: Darting Swimbait Mode
*"Secret Position": More Active Swimbait Mode & Pivot/Turn walking action
Check out the Megabass Japan site to see how the different positions change the action. Click "Action Mode Manual" to see the videos.
| | | | |
| --- | --- | --- | --- |
| Megabass | Length | Weight | Class |
| XPod | 4-1/4" | 3/4oz | Topwater |
5 Colors
More From Megabass Topwater Baits
Customer Reviews
Comments: If you spend the money on Megabass, you're rarely going to be disappointed. The finishes are @ THE top of the industry, the designs are amazing, the details, etc...top of the LINE. The X-Pod has a clickable lip that claims to drastically change it's action depending on where the lip is. The site claims being able to go from "Walk to the dog" w/ lip shut, all the way to a "swimbait/jerkbait" w/ lip on widest opening. This is NOT the case- BUT BUT BUT...It claims 5 or 6 actions...That's an exaggeration but w/ the lip shut it is one of the coolest and easiest walking baits out there w/ unique sound and splash. With the lip clicked one click more open u get maybe a tiny more splash, nothing drastic...same w/ the 3rd click open...4th click open u get significantly more splash and it turns to a LC Gunfish or Heddon Chug'n'Spook-type bait. Still easy to walk with a nice splash. Now another click claims it will turn it into a straight popper/pencil popper...Not really...This bait is engineered to walk and wants to do exactly that. So in the "popper" mode it's possible to work it straight and make it spit but I'd never opt to use it for this method over an actual popper. The Lowest lip position claims it turns it into an "errattic swimbait" or something...NOPE. It doesnt do much but ruin the action and if reeled very fast, it indeed goes about 1 foot deep and has a lazy, mediocre side-to-side "swim". I would absolutely never use it for this or on this setting. Overall, I do love this bait. It's worth it. Just dont expect 6 incredibly different actions. It's just an EXCELLENT walk the dog bait that you can quickly, and easily tune to splash/pop more and make more or less commotion. I'd say it's 3 baits in 1 @ best but who cares...the thing flat WORKS and you can see the engineering and development that went into it. And it really just flat out catches fish...

From: Tanner: Southeastern, Massachusetts

Comments: the one thing I was a bit worried about was the lip. NO NEED TO WORRY. It clicks really hard from one position to another. It will not change positions during casting or retrieves.

From: Jordan: Rock Island, IL

Comments: This is a pretty awesome bait. I was surprised to see how well it worked in each mode. There is a cool review with video of the XPOD on tipsnbass.com.

From: Tom: Crown Point, IN