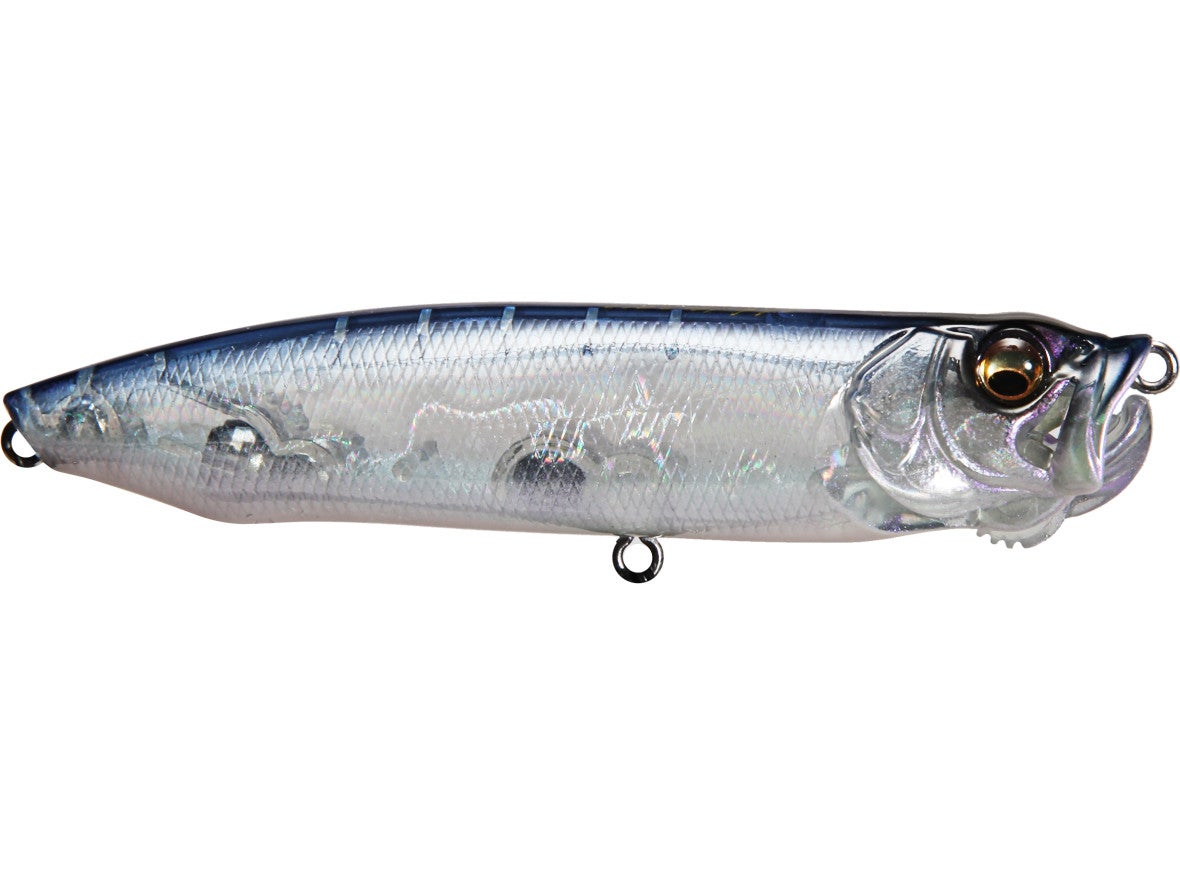 Featuring the same strike-inducing profile, transforming lip, one-knocker system, and PopMax-inspired Hydrodynamic gills, the Megabass X Pod Jr packs the punch of the original XPOD into a 3.5-inch frame. The smaller size is perfect for pressured conditions and those times when bass are keying on smaller baitfish. The Megabass X Pod Jr also features seven distinct lip positions, which allow this versatile topwater plug to walk the dog, chug on the surface, or act as a shallow sub-surface swimbait. Most importantly, the moveable lip allows you to tune the X Pod Jr to each day's unique fishing situation for the perfect amount of surface disturbance. From a calm day where little surface splash is needed, to conditions that become choppier as the wind picks up, the X Pod Jr's durable lip can be cranked open to handle both changing weather conditions and the finicky feeding habits of bass. Imagine combining the walking-style of the legendary Giant Dog-X and the top-water action of the renowned PopMax - that's the Megabass X Pod Jr.
| | | | |
| --- | --- | --- | --- |
| Megabass | Length | Weight | Class |
| X Pod Jr | 3-1/2" | 1/2oz | Topwater |
6 Colors
More From Megabass Topwater Baits
Customer Reviews
Comments: this bait is well worth the money slow twitch twice let it sit for a second then repeat...and Bam they will nail it..catch stripers and large mouth on this thing..great fall lure
From: Chad: Rancho, CA 10/22/14

Comments: I've caught so many freakin bass on this thing. Don't be a wuss over the price, buy it, catch a ton of huge bass on it, and have fun. If you're worried about losing it, throw it on some 20# mono. Problem solved. Highly recommend the GG bass and pumpkinseed colors.
From: Rhett: Oak Lawn, IL 6/30/14

Comments: This lure is a great all around lure. Walk it, pop it, or wake bait. Does it have 7 different actions? No. However, the bass can resist this slender baitfish. The detail and paint are 10/10 as expected from Megabass. I would highly reccomend at least having one of these in your tacklebox.

From: David: Maryland, USA

Comments: MY REVIEW FOR THE Regular/original size X-POD...this is the same bait just a little smaller so I hope this is helpful and useful:
If you spend the money on Megabass, you're rarely going to be disappointed. The finishes are @ THE top of the industry, the designs are amazing, the details, etc...top of the LINE. The X-Pod has a clickable lip that claims to drastically change it's action depending on where the lip is. The site claims being able to go from "Walk to the dog" w/ lip shut, all the way to a "swimbait/jerkbait" w/ lip on widest opening. This is NOT the case- BUT BUT BUT...It claims 5 or 6 actions...That's an exaggeration but w/ the lip shut it is one of the coolest and easiest walking baits out there w/ unique sound and splash. With the lip clicked one click more open u get maybe a tiny more splash, nothing drastic...same w/ the 3rd click open...4th click open u get significantly more splash and it turns to a LC Gunfish or Heddon Chug'n'Spook-type bait. Still easy to walk with a nice splash. Now another click claims it will turn it into a straight popper/pencil popper...Not really...This bait is engineered to walk and wants to do exactly that. So in the "popper" mode it's possible to work it straight and make it spit but I'd never opt to use it for this method over an actual popper. The Lowest lip position claims it turns it into an "errattic swimbait" or something...NOPE. It doesnt do much but ruin the action and if reeled very fast, it indeed goes about 1 foot deep and has a lazy, mediocre side-to-side "swim". I would absolutely never use it for this or on this setting. Overall, I do love this bait. It's worth it. Just dont expect 6 incredibly different actions. It's just an EXCELLENT walk the dog bait that you can quickly, and easily tune to splash/pop more and make more or less commotion. I'd say it's 3 baits in 1 @ best but who cares...the thing flat WORKS and you can see the engineering and development that went into it. And it really just flat out catches fish...

From: Tanner: Southeastern, MA