Megastrike StrikeBack Colorado Willow Spinnerbait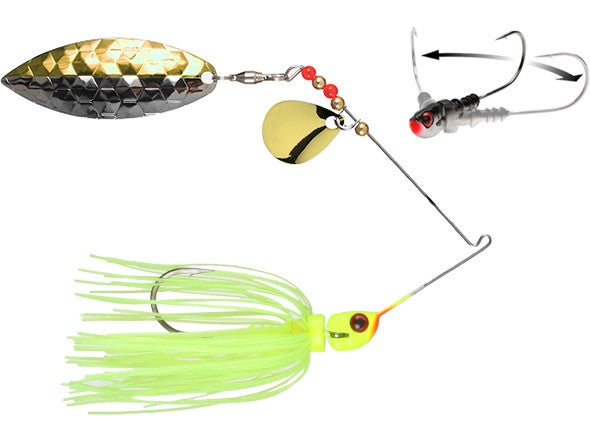 The StrikeBack Spinnerbait by Megastrike allows for a much deeper hookset than standard spinnerbaits because of the freedom in movement of the hook. No matter what direction a fish attacks the StrikeBack Spinnerbait, the hook or tail section will move freely as it is being inhaled.
There are several reasons why Megastrike designed the StrikeBack Spinnerbait's mid section to be jointed. With the head being stationary and the tail section being loose, the bait will vibrate more than a solid bodied spinner bait. With the StrikeBack Spinnerbait, the tail section swings freely 180 degrees and the fish inhales just the hook section into its mouth. When the bass gets hooked—it will instinctively jump to try to dislodge the bait. If the bait is in one piece and is stationary, this allows the bait to have the leverage to be thrown.
4 Colors
More From Megastrike Spinnerbaits
Customer Reviews
Comments: This spinnerbait caught me a lot of fish, but as others have stated the durability is not there. Wire kept bending after every fish, and the band holding the skirt together just crumbled in my hands after the 3rd day fishing.
From: Kim T 2/11/17
Comments: Thank you for the reviews-I am Bobby Uhrig President of Megastrike Inc. We always strive to produce the highest quality fishing products available. I like to think outside the box. These are light wire spinner baits designed for vibration. What I would like to say is I use only the highest quality stainless steel wires available. We use the highest quality components as well. As for the tarnishing of brass beater blades(the small ones) We recently went and added another step to lacquer the blades -The tarnish is caused by the L-Serine acid on fingers that are touching the blades while assembling or fishing with them It wont happen any longer. As for the wires breaking -I don't know why that happened -I use these all of the time-Are you using braid??/ I will check into the issue. If there are any questions please do not hesitate to ask me directly. You can email me at bobby@megastrike.com Thank you again for your support
From: Bobby Uhrig: USA 8/27/14

Comments: I have to admit this spinnerbait does catch fish but the only thing is after about 2 or 3 fish the wire gets bent straight and when you try to bend it back it breaks. I've gone through 3 of these now and they keep breaking. Anyway of making the wire stronger or with better material?

From: JL: Korea

Comments: This is the best spinner bait i have used so far. i had to buy a few more. Fished with it at lake O in Fl. it was the only thing catching them last week. the blue worked best for me.

From: Mike: Boca Raton, FL

Comments: Wire bends easy, but the jointed head definitely keeps fat fish from throwing the hook. I just hauled in one very fighting 5 lber who jumped three times and the hook stayed in there real good. But like I said, durability isn't exactly there with this bait especially for 8 bucks.

From: Alex: O'Fallon, MO

Comments: This bait works very good and have caught many fish on it although it does tangle and bend out of shape more than others and i don't swing fish over 2.5 lbs.. I did have some tarnishing of the blades on the chartreuse right out of package....called company and had to jump through many hoops to supply pictures, and than eventually ship them back (did get my postage reimbursed though), new ones came back and also had same tarnish, maybe not as big of a deal, but for 8 bucks, the bait better be mint , at least till i wet it...

From: John: Niagara Falls

Comments: one of the best spinnerbaits ive ever thrown the only spinnerbaits that i throw. Only down fall is wire breaks after catch to many bass /pike/ muskie.

From: Vang Yang: Roseville, MI

Comments: I have thrown this style exclusively for a year and have not had to straighten out the wire yet. The swivel absorbs all the torque when fighting a fish.

From: D.H. Brainerd, MN

Comments: caught a 3 pounder on my second cast trying this spinner bait out... the lost it when I got it tangled up deep in a tree. I need another 2 or 3 :-)

From: Ivan: Oakdale, Ca

Comments: Great lure. This lure has alot of action, :)

From: Steven: Fort Worth, TX