Mike Shaw's MS Mini Slammer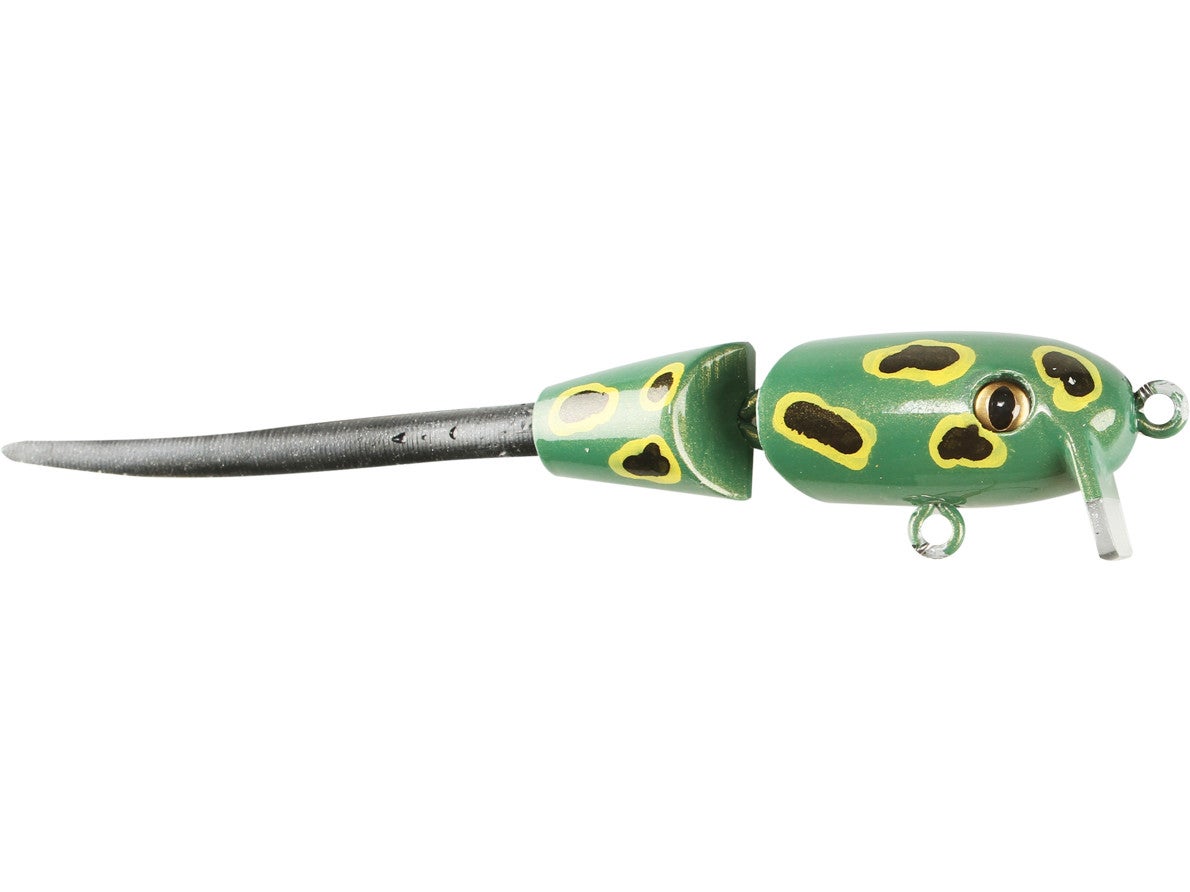 The Mini Slammer is the latest addition to the Slammer family. This surface plug has a 4-1/4" body and measures 9-1/2" including the tail. Weighing in it at only 1.25oz the Mini Slammer can be cast on standard bass equipment and is great for kids and beginners who want to get into big bait fishing without the tiring effects of casting and retrieving larger lures.
The tail on the Mini Slammer is soft plastic and can be replaced with a 6" plastic worm.
| | | | | |
| --- | --- | --- | --- | --- |
| Mike Shaw's | Body Length | Total Length | Weight | Class |
| Mini Slammer | 4-1/4" | 9-1/2" | 1-1/4oz | Wake Bait |
7 Colors
More From MS Slammer Swimbaits
Customer Reviews
Comments: I just used this bait for the very first time and I am already completely satisfied with my purchase! it has great snake-like action when retrieved slowly, and awesome walk the dog action as well. when retrieved at the right speed or walked the wooden sides nock together for some extra noise. however, you can also work this bait silently! the diving lip makes it extremely weedless which allows the bait to roll over log and around logs. it sits perfectly in the water, just low enough so that if there is junk on the surface, it will come right through with ease. unlike a zara spook would do. well worth the money & definitely a Winner!
From: Timothy: Rohnert Park, CA 12/14/15

Comments: Caught personal best about three hours ago at twilight. Black Beauty color in stained water, heavily pressured lake with low water level. Looks like a rat swimming in water. Worked well with my heaviest set up which isn't that big; St Croix Legend Extreme 7'6" medium heavy, fast action, lure weight up to 1 and 1/4, Shimano Curado 7:01 with 20 lb P-Line Fouro.

From: Frank: Bakersfield, CA

Comments: Gonna reiterate on my post below from well over a year ago or more I'd say...This bait is AMAZING. If you want the advantage of a swimbait without having to buy a whole swimbait rig and gear...this is it. If you want a swimbait that's perfect for tournament situations when you have a solid limit and want that one big bite for a kicker...this is it. If you want a swimbait that is AMAZING for smallmouth bass...this is it. If you want the best nighttime topwater for ANY size bass...this is it. At night it just makes a good solid fat target, a seductive knock (of the joints hitting eachother) like no other and the fish don't short-strike it because it's a large, easy, slow moving target. All size fish will bite this at night but so will the hawgs. This has gotten me quite a few "kicker" fish in tournaments. It's also gotten me 2 "lunker" pool wins. The baby bass color. I have a custom golden shiner-black one for night-time fishing. You can easily attach any worm you want on the tail. I usually use a hag's tornado worm for even more vibration @ night or just any old straight worm. Even though the body isn't that big, the added tail gives it a larger look. The ONLY downside (that I believe one of the posters below is speaking of) is that SOMETIMES Mike's baits can be a bit inconsistent and not run totally straight out-of-the-box...but they're usually easily tuned. Take some pliars and make sure the two mid-body joint rings are STRAIGHT...if not twist them so they are. Then make sure the nose line/snap tie is straight...if not...twist it or bend it straight. I've had one 7" slammer run sideways but tuned it up and fixed it. If this doesn't "do the trick" then absolutely contact Mike Shaw. He's a super cool guy and very easy-going and believes in his baits and quality control...he WILL replace it or fix it for sure.

From: Tanner: Southeastern, MA

Comments: Best night bait period...seen a few night tourneys won on it and almost always call in a fatty at night w/ it.

From: Tanner: Cape Cod, MA

Comments: im not very impressed honestly, doesnt wake very well when cast along ways away and only starts waking closer to the boat even if the line is out of the water, slow or fast, it goes subsurface alot when i dont want it to. also one of the ones i have the front half of the body floats normal but the back half tends to float and swim on its side.

Comments: good lure but i ordered 2 of them and one of them was bluegill color but the one that was sent looks different than any one of them on pictured here, it actually looks more like the perch. i got the bluegill because it was the only one in stock with a white bottom and now i got one that is all orange on the bottom, the orange goes almost although way up to the lures eye level.. not worth trying to send back to TW.....

From: James: Ft Polk, LA

Comments: I GOT 14 BASS ON IT ALL OVER 3LBS AT LEAST...THROW IT ON A DOBYNS 7'6 SWIMBAIT ROD, WITH ABU GARCIA STX WITH EITHER 15-20 LB FLOURO OR 50-65LB BRAID

From: Greg: CA

Comments: i have this bait in white, and its my top secret topwater bait for weedlines during the day, and sometimes ill change it up by adding some black tape and red holographic tape to it .either way this bait gets slammed (no pun intended). well worth the money. ill also change up the tail at times with a forktail worm or a big fat grub with a long tail that gives the bait a more side to side swim motion.

From: Sam: Orland Park, IL
Comments: This bait is crazy, I took it out for the first time, landed 4 bass, one over 20" and the others 16" to 18". That might not sound like much to the Californa guys but they're good bass for Rhode Island. Worked slowly across the top with an occasional stop n twich the Mini is irresistable to big bass. Well worth the money.

From: Dave: Rhode Island, USA