Missile Baits D Bomb - $3.99 to $12.99
TW Exclusive Colors: Green Pumpkin Watermelon, June Blue Bug, Melon Cinnamon Purple & Oxblood Red Flk
Pitching and flipping has a new go-to bait. The Missile Baits D Bomb is a bulky 4" creature bait with a unique, ribbed body designed to displace lots of water, resulting in a straight fall. The tails sail when left connected or flap wildly when separated. The body is thinner where the hook comes out for easy hook sets, but has a thicker head so the bait stays on the hook.
Missile Baits is a small company dedicated to creating serious soft plastic baits to help anglers catch more fish. Straight off the top-level professional bass tour, and out of the head of Bassmaster Elite Series standout, John Crews, each bait is uniquely designed and thoroughly tested to ensure it is just right. When you pick a bag of Missile Baits D-Bombs or any Missile bait, know they are being fished in the world's biggest bass tournaments when only the best will cut it.
"Welcome to the next level of pro-designed, serious soft plastics. We love catching fish, and want to help you catch more." - Bassmaster Elite Series pro, John Crews.

Click on the logo to read their review.
Comments: This thing simply catches fish. Punching in the cal delta with this thing is killer!!! Caught my biggest punch fish to date with this bait and paycheck punch skirt, the fish crunched it and almost lifted me off the deck after I set the hook. Bass flat out eat the D bomb!
From: Ricky: Hercules, CA 10/10/14

Comments: Missle baits catch fish! If you don't believe in these baits you should. We have won many tournaments off these baits and blown out so,e tournaments thanks to these baits. The thin ribbed body and the stretchy plastic allow for fishing thick cover or punching. If you haven't used these baits just buy a pack of green pumpkin and hang on tight, you won't be let down!
From: Wisconsin Angling Outdoors: WI 9/29/14

Comments: What a fantastic beaver, the smallmouth just devour these and the largemouth annihilate them. I was once a doubter about the effctivness of these soft plastics because of reviews I have seen, however, after seeing and using them first hand they are amazing.
From: Jay: USA 8/2/14

Comments: This bait is by far the best plastic I have ever used! I can throw a beaver or a jig all day long and not catch half as many as I could have with the Missle D Bomb.
From: Mason: USA 7/12/14

Comments: After 15-17 bags of these, I am starting to notice a lack of quality control. Sometimes, the dark color of the bait is just a strip. This bugs me, and I consider that bait trash. It's a confidence thing. I had a WHOLE pack with this problem, which isn't cool at all. Cmon John and the gang...these mofos ain't cheap.
From: Jay6: USA 6/15/14

Comments: Great bait. Love using this on a biffle head and comes through cover easily. Super soft not only imparts great action but also makes for better hook up rates because it allows the hook to penetrate better than harder soft plastics. As far as durability I don't think it's bad at all. I skin hook the point back into the ribs and it works great. Can catch 5 or more fish per bait if you just flip it over from time to time and re-rig it on the opposite side. Any soft plastic that stands up to 5 or more fish is more than fair I think. I would say it's just as durable as a RI Sweet Beaver or Zoom Brush Hog. These really are super baits.
From: Brett: St. Louis, MO 5/19/14

Comments: These baits are D Bomb!!! I went bass fishing VERY early this spring. Just after opening day here in Wisconsin(May 3). I was using all of my summer bass baits and was not catching anything so I pulled these things out to give them a try. When I tied it on my buddy stared laughing at me but I said that these were my secret bait but he didn't believe me. First cast and BOOM! I landed a nice 3lb largemouth near the bank. I continued to use it for the next 20 min or so before we got off the lake and caught 2 other nice 2+lb bass. Tie these things on as a trailer of a dirty jigs swim jig in war mouth at 3/8 or 1/2 and you will not be disappointed. I like the watermelon red or the super bug.
From: Ryan: WI 5/10/14

Comments: Fish the Big O with these last January. Best 5 on first day weighed 38.65lbs 2nd day best 5 weighed 35.87lbs. Stuck 23 fish over 7 pounds in 5 days. Stuck 8 over 9 pounds and 3 over 10 pounds.
Used a DBomb and a 1.5oz Flippin Jig around Tilapia Beds just like Ish Monroe does. Epic Bait.

From: Richard: Saint Francis, MN

Comments: D Bomb is simply DA BOMB!! With its perfect ribbed-texture, color selections, actions, dulability and most importantly - BIG BASS CATCHING ABILITY, the D Bomb became one of my favorite plastics ever! I often use it as a jig trailer, but punch rig works great too! Thanks Missile Baits!

From: Capt. Shark: Duluth, MN

Comments: 25 pack of super bug PLEASE! Tired of buying 10 packs at a time! IMO best flipping pitching bait out! I iust go through alot and want bulk bags. Not unusual to go through a bag a day but then again catching over 20 fish uses some plastic!

From: RHobbs: WA

Comments: Caught a bass on this bait the very first time I used it. A small one but a bass nonetheless. I fished at a pond near my house where I haven't caught anything as long as I've been fishing at this pond and I've used every kinda bait that I have.. The second I put this D Bomb on a Texas rig BAM!!! FISH!ON!! Get you some of these they work. Bruiser Flash baby... I will be getting me a Large bag of those..

From: Dalton: Swansea, MA, USA

Comments: Caught me a few slounches on this thing plz try

From: Kris: spartanburg

Comments: Wow. One of my go to lures now. Put it on the back of a jig or texas rig it. Has great action. The negatives? Without a bait keeper, they are difficult to keep on hook and they do not last long (you can still catch bass after they are torn up though!). I can't wait until I order the 25 pack of Candy Grass, well worth it!

From: Kyle: Touchdown City, Morgantown WV

Comments: I now have a new favorite flipping bait. It has great action. They are a bit soft though. Use a hook with a bait keeper and maybe they will last longer.

From: Blue Perch: WI

Comments: This is one of my new go to baits..when its tough they always seem to hit THIS bait..love it!!!!!!

From: Tim: Rogersville,TN

Comments: D bomb is the bomb. I caught 18 bass with just one lure. I was using it as a jig trail, and I just kept on cutting it down after the top got ripped up. Before I finally lost the lure. I had it rigged like a zoom super chunk.

From: Ben
Comments: This is one of the best soft plastics I have ever fished with and they last. The first time I held a D Bomb I wanted to bite it. They are soft and the fish hang on to them.

From: CJ: Boise, Idaho

Comments: D bomb in the house. ..this bait is killer..that all I have to say about that...

From: Skyline: greenfield wi

Comments: Fished 3 tourneys with the D-Bombs on Lake Guntersville and Wheeler Lake. Saw a 7.2 lb on Wheeler, and caught ten 5 lb plus on 2 tourneys on Guntersville. Fished them with a snelled Trokar Flipping hook 4/0, and a tungsten weight. Made long casts and within 8 feet of retrieve, got nailed each time. Great durability too. 4 to 5 fish on each bait!!! Grass is just a foot below the surface on Guntersville. Can't wait to start punching when the grass finally does get on the surface.

From: Pete: Decatur, AL

Comments: Awesome Bait! I tried these baits for the first time during a club tournament. I punched this bait using the "love bug" color in heavy grass with a 1 ounze weight. On the second flip, I caught a 5.08 bass, which won me the big fish for the day. These baits are extremely soft but very durable. Hate to tell ya Ryan, but these just aren't another beaver style bait, they're better! Great job on the design!

From: Tom: N. Charleston, SC

Comments: Da bomb!! Got mine the other day with some punching gear and had to try em out even though it was raining heavy outside. The water i was fishing was flooded but the mats stayed on top for the most part. First mat i punched i hopped it one time as soon as it hit bottom and it got slammed by a 5.5 lber which is a good fish for NW Indiana. I think the ribbed body really does displace alot of water and its very soft. Its really easy to rig also with the ribs. My new Beaver style baitbfor sure!!

From: Jeff: Rensselaer, IN

Comments: boom goes the d bomb... in a fish ... shut up its not stupid lol... no for real these are killer as punch baits, bed baits, on the back of a flip jig, my favrite is a manns stone jig with a d bomb both green pumpkin ask my 5.5#er about it... or just texas rig with a pegged weight. best beavers out there. good luck and may the force be with you, always.

From: Michael: san jose, CA

Comments: These are sick. Way better than any other beaver style baits

From: J-Dog!!: Droppin Bombs on em!!
Comments: I took them to the BIG O and Stuck a 7lb12oz 6lb 4oz and 4lb 12oz Great Bait and they hold up well.

From: Kane: Norfolk, VA

Comments: Went fishing today and threw a jig all day.Okeechobee Craw color jig with a reaction innovations beaver in dirty sanchez..nothing. Switched out the trailer with a D Bomb in watermelon red and within 3 casts caught a nice 2lber. Great Bait and Great price. I love them. my new go to jig trailer!

From: Giuliano: San Jose, CA
Comments: Don't get to excited people. It's just another beaver. An over priced one at that.

From: Ryan: Dallas

Comments: Ok, so these things came in today (ordered Candy Grass) and I couldn't wait for the weekend so I grabbed my tackle box, threw these in there and headed out to my 2 acre pond, possibly going to try them out. Threw my omega stucture jig with a reaction innovations 4.20, nothing: threw top water, pop-R, spro frog, nothing: threw a big bite baits tube, nothing. Why not, Texas rigged these bad boys and I kid you not, 2 minutes later caught a 1 pounder, later on caught a 4.3 pounder used my de-liar (scale), then caught a 5.2 pounder, and at least four 1.5-2.0 pounders throughout the day. Oh btw, all on ONE bait, but by the end of the day there was no hope for it to be used again.. Bottom line these things are my new go to bait, and they're pretty durable if you're willing to keep them on the hook any way you can, trust me they still catch fish even when they've been thrashed and burned by fish.

Comments: Great bait. Candy grass and love bug are awesome. One of the baits that I will always have tied on. They last a long longer than other baits and do not tear easily.

From: Tom: IL

Comments: Sexy. Durable. More action than a lot lizard. They rock.

From: Meatwad: sick of u

Comments: I wanted to try something new. Bought ONE pack of these and I am impressed how well these things work. The durability is AMAZING. I caught big bass after big bass on this bait. The only reason why I had to put a new D-Bomb on was because Northern pike seem to love these things as well.

From: Peter: MN

Comments: Oh. My. Gosh. This bait is the real deal. It catches fish like nothing ive ever seen plastics wise. Rigged weightless it has the most tantalizing fall - nothing can resist. The durablilty is simply unbleivable. I kid you not, I got at least 18-20 bass per BAIT. I used 5 other brands of beaver style baits in the same day where I was killing them on these and couldnt even get a limit with the others. Buy the D-bomb. You will NEVER want to go back.

From: Cobi: MI

Comments: Absolutely amazing bait. One of the softest soft plastic baits I have ever held. Flip it, pitch it, swim it, punch it. Very durable for being as soft as it is. Do yourselves a favor. Buy these, I promise you won't regret it.

From: Texas

Comments: Gave away a gallon size freezer bag full of beaver baits and replaced them in all flavors (colors) of these things. Damn talk about durable, I like to use the Gambler Ratlin' Goop weights with them on a 2/0 Gamakatsu braided line off set worm hook on 25lb. test Seagar Abraz-X. That setup works pretty good when the bass are a little line shy of the noise that braid makes when you're flipping around grass and wood.

From: LJ: Sacramento

Comments: Can't say enough good things about this bait. Super soft, tons of scent and swims when you reel it in. My new go to punch and flippin bait. Golden Amber is a river killer. You will not be disappointed.

From: Bob: VA

Comments: One of the better beaver baits on the market. The tails do actually float and give off good action! I punch it through mats with great success. They're very durable with up to 4 fish per bait. I like the ribbed body too. Bruiser Flash and Candy Grass are the best colors in my opinion.

From: Nathan: IL

Comments: Whacked a few donkeys while using it as a jig trailer and behind a punch rig. I have to say this is a great bait. Texture of this bait makes them hold on longer. I would rate this bait a 10 out of 10

From: Tom: Benton Harbor, MI

Comments: this lure works good but I was worry about duriblilty with only having 6 per pack but they did great. First outing I had 8 bites 5 catches. Biggest 15". All on one lure. I still have it tied on and I think I could catch at least 3 more bass with it.

From: Ben: St. Peters, MO

Comments: My new go to flipping bait after first time trying it. Caught big fish all day on the wood and rock points on a heavily fished tournament lake that gets pounded regularly. I used 3/0 hook, 3/16 tung weight and 10 lb Flouro is perfect fish cathing combo. Bait held up well to repeated fish catches and just flat out works. Missile Baits has a winner with the D Bomb!

From: Steve: IL

Comments: it has a completely different feel than any other beaver bait on the market

From: Max: WI

Comments: Great for trailers or texas rigging. Went out and caught bass with it when nothing else could. Get some now

From: Justin: Virginia Beach, VA

Comments: Great flipping bait...nice and soft for good hooksets, yet stays on hook unlike other beaver styles which are rock hard and slide down hook...would recommend

From: Charlie: Newport News, VA

***Note: If you have questions about this product or need assistance with an order please email your questions to info@tacklewarehouse.com
View Large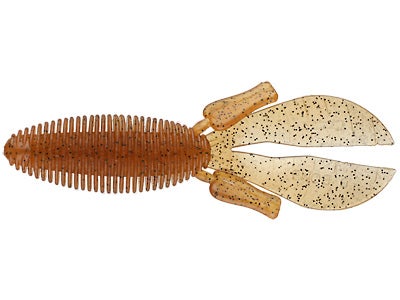 20 Available Colors
More Missile Soft Baits