Missile Baits Fuse 4.4 12pk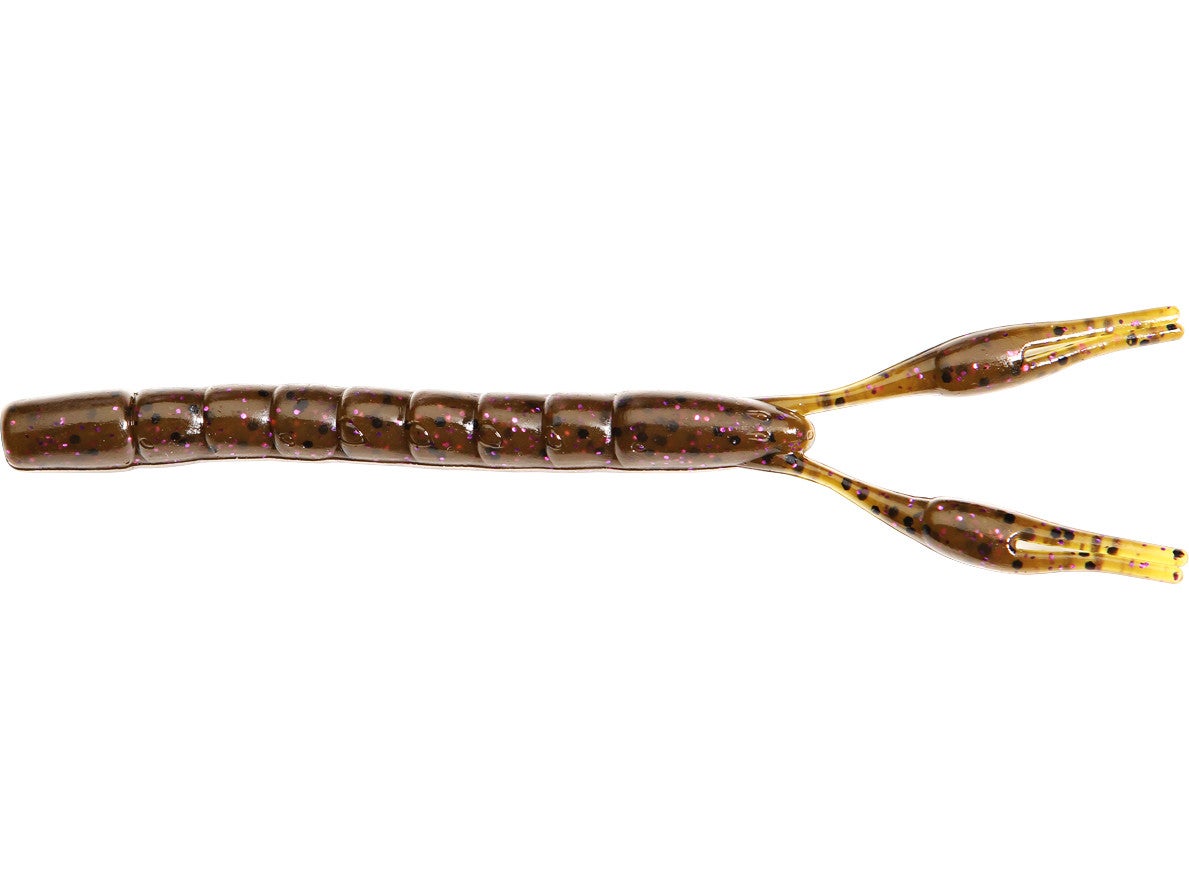 Truly a unique creation, the Missile Baits Fuse 4.4 features a slender crawfish shaped body and an animated action that gets bass salivating. The ribbed body of the Fuse 4.4 was designed with a thick rear portion for easy rigging on a regular hook or a shakey head, while the thinner section conceals the hook point and creates a clean, snagless presentation. The skinny arms of the Fuse 4.4 bring the flailing claws to life with every little twitch. Whether you're Texas-rigging, Carolina-rigging, or drop shotting, the Missile Baits Fuse 4.4 is sure to fill your livewell, and it also makes a great pairing with the Missile Baits Warlock Head.
Missile Baits is a small company dedicated to creating serious soft plastic baits to help anglers catch more fish. Straight off the top-level professional bass tour, and out of the head of Bassmaster Elite Series standout, John Crews, each bait is uniquely designed and thoroughly tested to ensure it is just right. When you pick a bag of Missile Baits D-Bombs or any Missile bait, know they are being fished in the world's biggest bass tournaments when only the best will cut it.
| | |
| --- | --- |
| Length | Quantity |
| 4.4" | 12 |
12 Colors
More From Missile Soft Baits
Customer Reviews
Comments: i tied on a 1/4 oz warlock head with a candy grass fuse 4.4 and had 9 bass in 2 hours. worked it along the bottom of a rock shelf and they inhaled it! held up well too 2-3 fish per bait.
awesome bait!!
From: Cody: Spokane, WA 6/6/15

Comments: Its got great action, floats perfectly horizontal in the water column on a drop shot and lasts many fish
From: Jacob: IL 4/18/15

Comments: Really like this bait. Used it in San Diego Bay for spotted bay bass. Worked it through the grass on a 3/16 oz weedless slider jighead. It was a champ. I think it mimics the ghost shrimp well. Also used in the dropshot in freshwater with success.
From: Lil' Bigs: CA 6/22/14

Comments: Very versital bait. I usually drop shot with it for a little bigger profile as needed but its killer on a shakey head, good on a wackey rig, Carolina rig, or a small Texas rig. Great bait, great action, and like all of Missile Baits plastics they are very durable.
From: TX
Comments: Wanted to fish with something other than my "go-to" bait at my local lake. I had purchased these several months ago and they had been sitting in my bag. I decided to try watermelon red with a slider head and proceeded to catch 3 bass in the span of 10 min! This was fishing in 6' of water or less at a water temp of 85 degrees!

From: Paul: Sykesville, MD, USA

Comments: My go to bait on a shakey head

From: Ryan: AL

Comments: Great bait for flipping bushes. 5/16 oz tungsten weight pegged on a EWG hook... awesome! bought the green pumpkin ones and dipped the claws in jj's magic chartreuse i caught 5 fish for a total weight of 11 pounds.

From: Ben: AL

Comments: Today, i couldn't get any bites on my florida go to summer bait - berkley or culprit worms. i went from the 12 inch, to the 10 inch and even hit the 7s in assorted colors. nothing. So i tied on a green and red flake fuse 4.4 with a warlock shaky head and proceeded to get 4 bass on 4 casts in a row! The largest was 3 pounds and all practically inhaled the bait. I've repeated this on two other weekends when the worm bite was off and had similar results. This is now my new go to bait when the chips are down. Fish it really slow and enjoy!

From: Joe: Pembroke Pines, fl

Comments: This is my new go to sight/bed fishing bait. Hooked up with a 3 and 5 sight fishing with it this weekend. Wacky rigged it with a small circle hook and a nail weight in the tail. I falls tail first and the claws float up when at rest. twitching it has killer action. Great bait that will be a permanent part of my tackle from now on. Great price as well!

From: Paul: St. Louis, MO

Comments: Love this bait for dropshotting. Great action like no other. Wish it would come in an all purple. Would be deadly in So Cal and desert lakes.

From: John: So Cal

Comments: Got a pack of these when they first came out, and tried them on a drop shot. Amazing. The action of the claws is outstanding. Caught 20 fish a day for two days on this bait, and had to stop early cause I ran out. Great bait!

From: Jacob: Apache Junction, AZ

Comments: I admit, I haven't fished this bait yet BUT I do have a pack that I grabbed from Dick's,( oxblood red flake). This looks awesome for a shaky head, drop shot... I was even thinking wacky rigging this! John Crews really did his homework on this lure,( and all the other Missile Baits).God bless.

From: Elijah: Mystic, CT