Missile Baits Missile Craw 8pk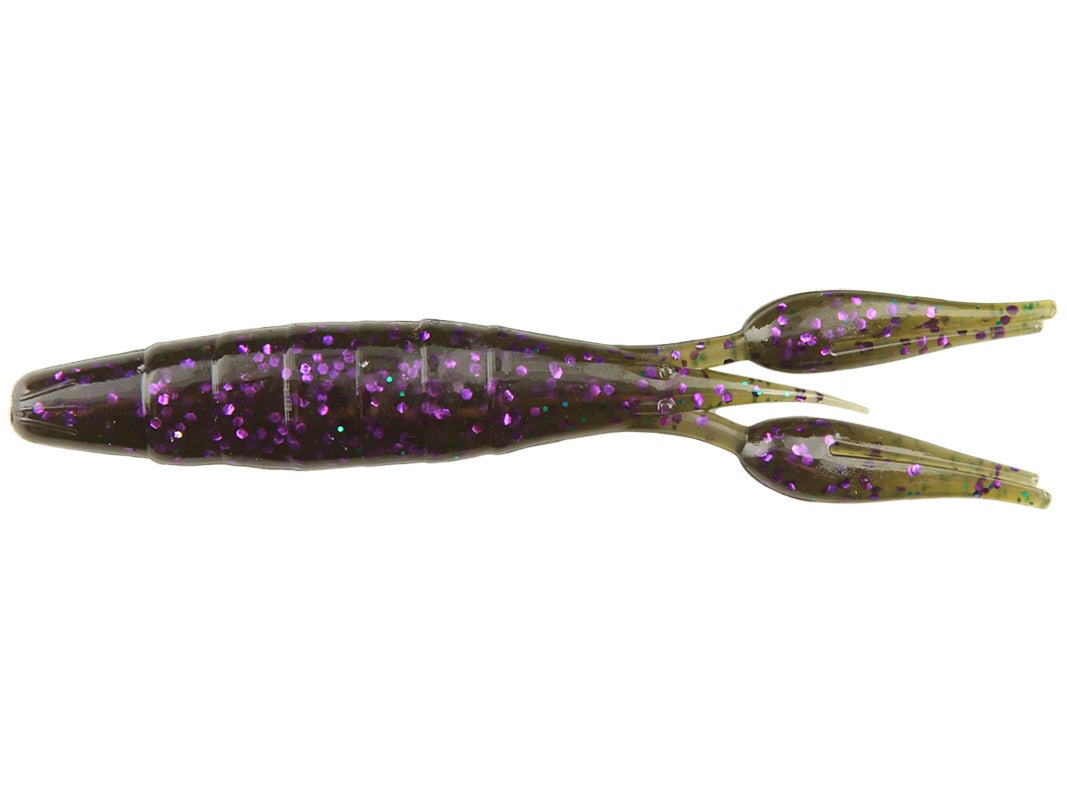 We all love the flipping tube, but hate the lost fish. Now the Missile Baits Missile Craw solves that problem. This slender offering comes equipped with a pronounced hook slot for piercing hook sets. The solid head has a slim profile, but still has a little bulk, which makes it skip very well. The Missile Baits Missile Craw was designed to be a slimmer flipping presentation, and it also has other uses, including on a shaky head, Carolina rig, or as jig trailer.
Missile Baits is a small company dedicated to creating serious soft plastic baits to help anglers catch more fish. Straight off the top-level professional bass tour, and out of the head of Bassmaster Elite Series standout, John Crews, each bait is uniquely designed and thoroughly tested to ensure it is just right. When you pick a bag of Missile Baits Missile Craw or any Missile bait, know they are being fished in the world's biggest bass tournaments when only the best will cut it.
"Welcome to the next level of pro-designed, serious soft plastics. We love catching fish, and want to help you catch more." - Bassmaster Elite Series pro, John Crews.
10 Colors
More From Missile Soft Baits
Customer Reviews
Comments: I bought several packs of these and by the end of the day was wishing that I had more. I am not sure what about this bait that makes these fish bite it but they do. I am not sure if its the profile and the subtle actions this bait provides. In heavily pressured lakes this bait will excel in because it sort of a finesse flipping bait and it doesn't look like your typical "beaver style bait" that everyone flips. Ish got it right on this bait.

From: Phil - Terre Haute, IN 12/1/16
Comments: Throw one of these on a 3/0 Trokar TK130 Flippin' hook with a 3/8 ounce Picasso Tungsten weight in the blood red color and peg that weight and flip it into sparce vegetation. You'll catch giants. I caught my personal best bass of 8.98 pounds on this bad boy
From: Hunter: Humble, TX 2/14/16

Comments: Used the green pumpkin Missle Craw with a 3/4oz tungsten punch weight and 4/0 Hackney flipping hook in our TOC. Boated 4 fish over 4lbs and had 8 fish limit over 27lbs good enough for 2nd place. Perfect bait for punching - when a fish grabs it the small profile is inhaled leaving a perfect hookset!
From: Casey: Barnesville, MN 9/14/14

Comments: brought the missile craw in the love bug color and i rigged it on a 3/0 vmc extra wide gap hook and i caught a nice 3 lber while sight fishing for bedding bass.
From: Jennie: Morganton, NC 5/31/14

Comments: Great Bait! Rig it weightless on a light wire hook and it will have amazing action. I rigged it up on a light bullet weight and dragged it across beds during the spawn and they killed this bait. Even caught a fish drop shotting this bait. I have yet to try this, but I'm sure this would be a great bait flipping docks and sparce vegetation on some fluorocarbon line. Tight lines!

From: Jack: Milford CT

Comments: What a versatile bass catchin' thing of beauty. Love it for finesse flippin'. Looks really cool worked on the surface.The Bass can't figure what it's doing on top, but they smack it!

Comments: I love to use this bait versus a tube. Tubes tend to ball up and I miss fish. This bait does not do that and I get solid hook-ups. In addition, they really eat this bait up. First time I threw it I had 3 fish in 10 minutes. Great bait!

From: Thomas: Mount Gilead, OH, USA

Comments: Great lure! My buddy had bought a pack of the June Bluebug, and brought 'em out. He caught one or two with it in a short time, leaving the used bait in our 'used plastic' pile in the boat... I grabbed it the next day and rigged it up. It caught fish. Nothing huge, but they were eating it up pretty good. I usually use speed craws, but this is a good alternative. We've also had good success dipping the tips of the claws in chartreuse dye for a little presentation zing. Fish seem to like it. I'll be buying a few packs of the June Bluebug (I.e. 'Junebug') and Candy Grass colors as a result of my success with throwing a 'used' Missile Craw!

From: Shawn: Tampa. FL

Comments: I love this craw. Rig this baby weightless with a 3/0 gama ewg and it just darts and glides though the water driving fish nuts and busting the surface when they cant grab it. Love the thick mid section, just enough for a weightless presentation. It is always rigged up on one of my rods.

Comments: these baits are awesome looks like a real craw.good action.Candy grass is the best

From: Andrew: San Jose, CA