Missile Baits Shockwave - $3.99

Highly versatile and incredibly effective, the Missile Baits Shockwave delivers a devastating swimming action that works with a wide-array of techniques. Whether it's fished weightless, on a jig head, chatterbait, Carolina-rig, or A-rig, the Missile Baits Shockwave features a thin paddle tail that kicks and flickers with the slightest movement.

Built with a deep hook pocket, the Missile Baits Shockwave makes for easy weedless rigging, but still maintains enough body to be threaded onto a jig head. Incredibly soft and offered in a number of proven colors, the Missile Baits Shockwave delivers all-in-one performance and a powerful swimming action that will really shake things up in your local waters.
Check out additional footage of the Missile Baits Shockwave in action.
| | |
| --- | --- |
| Length | Quantity |
| 3.5" | 8 |
| 4.25" | 5 |
Comments: This is a good, smaller sized swimbait option. So far, I've fished the Green Pumpkin Watermelon, Fishalicious, and Candygill colors. I've not had the most success with the Green Pumpkin Watermelon color, followed by the Fishalicious color. I've also had the best luck fishing this with a Lunker City #5 Texposer hook - it seems to make this bait swim and dart a little better. The 5 aught Texposer hook barely fits the bait, but it seems to work better for me than a standard owner swimbait hook. I like this bait b/c it is a little smaller than what I usually throw (Skinny Dippers), but not as small as a Reaction Innovations Little Dipper (3.5"). I plan on keeping my swimbait box stocked with these going forward.
From: Shawn: Tampa, FL 4/24/14
Comments: This is a good bait to fish behind a chatter bait... it really is. But, if you want a swim bait that's going to move water buy the keitech swing impact fat or evolve darkstar swimmers...they will wobble, roll, and put off a lot more vibration. Again- this is a great bait on a jughead or behind chatter baits, but if you are fishing keel weighted hooks or behind a swim jig.. use evolve or keitechs.
From: Jim: NY 4/12/14
Comments: Awesome Swimbait. Very durable and very versatile. The Bombshell color picture does not do it justice. What an awesome color. Will be buying more
From: Joe: USA 4/8/14
Comments: Awesome Swimbait! I love to use it as a trailer for my swimjigs and chatterbaits. Very durable just like all of Missile Baits products. Will last several fish.
From: Unknown: TX 3/9/14
Comments: I just bought a pack of these in the Fishalicious! What an awesome color--you can barely see the blue flakes in the color on TW, but they are definitely more visible in person. It's not an overkill on the blue flakes either--they are very small; just perfect. The bait also has a slit in the bottom making your hook only having to penetrate through a small portion of plastic, increasing hook ups. It is also very slim on the sides, making it a perfect bait for adding it to the back of swim jigs, spinnerbaits, chatter baits, and just a plain swim bait. You guys need to get these in your hands to really appreciate them.
From: BigSCruz33: Greensborro, NC
***Note: If you have questions about this product or need assistance with an order please email your questions to info@tacklewarehouse.com
View Large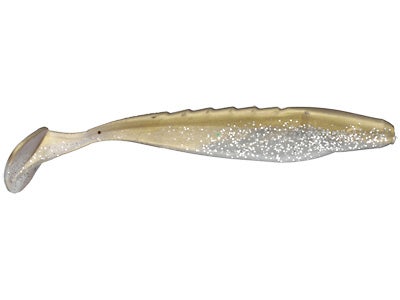 10 Available Colors
More Missile Soft Baits