Missile Baits Tomahawk 6pk - $3.99
The "big worm" just got a new twist. When you need a big ribbontail worm, the Missile Baits Tomahawk 8.75 is the one you want. Its unique double, ribbon tail produces a killer action with the slightest twitch or movement, and its tapered head and Missile-grip ribs allow for excellent hook sets. Use it on Texas-rigs, Carolina-rigs, and larger shaky head applications, the Missile Baits Tomahawk takes care of business.
Missile Baits is a small company dedicated to creating serious soft plastic baits to help anglers catch more fish. Straight off the top-level professional bass tour, and out of the head of Bassmaster Elite Series standout, John Crews, each bait is uniquely designed and thoroughly tested to ensure it is just right. When you pick a bag of Missile Baits Tomahawk's or any Missile bait, know they are being fished in the world's biggest bass tournaments when only the best will cut it.
| | |
| --- | --- |
| Length | Quantity |
| 8.75" | 6 |
"Welcome to the next level of pro-designed, serious soft plastics. We love catching fish, and want to help you catch more." - Bassmaster Elite Series pro, John Crews.
Comments: The worm works great it also has lots of action. The bass seem to hit it on the fall. I was able to catch a nice 4lbs Largemouth Bass on my first cast. Really pleased with this bait great job Missile Baits.

From: Jordan: Wirtz, Virginia, USA

Comments: Wow, great worm!. The action is a lot better than your everyday ribbon tail worm. I LOVE Missile Baits because the lures are as soft as Roboworm and Yamamoto, but incredibly durable. Great job John Crews and MAYBE,**(hint hint), you could come out with a stick bait and a fluke. Just figured I'd through that out there... (:

From: Elijah: Mystic, CT

Comments: Great Baits, very durable as far as im concerned like Tyler said all u gotta do is bite off 1/4 of an inch and rehook!!! I got these for free for buying $15 worth of other missile baits and love them, will def be buying some!!!

From: Drew: L'burg, TN

Comments: This bait is a great bait in the rivers! My favorite color is the red shad green. Great imitation of a large crawdad! I highly disagree with the first comment, baits are very durable, all you have to do is bite off top rib and rehook and keep fishing. I caught 6 fish today that would have went about 17 lbs, on one worm!

From: Tyler: Clayton, NC

Comments: Great worm. Awesome tail action, difference between this and other worms is subtle but gives the bass something new without spooking them. I used it on a Carolina rig today and it produced when the bite was tough. Downside is the durability of the bait. I was getting an average of 1.5 fish per bait. I went through a pack in less than half a day. They should make them at least 10 per pack. I would pay for more. They tear too easily to sell them in 7 packs.

Comments: This bait is killer, not only can you fish it like a regular worm, but with the twin tails, you can run it on the surface with great action.

From: Rich: NJ

Comments: Really excited to try these out!!! I think they are going to be my go to worm, texas rigged.

From: Brett: NY

***Note: If you have questions about this product or need assistance with an order please email your questions to info@tacklewarehouse.com
View Large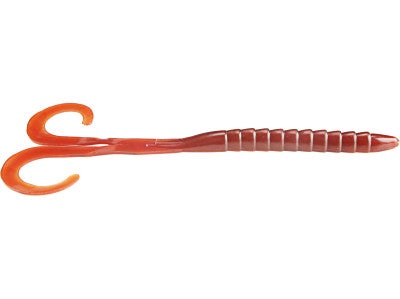 11 Available Colors
More Missile Soft Baits