Molix Lover Treble Vibration Jig - $9.99
When Italian design meets a talented bass pro like Mike Iaconelli, what comes next is a new bait category called "Special Vibration Jigs." Constructed from high performance ABS grade materials, the Molix Lover Treble Vibration Jig features a sound construction for maximum durability and performance. Introducing Molix's reverse shovel lip, the Lover offers an uncanny swimming action. Available in a range of proven colors, the Lover Treble Vibration Jig is also backed with a high performance OMTD treble hook. For best results, fish the Molix Lover Treble Vibration Jig in open water situations.
Comments:
From:
Comments: I caught a 9.4 last wkend and had no issues with the bill breaking. Awesome action and worth the money

From: FW, TX

Comments: Good question! Molix spends a crazy amount of time testing all their lures. They put a metal wire that goes from the eyelet all the way through the to the hook! I tested these on the Potomac all summer and fall and never had one fail with several fish over 5lbs...You could catch a 20lber and have zero issues...Its designed like a inverted Crankbait. Good Luck everyone!

From: Josh: Camden, DE

Comments: Clearly this guy below has no idea what he's talking about. It is probably a competitor trying to bash his competition! Please Only review products that YOU have tested..

From: Chris
Comments: Looks to me like a big fish would just snap off the plastic bill. Design flaw? Did Ike even test it out on a +5lber? No doubt any fish over 10lbs would snap that thing off.

From: Thor, MN

Comments: the best big fish bait

From: Allen: Powell, TN

Comments: I'd call it an inverted crankbait, i'm tempted to give it a go.

From: NS, NM

***Note: If you have questions about this product or need assistance with an order please email your questions to info@tacklewarehouse.com
View Large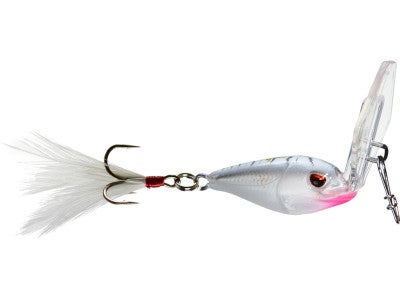 6 Available Colors
More Molix Jigs